Here we go with the new installment of quick reviews. My take on "ancient" dramas i watched before opening this blog, this time with titles starting with "C". A lot of bad, some good, and my incredible childish and silly mind to spice it up…
Calling For Love:
We left the precedent review with Mike He and we start this one with the same guy. I love the leads, Charlene Choi is one of my favorite Taiwanese actresses. But it's another case of rich obnoxious famous guy meeting a poor bubbly resourceful girl. I remember a taxi chase, a lottery ticket and an airport scene at the end. I guess it wasn't that good but not that bad either. What you call a harmless filler.
Can You Hear My Heart:
One of the few good long family dramas. Of course, you have the first mandatory makjang episodes with trauma and tears BUT i thought it was bearable and the child actors were so, so cute. A lot of things to love in that drama:
- The OTP: A bit of Queen In Hyun's Man kind of love: Since we love each other against all odds, let's try to find a way to make it work.
- the family members: The granny who feels the weight of the years on her shoulders. The character is played by that wonderful actress who is also the Queen Mum in the King 2 Hearts. Then we have the dad of the heroine who is illiterate and has the mind of a kid: I will let you discover how he gets to learn Hangeul: It should be used in every kindergarten. I loved the way the drama explored 3 different "disabilities". Kim Jae-won is excellent as a deaf who tries to hide his handicap to the world. It's realistic and touching.
- The bromance turning into a frenemy war: Nam Goog-min plays the second male lead masterfully: Funny at times, desperate romantic, hater and pitiful, business rival in suit and all. Jae-hyuk is it you?
Can't Lose:
Sigh. I so wanted to like you, show… I guess when you choose such a title it's a kind of provocation for the Dramagods. I just fell in love with the crazy Yoon Sang-hyun in Secret Garden: That guy is the king of physical comedy and the best for bloopers and NG's of all kind (according to his co-stars). So, we have a couple about to divorce with the 2 of them being talented lawyers specialized in… Divorce affairs. Should be funny right? Nope. And here i blame the actress (Choi Ji Woo): She has zero, nada, nicht comedic timing. Plus absolutely no chemistry with the hyperactive lead. She should stick to melodramas (Winter Sonata and Stairway to Heaven). We had a few interesting secondary characters and 1 or 2 funny scenes, but not enough. I dropped the show on episode 13. Sidenote: The show was supposed to have 16 episodes but had an extension of 2 in order to buy Me too, Flower some time (motorbike accident of Kim Jae-won and replacement in extremis by Yoon Shi-yoon). Talk of bad luck for MBC at that time…
City Hall: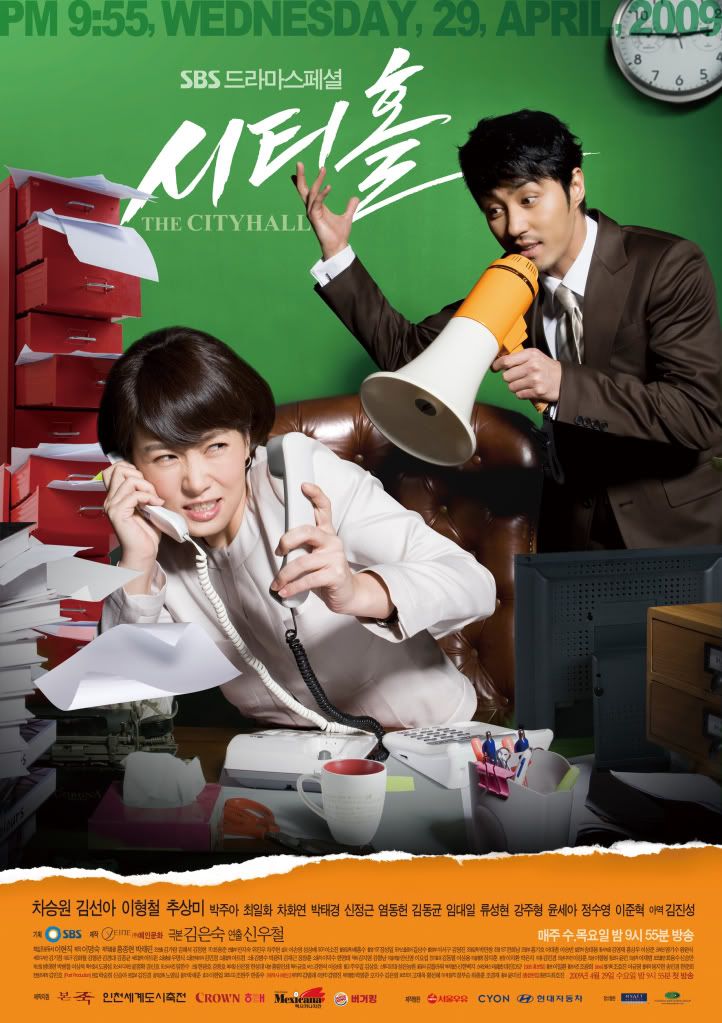 Here we have a good drama and a classic. Cha Seung-won and Kim Sun-ah were born to act together in a rom-com. The ratings were good  and we were granted 20 episodes of swooning… Even the Noble Idiocy could not kill that story of sexy politicians.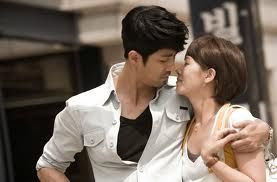 *spoiler*. I suggest you don't drink anything while you watch this…
Credits: Pboumova.
City Hunter: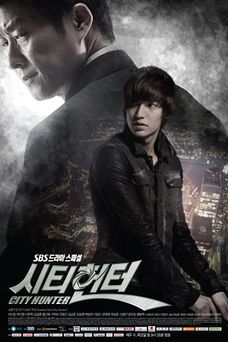 What a strange animal. The story wasn't that bad but I'm still wondering why they used the City Hunter brand. Absolutely anything in common. Oh yes, 1 thing: Guns. Where are the steamy scenes and racy discussions? The main female character was so bland, stupid and weak: Even a pacifist would want to slap her. I preferred 10 times the female veterinarian who was a (very) secondary but (very) helpful character. Lee Min-ho is not my cup of tea but is a decent actor. Problem is, the drama went downhill at the end. The death of a certain character made me run away and I never watched the 2 last episodes (you said it, DLTE). Plus inconsistencies: Do real or do manga but not both. I chose my side.
And if I'm in the mood for a total WTFF movie that puts you in stitches, I will watch the Jackie Chan version. Jackie, I admire you and like you lot, you know that. But frankly… Bwahahaha….
Code Blue, Season1:
The best medical drama I watched so far. Shot in a real environment. It's impressive and all the technical aspects are interesting to watch. Yamapi is born to play cold professionals, once and for all. Maybe we missed some smiles but eh, we are talking about emergencies. Need to watch season 2 when I will be in the right mood.
Coffee House:
This drama has his fans and I'm not one of them… Sorry. I don't like when the writer plays you with the love line. Another case of DLTE. The all mentor/disciple theme could have been played better. I love Kang Ji Hwan and  Park Si-yeon but not in here.
Color Of Woman: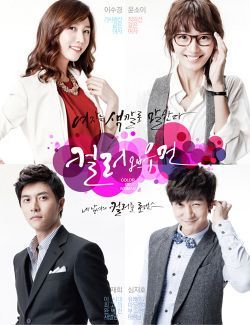 Another epic fail of channel A: Why do I feel like I talk only of bad dramas on this post? I'm not doing it on purpose, I promise! But really… It's simple: There is no script. At all. Just putting 2 men and a woman in a room with some lipstick is not a scenario. We have the friend who is worst than a mortal enemy, a Cruella d'Enfer, and Jae Hee who is only good at one thing: Smiles… Never watch it. Or watch the best part:
Control, Hanzai Shinri Sousa: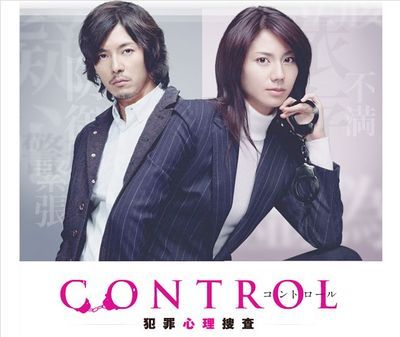 The sibling of the excellent Japanese dorama Mr Brain. An Asian version of the Mentalist. Entertaining with a bit of fun and some trivia. Fujiki Naohito as its best, really one of my favorite actors. Absolutely no romance but still very enjoyable. And I love the OST.
Couple Of Fantasy:
I watched 4 episodes and jumped from the train: Bratty amnesiac princess who doesn't know how to boil some water and coward stupid ex husband were too much for me. Even the cute lead (played by Oh Ji-ho) with his muscles could not save the story. The only Hong sisters drama I didn't like actually. I will blame it on the fact it's a commissioned drama AND a remake.
Corner With Love:
Another story of Bratty Princess in the hostile world (understand forced cohabitation). I guess I had to watch a lot of them to realize those dramas are not for me. I loved Barbie Xu in Mars (she was really perfect) but here she's just unlikable. Must have dropped half-way and if it was today I'm not sure I would even end the first episode.
I'm done, that's it for today. You can now resume your normal activities. See you for the next chapter everyone!