Tags
A Gentleman's Dignity, Jang Dong Gun, Kim Eun Sook, Kim Ha Neul, Kim Jung Nan, Kim Min Jong, Kim Soo Ro, Kim Woo Bin, Lee Jong Hyuk, Lee Jong Hyun, Yoon Jin Yi, Yoon Se Ah
Halfway and turning points…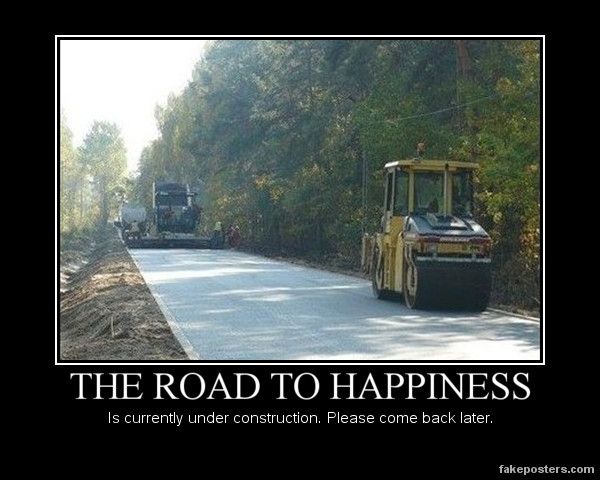 Sidenote: I apologize in advance for the numerous comments, the totally random pictures and the ubiquitous military vocabulary: Blame the writer for feeding my demons creativity, she started this.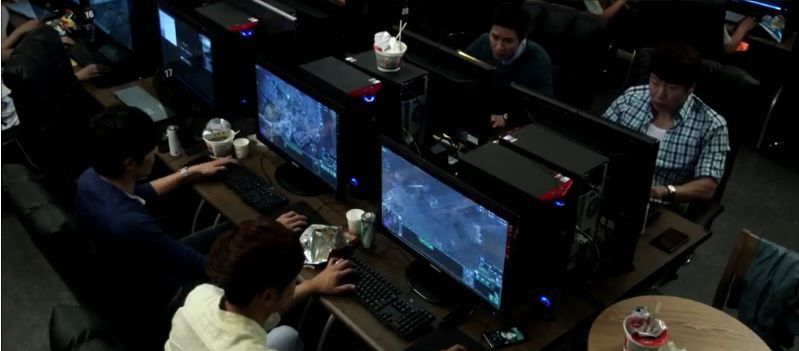 This episode starts with reluctant grown-ups: The gentlemen are in a PC bang and honor the StarCraft gods. They ignore the calls from work, wife or whoever it is. The victory on the screen is more important than the real world. Can you imagine hanging up on your girlfriend cause "there are tanks everywhere and we are cornered!" At 41 years old? Bwahaha…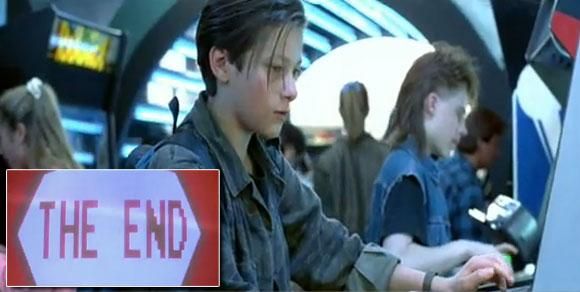 One cookie for the first one who acknowledges that movie.
The guys break up camp and return to base in a hurry when a famous StarCraft gamer (Lim Yo-han) is announced at Oska#2′s store. With a pretty girl on his arm as a bonus. Boys will be boys…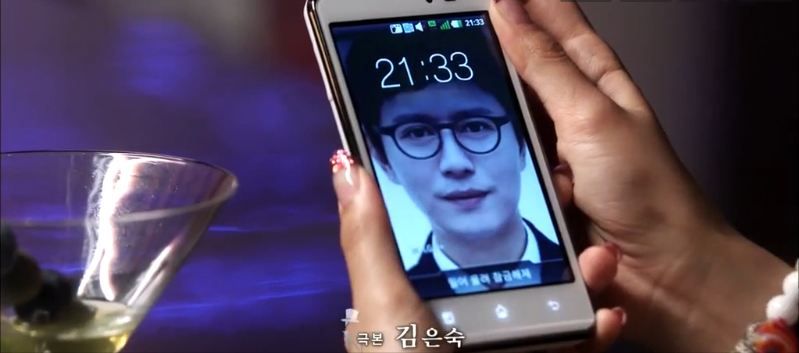 Baby Fox is at the bar, waiting for Timebomb. She's been stood up and the boss tells her to stop drinking: A single quality cocktail is better for your health than multiple glasses of adulterated cheap alcohol.
*Flashback of the baseball team dinner* : Timebomb is the sad witness of the cold war between The Jerk and DoomedGirl. He receives a phone call from Oska#2, who has a sleeping girl on his counter.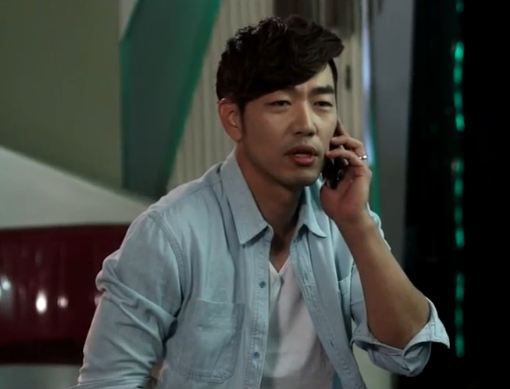 For some reason he believes the bastard who stood her up is him, so shouldn't he come to pick her up? Timebomb says it's not his problem: She's HIS customer and the sister of NiceGuy so no need to bother him… His conflicted face tells another story.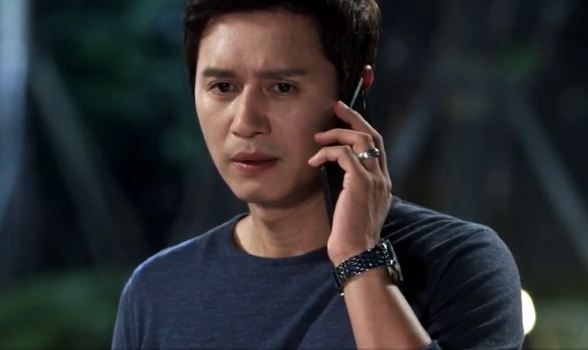 Someone else needs to drink tonight: DoomedGirl has just heard the ultimatum of The Jerk: "If you want to keep in touch, you'll have to sleep with me".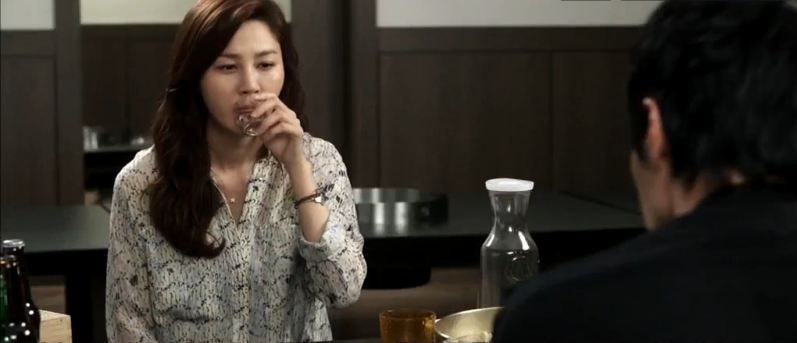 DoomedGirl needs to finish all the abandoned glasses on the table in order to talk.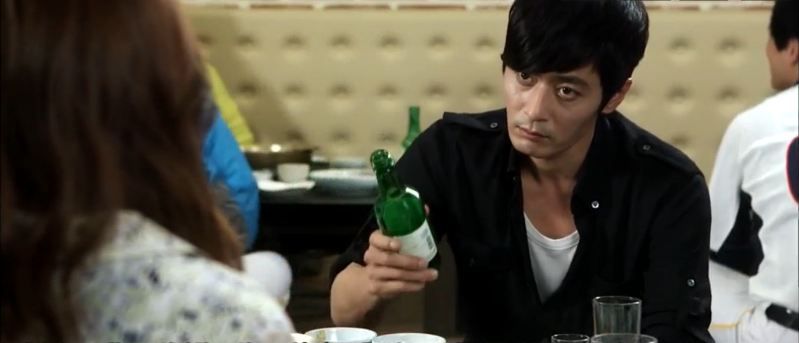 "Encore?" *Pinching myself to suppress a mad laugh*
DoomedGirl asks to go outside so they can talk but The Jerk says no need: "Just call me when you have mustered up your courage to sleep with me".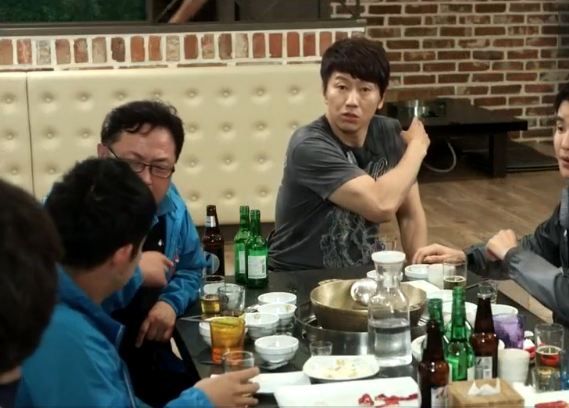 "Did The Jerk just leave the dinner?" Yes, sir! He never deserved his nickname better than today. And one hour of peeling potatoes! 
DoomedGirl runs after him and says she will never sleep with him. He is not surprised. HEARTBREAK! But wait, you know what they say about the world never, right?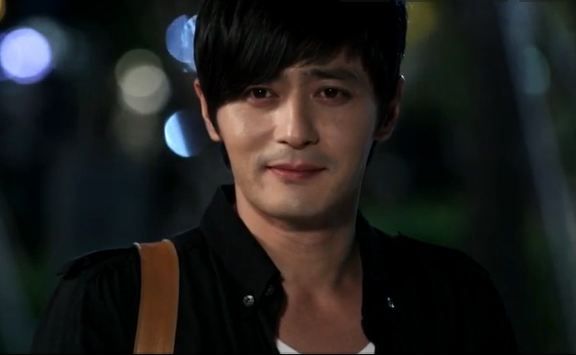 She wants him to apologize for his rude words but he refuses: "I was honest and just said the truth. Did you think I liked you only for your clever mind and your funny personality?" DoomedGirl decides to throw her own truth at his face. Yes, she acted stupidly by coming with the shoes he gave her at the party. Her confession was clumsy and he's been hurt. But he should have told her he was interested in sex only BEFORE they had feelings for each other. What he just did was insulting: She is frustrated and should slap him for that. He tells her she's a strange ethic teacher indeed and adds than he is as frustrated as her since he still finds her beautiful now.
She's frustrated, you're frustrated and the viewers are frustrated too. My solution: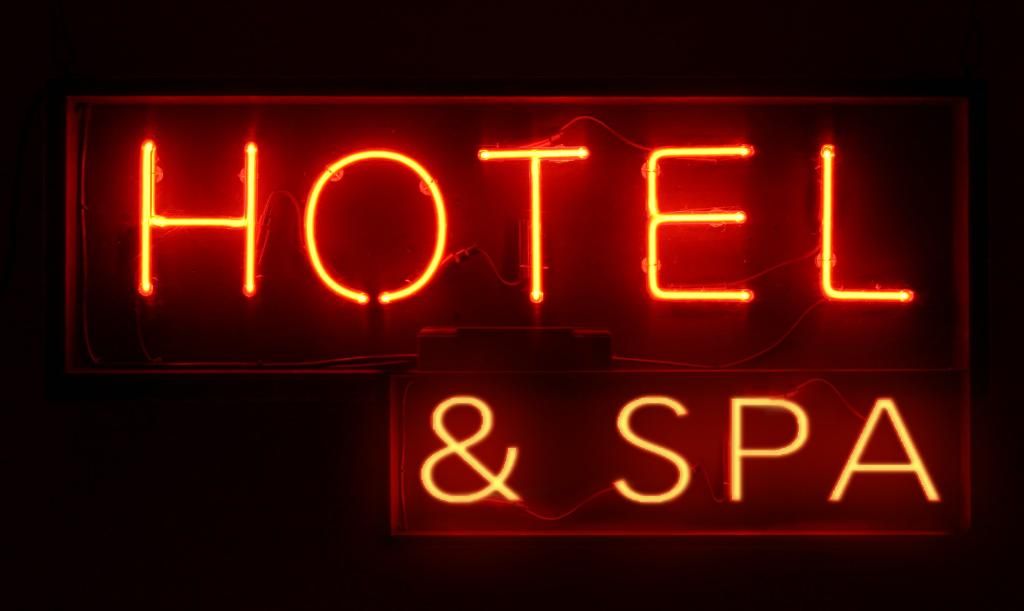 He tells her than it's obviously his desire the problem for her. He always was sincere with his feelings but those feelings are so strong than they hurt her like stones. He apologizes for not being a gentleman. She won't have to be scared of unwanted skinship anymore: He gave up, this way everyone can return to their peaceful lives. Isn't what she wanted?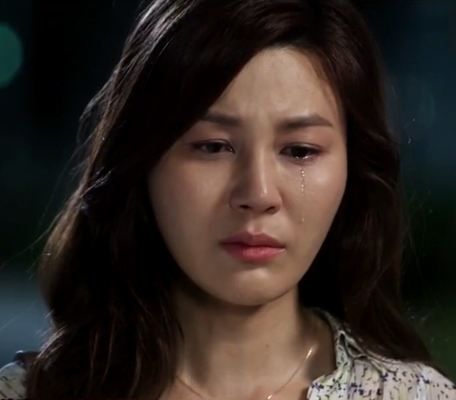 He leaves her to sort out her feelings and uses the electric rear view mirror of Betty to follow her as she walks in the street.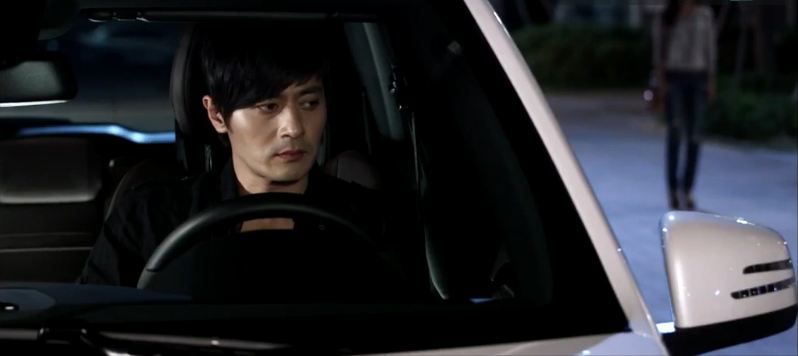 He even calls a driver of the company to pick her up before heading home and having a few beers with Timebomb.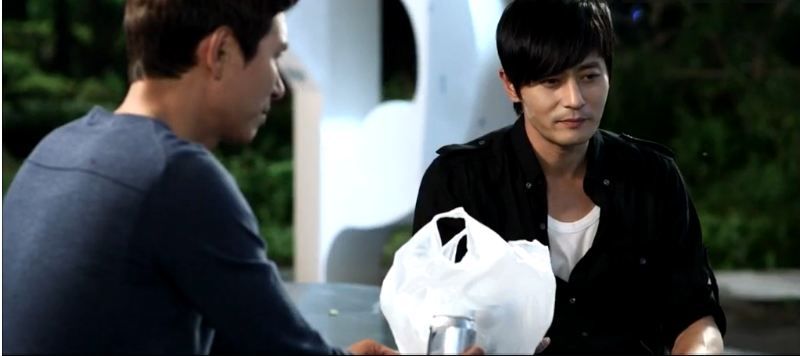 Warning: Noble idiots are unbearable when they team up. 
Timebomb laments over the years passing by and asks The Jerk if he's here because he had a domestic fight with DoomedGirl: At their age, men should never upset women. The Jerk counter-attacks: He should follow his own advice and start dating Baby Fox.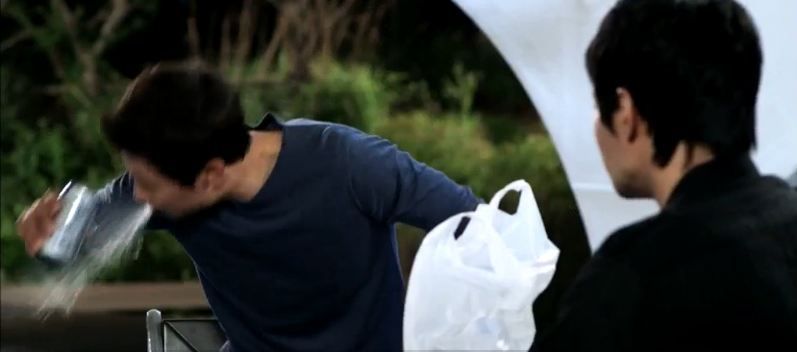 The Jerk wants to negotiate a truce for the next days: He won't react when Timebomb gets startled by the name of "the Kid" in conversations and in return he will have to ignore his coming nights of insomnia. They cheer to the pathetic ahjussis who couldn't become gentlemen.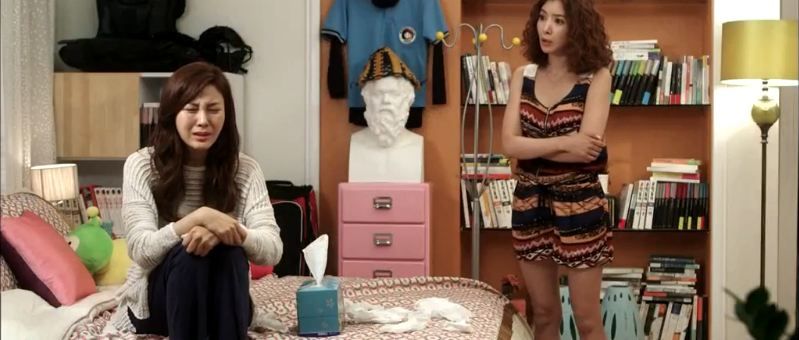 At home, The Foe asks DoomedGirl why all those tears, is it because of The Jerk? "Because a man has been honest and left me!". DoomedGirl cries buckets and adds than she's just going to forget him and everything will be alright. Delusion + Denial + Conscious Selective Amnesia…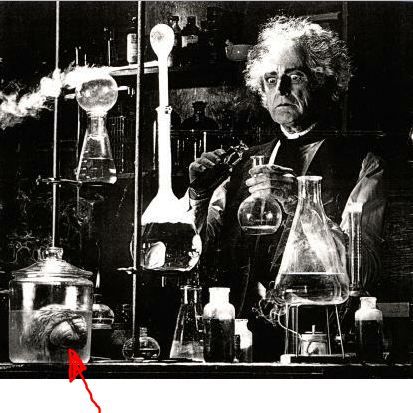 Hmmm. Something like that?
The day after, our ethic teacher has to deal with a rebellious student. The rascal doesn't want to apologize for studying math during her lessons: Her subject is not important for his future.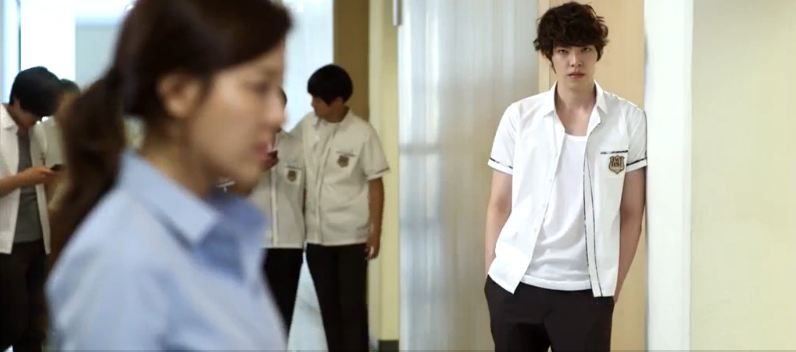 Will she take responsibility if he fails for the University entrance exams?  She replies she's perfectly aware of the irony of the situation and can deal with dilemmas in her life. HE, on the other hand has to learn those things from her. The student kicks a chair in anger and says he will just call his mom to put her in her place. I know one of my readers who would love to take care of this guy…
Hopefully, Baby Jerk has seen everything and will play the avenger for her. Students who have a crush on you can be useful. He catches the student sending a text to his mom, with the ethic teacher described as a b**ch in it. Baby Jerk gives him the 2 books ethic teach wanted him to transcribe and warns him not to delegate: He tried and it didn't work. Now, if 4 is the square of 2, what is the square of a warning? Since he loves maths that's something he should understand… He carefully memorizes the name of the student and leaves the classroom. Karma is a b**ch.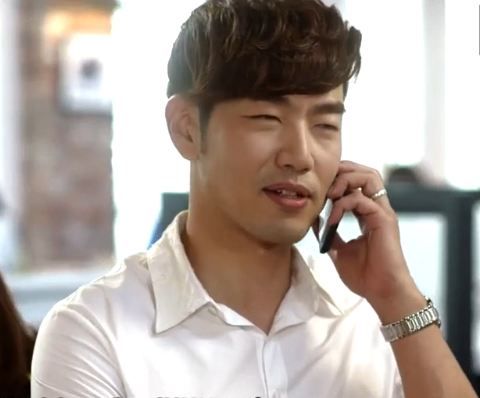 Oska#2 is having lunch with Timebomb and The Jerk. He is all lovey dovey on the phone, with his wife on the other side. The men can't hide their embarrassment: Has he gone nuts? You could think the player finally accepted monogamy as a requirement for a husband. Big mistake! His chair bumps into the one of a lovely girl behind him and here we go again with the "I'm sorry if I hurt you, you could become an important person in my life".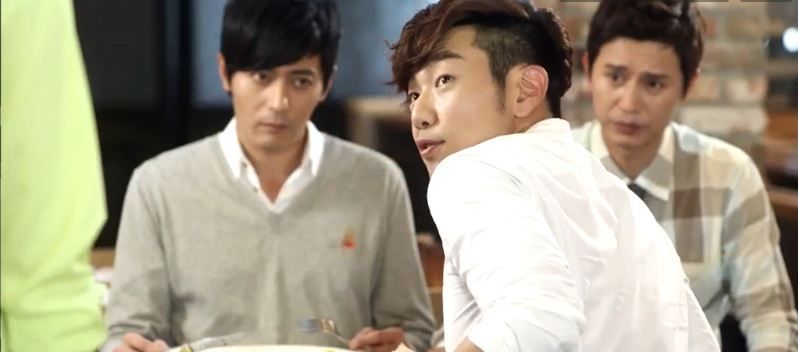 Eeeeee… FYI: Any guy who will try to serve me that corny line will see me running away at light speed.
The guys can't take it anymore: While he is busy chasing his new girlfriend, The Jerk sends him a text message, pretending to be The Queen. He criticizes what he has in his plate: Not healthy. Oska#2 starts seeing spies everywhere and calls back to know where she is. He even leaves the table and runs to join his beloved wife.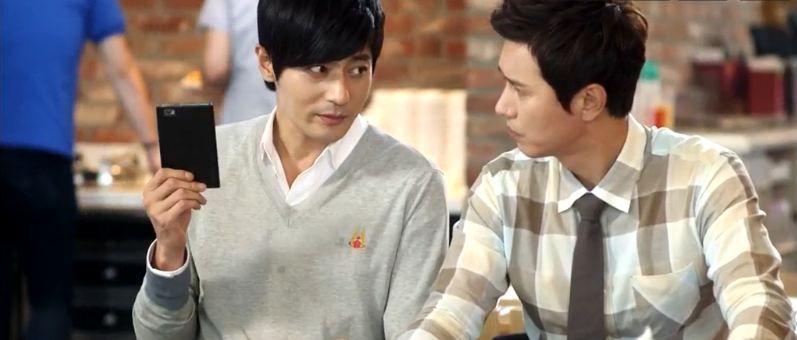 The Jerk tells Timebomb he tricked their common friend to preserve the universal peace. He also states they better get used to loneliness: They are 2 lonely souls since NiceGuy is having a date with The Foe today. And who's responsible for that sad situation in your opinion?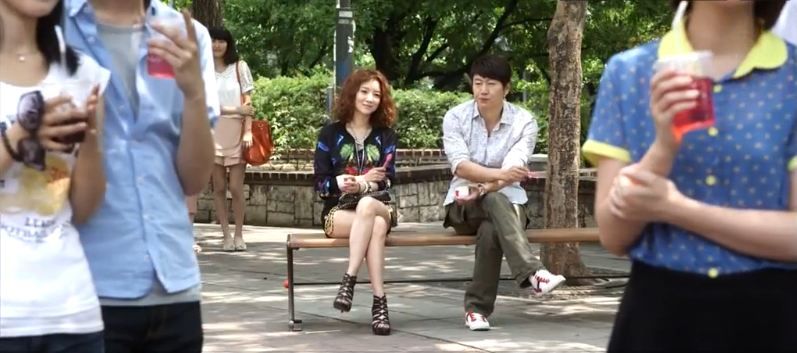 The Foe enjoys the summer weather but NiceGuy can't stop whining: He is tired and wants to go home with her. Translation: He wants to sleep with his woman. He also feels out-of-place among all those kids in stockings. The Foe tells him to recharge his batteries with their energy. He could even wear pants like this instead of his eternal camo baggies. NiceGuy says he only wears comfortable clothes and he will apply facial creams the day it freezes in hell. Strange, I remember someone who stole the vials of his friend not long ago…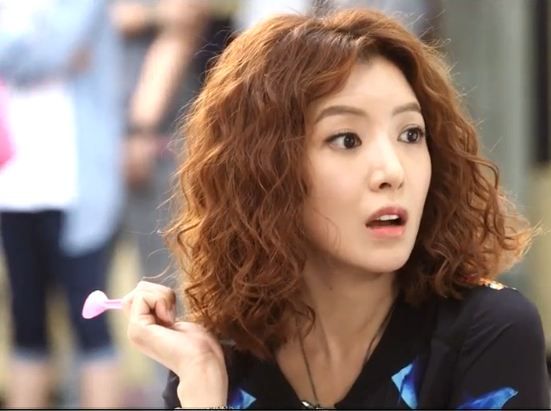 The Foe says high-heels are not comfortable for women either but he still likes them. Girl: 1 – Guy: 0. She finally decides to leave the bench and NiceGuy is all happy. Cookies! Too bad, it's not for him but because she has an appointment. I swear, a man will die from aneurysm because of abstinence in this drama.
She gets back home and finds DoomedGirl putting precious things in trash bags: The computer offered by The Jerk, the pink heels. The Foe says she's been rejected by the caddie she wanted for the next golf season: She couldn't even hide her hate for her. DoomedGirl can't understand: It's easier to suppress hate than love. The Foe asks confirmation: She's not talking about NiceGuy, right? Aishh! I will kill that woman one day: No more insecurity problems! She sees the laptop and the shoes and wants to save them: Those things didn't do anything wrong. Just do it! Go at the café with the shoes on your feet and the laptop under your arm. I will tell The Jerk to join you myself and wait to see his reaction. Even better: If NiceGuy also sees the wallpaper on the comp he will question your sexual orientation. Bwahaha… Verdict: The laptop is saved and given to The Foe and the shoes are trashed.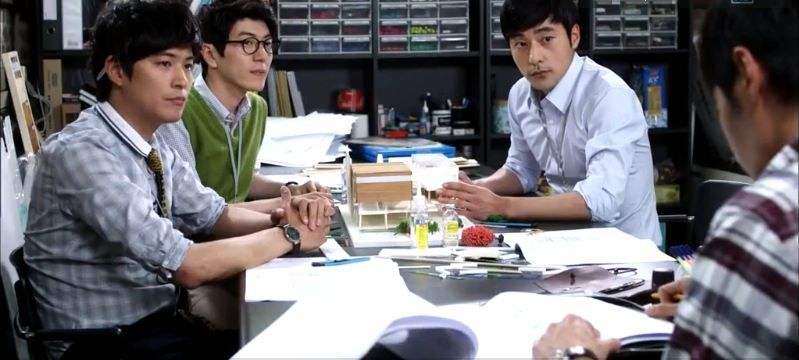 Architect office: Everyone is dead tired because of the workload and the crazy requirements of The Jerk.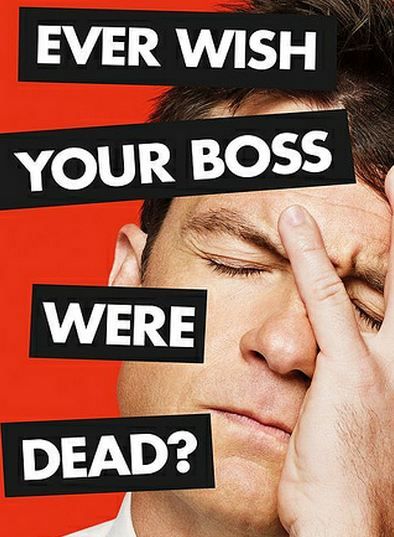 Funny thing is, the boss can't focus on anything. His mind is obsessed with the woman he has dumped.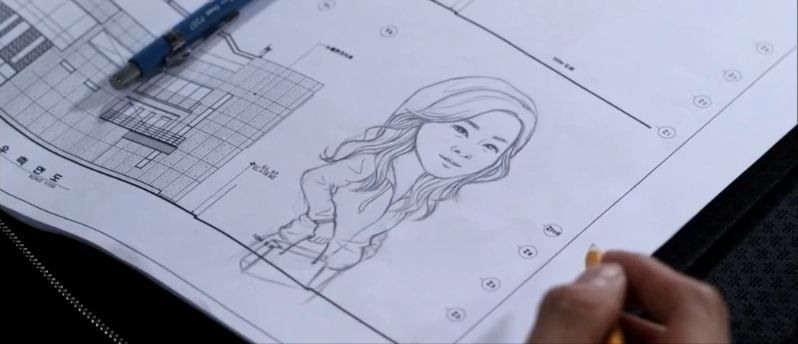 Guys, it's the moment to ask for a wage increase. He probably won't remember you threatened him, just steal the pen recorder.
The Foe discovers the wallpaper of shame on the laptop and almost dies laughing. DoomedGirl wants to change it and sees the mysterious files "My secret private life".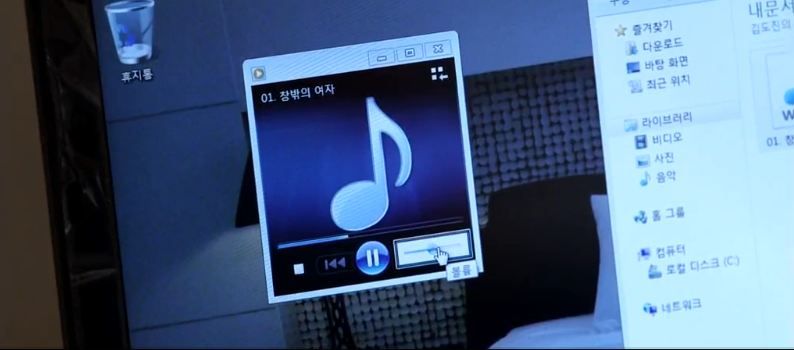 It's MP3 recordings of his Mac Gyver pen: The first time when they saw each other through the window, the misadventure with the red dress, the moment he realized those 2 women were the same person. And finally when she had left his home that fateful night: He wanted her to stay with him but let her go instead cause he knew she wasn't ready for that.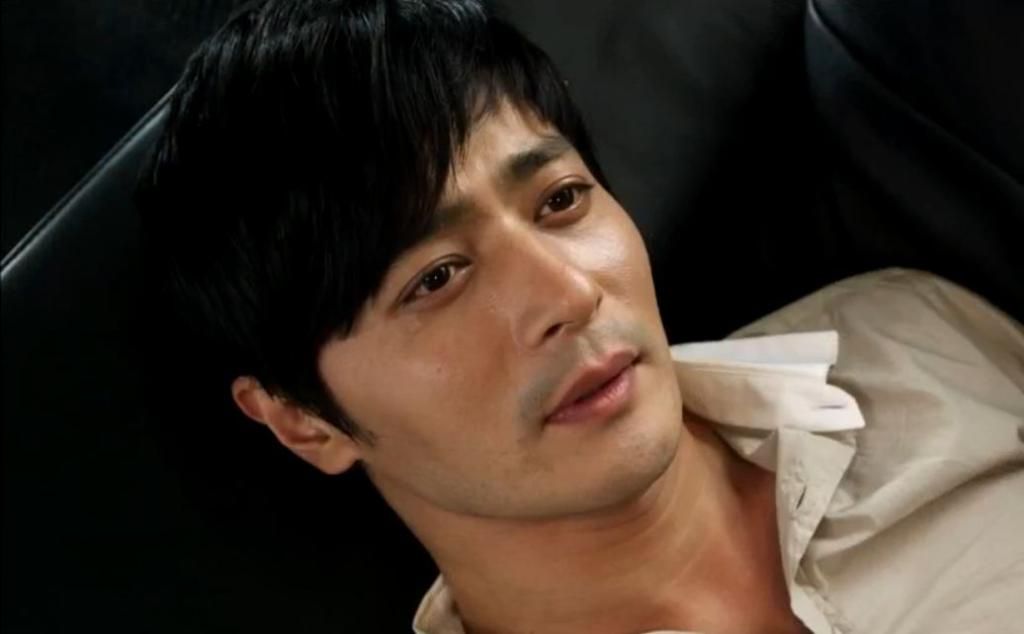 She keeps replaying the "Of course I didn't want you to go…" until the truth finally finds its way to her heart.
She runs out to retrieve the poor abandoned shoes and curses herself all the way: She always speaks before thinking. "Why did I have to say I would never sleep with him?" God knows I wish he will make you wait before granting your wish. You deserve to feel the longing that man had to endure for so long. Oh yeah!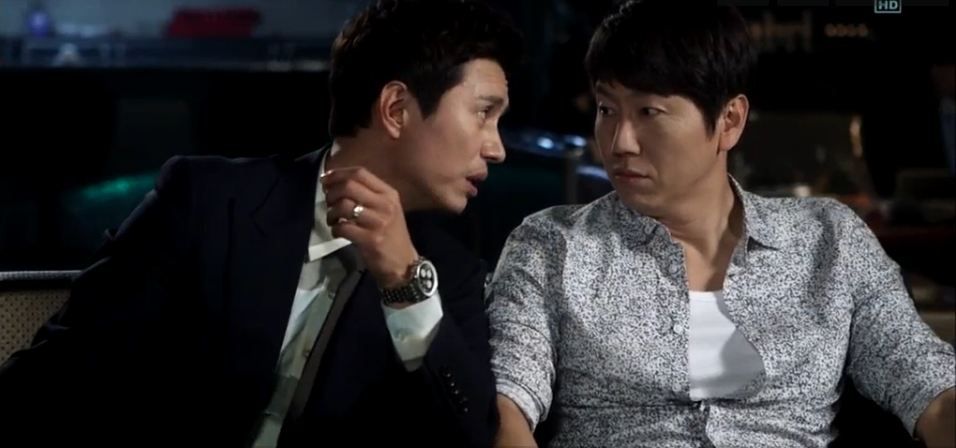 Oska#2 Bar: The Rat Pack is here and NiceGuy criticizes the young guys who wear those ridiculous tight pants. Hard time letting go or are you testing the waters? Timebomb tells him to ignore them if he doesn't like it. The Jerk says he loves skinny jeans because he has the physique for it and NiceGuy tells him he doesn't understand anything about love. The Jerk says the concept of love is fake, boring, stupid and overrated. Timebomb asks NiceGuy if maybe something happened that he doesn't know: Does he want to die at the hands of his friends? NiceGuy says he should be the one to know about that since they live together like husband and wife. Bwahaha…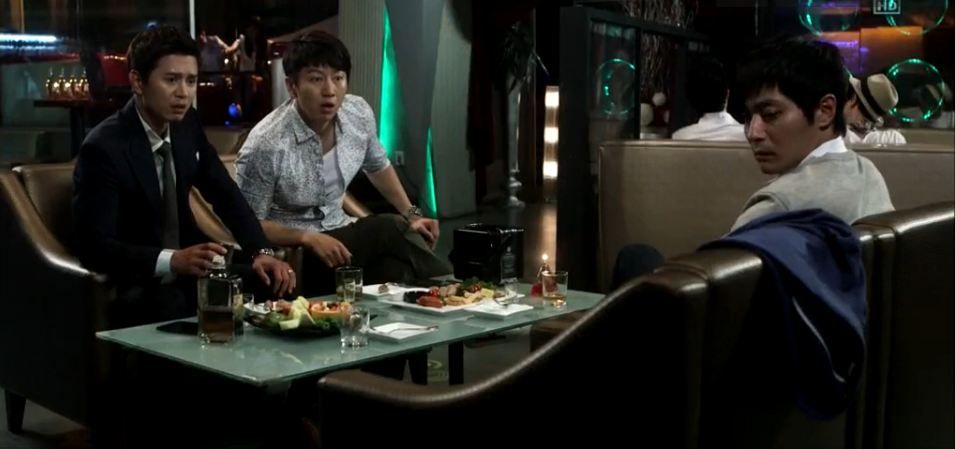 A phone vibrates and after a while they realize it's the one of Oska#2: The Queen is calling. Her husband is chasing girls somewhere and once again they have to cover him. They head to the secret VIP room where everything is ready for the usual masquerade: Glasses half-empty, snacks eaten. Little problem: The Queen is already here.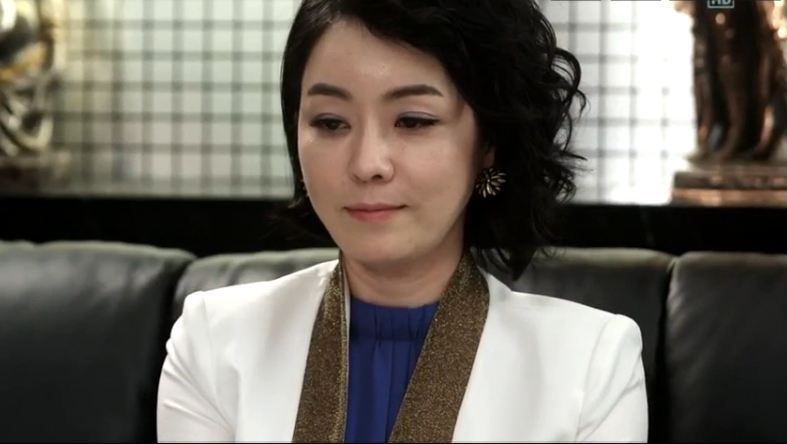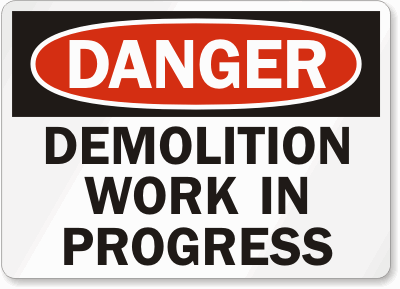 I'll miss you guys. I thought you were cool…
It's time for improvisation: NiceGuy wants to escape and hide in Brazil. The Jerk and Timebomb grabs the coward and propel him on first line, almost in her lap. Bwahaha… Awkward situation. The gentlemen sit down and start talking weather forecast. Also, did she eat before coming? The Jerk uses his special joker for imminent death cases:
"I don't know how you will interpret this given the circumstances, but I find you really beautiful today."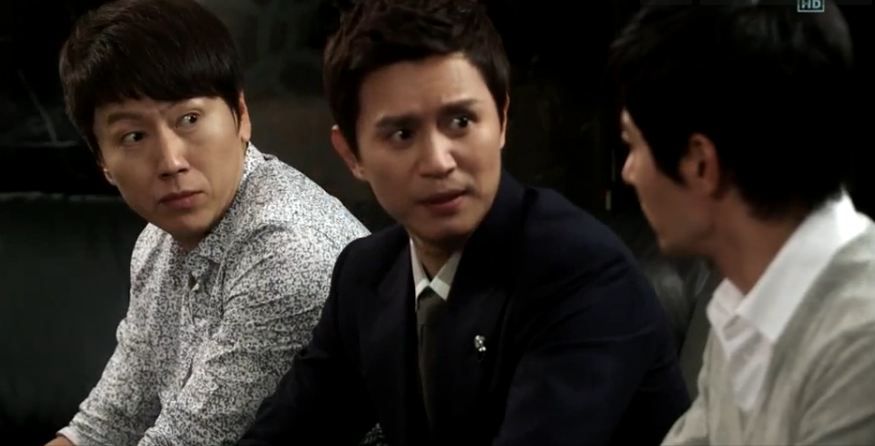 Bwahaha… I'm not sure pleading insanity will help.
The Queen declares there is nothing much to say. They have 2 months to leave her buildings. Architect, lawyer and constructor: Everyone is ousted. The bastard responsible for that catastrophe finally arrives. He gives one of those lame excuses and the boys just tell him to shut up.
He realizes the situation is critical: "Darling, you're beautiful today." The Jerk tells him that weapon already served. Bwahaha… The Queen informs Timebomb she will come to his office to fill in the papers for the divorce. I'm not sure but I feel like a conflict of interest somewhere. Where is ethic teacher when you need her?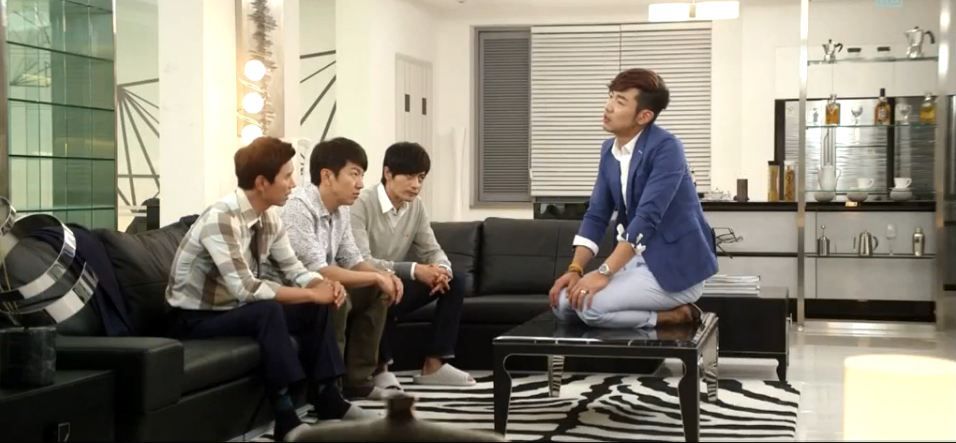 The gentlemen gather at The Jerk's house and it's grilling session for Oska#2: Who was the girl, where, what for (forget what for, we get the idea). The chronic cheater says it's not what they think. They have to trust him: It's REALLY not what they think. But he can't tell them who it was either. Even torture won't work, he just can't say anything.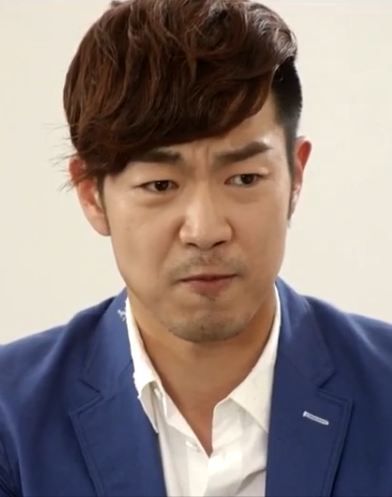 The reason for his suicidal is simple: He wants to protect Kim Eun-hee, their first love: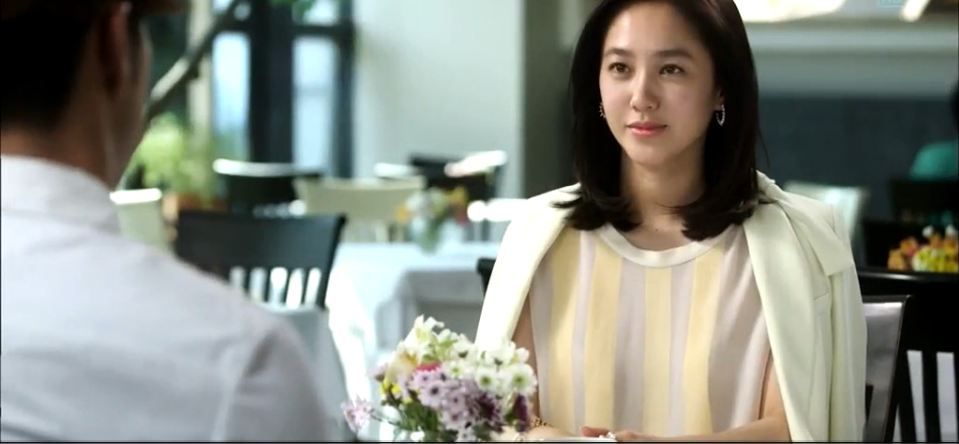 "Long time no see…" 
The guys say than anyway, him meeting a girl is suspicious by nature. They take his phone to check the contacts: If he tries to take it back they will erase everything, so stay still. Oska#2 tells them they can't reset the phone, he needs it for his business. Sorry buddy, they need to save their businesses before yours… The contacts list is full of sergeants, corporals and other military people. Another list is for Professors and another one for Presidents. There are no profiles or pics and everyone wonders how he can remember who's who. NiceGuy: "Are you a spy? Do you sell informations to someone? If you know so many VVIPs, just become a politician and run for the Blue House." City Hall season 2? Bwahaha… NiceGuy has seen enough and decides to reset the phone. Oska#2 asks to save only one number: The supplier of coffee beans. Last wish granted.
"That bastard is trying to memorize her number!"
Oska#2: "Oh no! And now I can't remember the number of my wife!". LOLOLOLOL!!!!! 
Our future ex-husband is crying tears of blood, checking his empty phone at the bar. Only 4 contacts: He feels like in the desert. HotBar asks him if by any chance he remembers his number. Oska#2: "Why? We are not in that kind of relationship. By the way, stop calling me President. Call me hyung or else we will get caught". Bwahaha! *Gay friendly writer alert*. 
HotBar: "Can I speak informally too?"
Oska#2: "Lower your speech and I will lower your salary. Interested?" My poor abs…
DoomedGirl arrives at the bar and checks quickly if "someone" is here before leaving. HotBar says she must be searching for The Jerk, maybe they should call him. The legendary empathy of barmen for their customers… Got to love them. Oska#2 is grumpy: From now on they will only give phone calls for customers who paid at least for 2 cocktails.
The day after, DoomedGirl heads to the architect office but can't reach The Jerk. Looks like his staff received instructions too: They are strangely evasive about the schedule of their boss.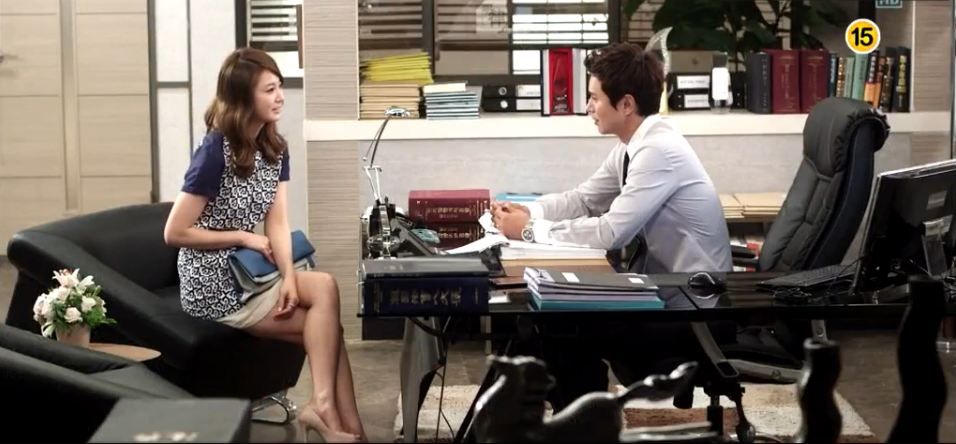 Timebomb is busy with a renowned client of his cabinet. The girl is sued for theft: She took a diamond necklace at the house of his ex-husband, thinking it was hers. Horror: It was the one offered to the new girlfriend. He bought exactly the same for the two of them. So it's just a big misunderstanding. I can't trust a girl who wears a top with a camouflage pattern evoking Space Invaders: She's here to flirt with the lawyer or she's actually a thief. Probably both. She asks: "If by chance, I wasn't sure it was mine… Will it make a difference?" [Snerk] I just knew it. Timebomb's phone rings: DoomedGirl wants to pay him a visit at home today.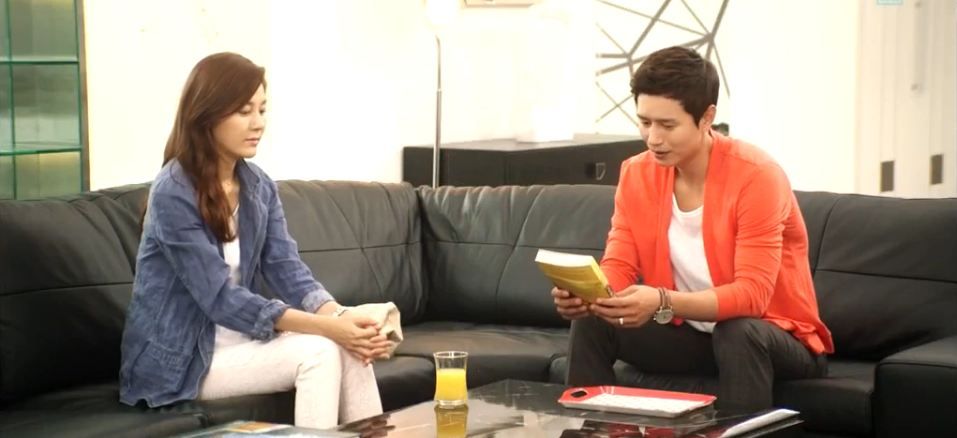 Awkward atmosphere. They have nothing to talk about really and he knows she's here to see the other resident of the house. To cover her lie she gives him a book that made her think of him. Timebomb tells her she couldn't lie to save her life: The Jerk should arrive soon since he called from his car a few minutes ago. DoomedGirl waves the white flag: She lied about her visit but the book is really for him. The story is close to what he's going through in his love life (Baby Fox, kiddo or younger woman not authorized in the sentence by tacit agreement).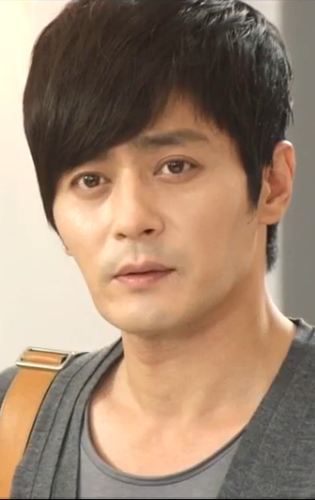 The Jerk arrives: He still looks like a zombie having murderous intents. He doesn't have anything new to say to her since the last time: Maybe she regrets not having given the slap? It's OK for him if she wants to do it now. If not for the slap, what else? A cup of Nespresso, thanks George. Did she came because she found the courage to sleep with him? No? OK, goodbye and see you never. He goes to hide in his bedroom. Pfft. Stop playing a cold-hearted bastard: You're only a jerk, even the Martians know that.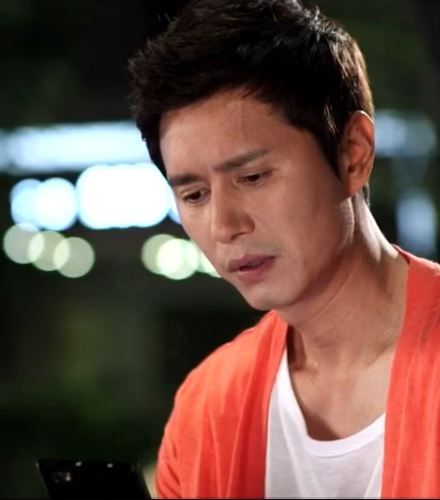 Timebomb waits outside the house for their discussion to end and receives a text from Baby Fox: She will wait for him at the bar until he shows up.
DoomedGirl is rendered completely speechless and frozen in the living room. She heads to his door but can't find the courage to knock on it. A door? Who cares about the door! He is an architect, right? This is what I would do: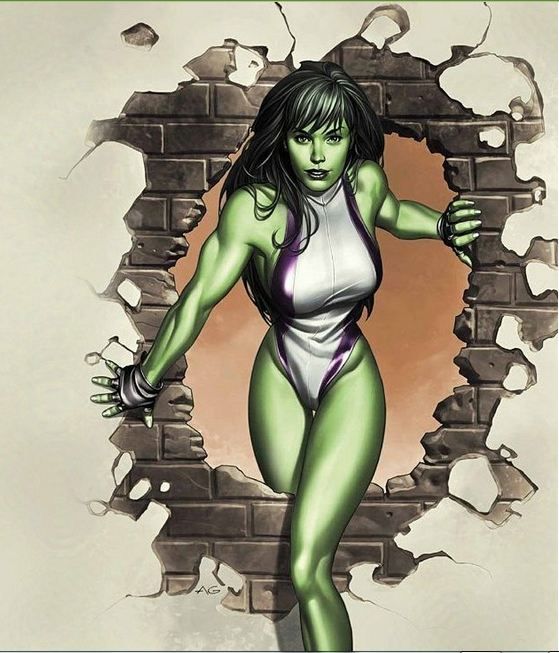 The Jerk finally hears the entry door being shut and gets out of his cell.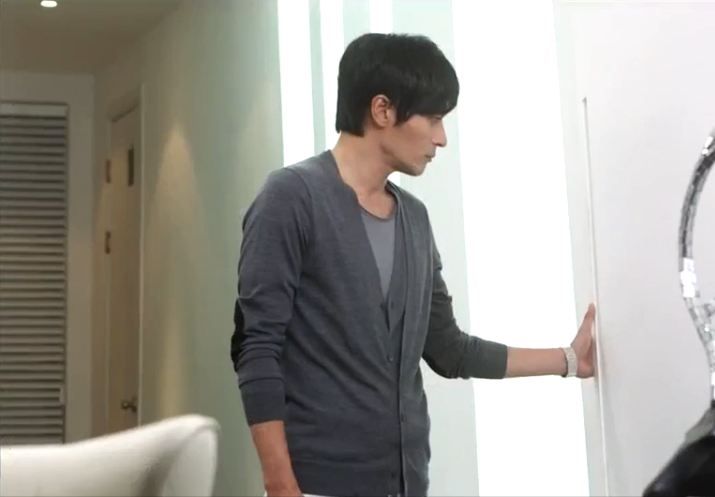 Surprise! She acted like she left to lure him out: She only wanted to see his face. Sadly, he doesn't feel the same. She gets back home and can't help looking behind her: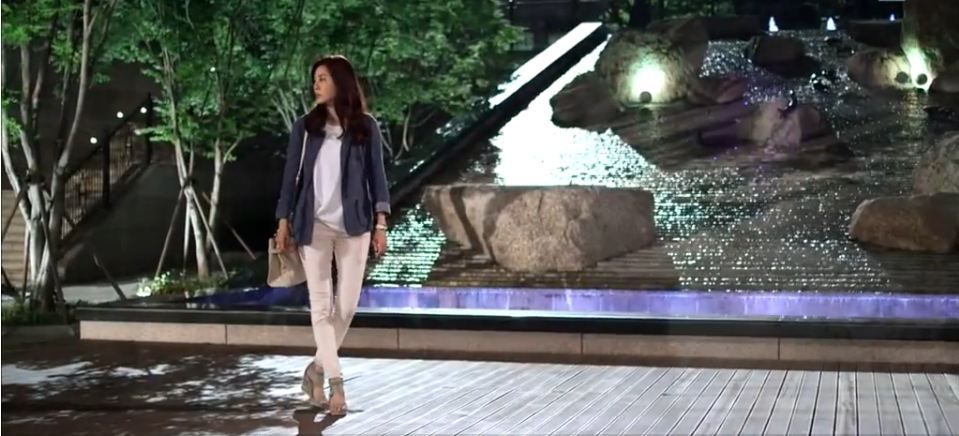 Where is the friendly stalker? 
Baby Fox has been stood up by Timebomb and can't take it anymore: He could call to say he won't come or text a casual excuse. Or anything else.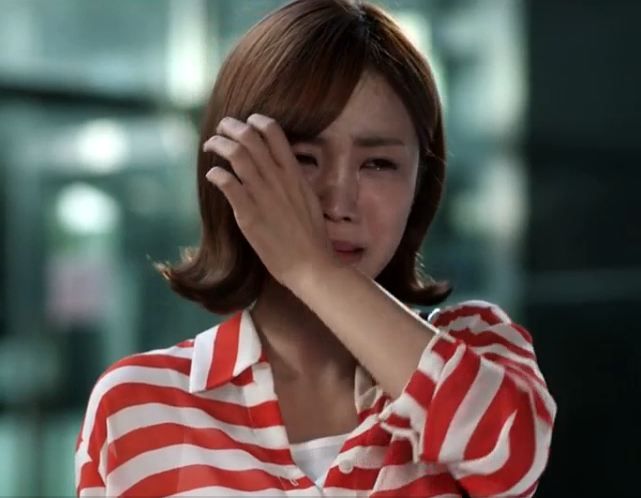 Even the taxis are mean to her and she finds herself waiting alone in the middle of the night. At last a car stops to pick her up. He's been sent by Timebomb. Baby Fox asks if the taxi driver can help her: Could he call back the correspondent and say he can't find the customer? Even better if he can know where the man is.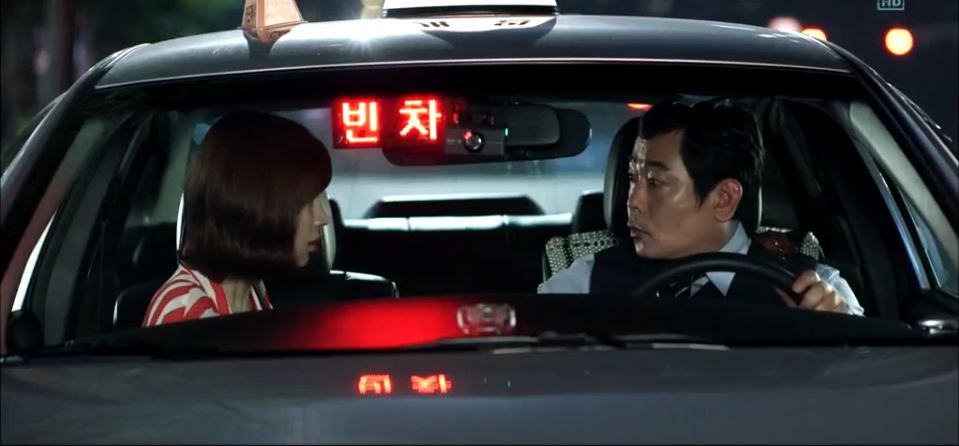 Timebomb who is watching the scene from afar answers he just saw her getting into the car. Epic fail. Baby Fox pays the guy and gets off to search for him. A big guy in an orange sweater hidden behind a tiny pole? Not too difficult.
Once the target spotted, she decides to cross the street like a rabbit crossing a highway: Slowly, by leaps and not in straight line. You never find a Truck of Doom when you need one to get rid of annoying people, I swear. Timebomb jumps in the traffic to save her and almost get killed by doing so. A lot of cars appear from nowhere when we couldn't see a cab for hours? Bwahaha…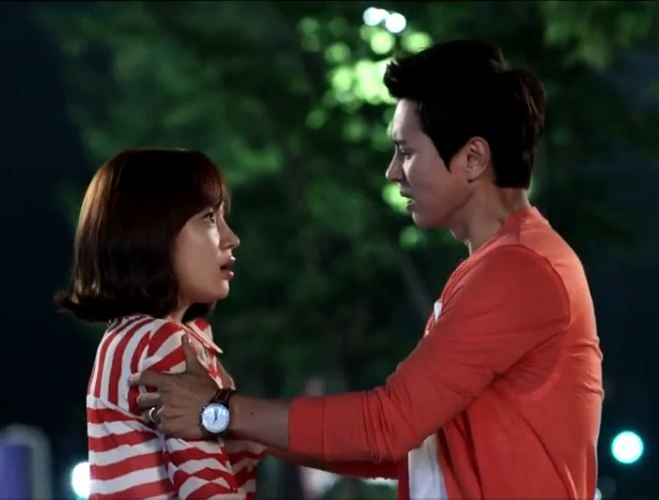 He scolds the crazy kid but she tells him she hadn't the choice: He was going to run away like always. I don't have the choice: I have to kill you since my skin is crawling. Timebomb explains the situation. She's obviously not an adult yet and he is not her guardian: It's NiceGuy who's responsible for her. From now on, he wants her to stop calling him. No more stalking, no more texts. He grabs a taxi, shoves her inside and leaves without looking back. Thank God! Let's just hope it's true. If in the next episode I catch him watching over her secretly, I will eat my hand.
Annoying teacher from hell is busy harassing DoomedGirl, again. She's like one of those vicious little rain clouds following you everywhere you go. She asks if she broke-up with the sexy gentleman of the other day and says she can understand: She's an old woman now, she can't keep a handsome man on her side anymore. She proposes to introduce her to her brother-in-law: He looks exactly like her husband. OK. Now I'm suspecting it's a hidden camera TV show: It's just physically impossible to be that obnoxious. It's… Stupidifying (word invented by Shukmeister).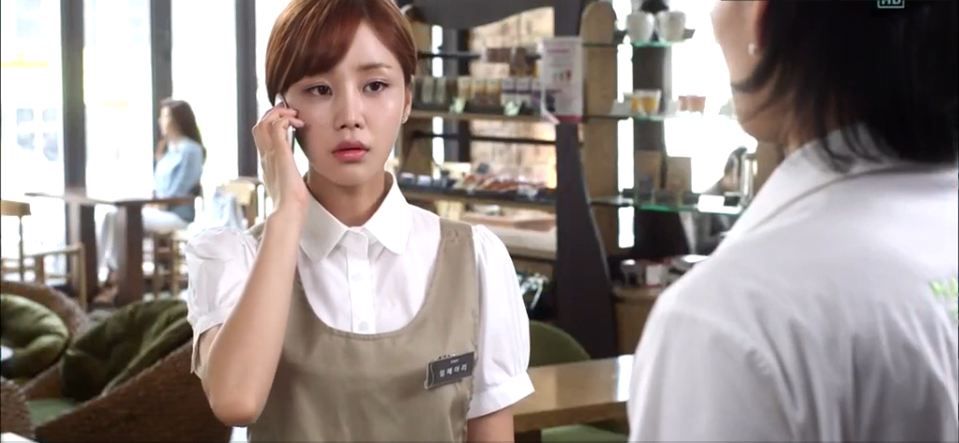 DoomedGirl goes to see Baby Fox at her workplace. She asks about the opening hours and sits at the place where The Jerk saw her the first time. NiceGuy calls her little sister and wants her advice about clothes for him.
He tells Timebomb it's his way of entertaining The Foe: Some men buy wine and candles, he prefers to make her laugh with some ridiculous outfit.
Timebomb replies he wants to be his girlfriend in his next life. Bwahaha…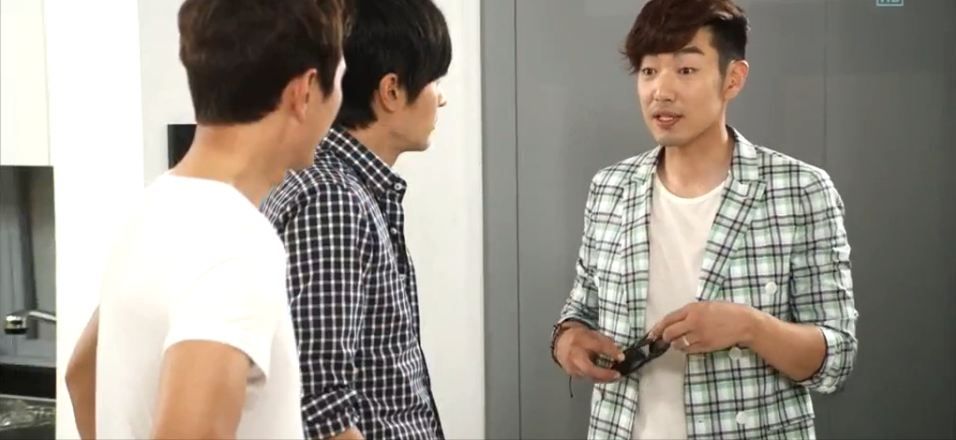 Oska#2 lands at his friend's home with his bags. The Jerk protests: He is already suffering from an overdose of testosterone in his house. Timebomb tells him to use only the sofa: If he tries infiltrating his bedroom the walls will be painted with his blood. Unfortunately the guys can't watch over him cause they have things to do outside. A text message arrives on The Jerk's phone. It's DoomedGirl playing her last card for reconciliation. The message starts with "NiceGuy, if The Jerk knew I was waiting here, would he come?" and Oska#2 plays the good Samaritan: He sends it back to the good recipient. Hijinks!
DoomedGirl stays glued on her seat at the café all day long while The jerk is wandering in familiar places, still thinking about his unrequited love. Not unrequited anymore, Dumbo! He gets back home just when NiceGuy calls back to ask about the ghost message from DoomedGirl: What the hell was that? 3 persons are needed to understand the situation and The Jerk curses everyone before storming out.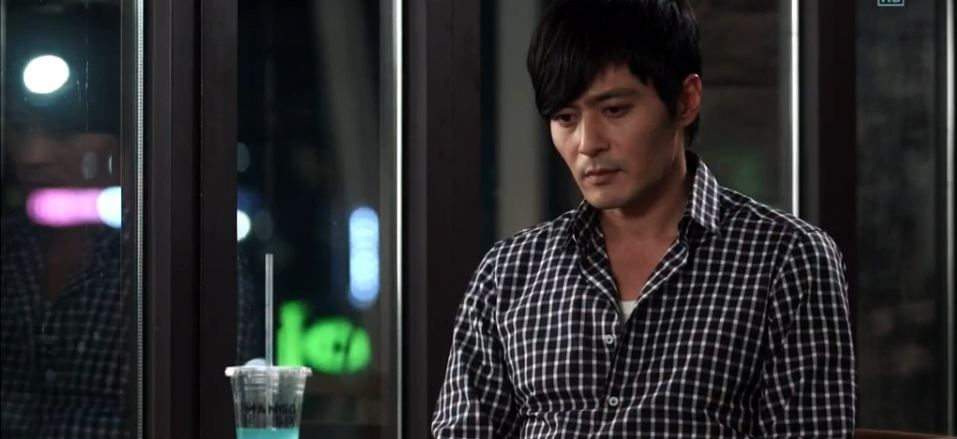 He arrives too late and sits at his favorite place where the drink left by DoomedGirl is still there. Finally a woman appears behind the window and his eyes sparkle again.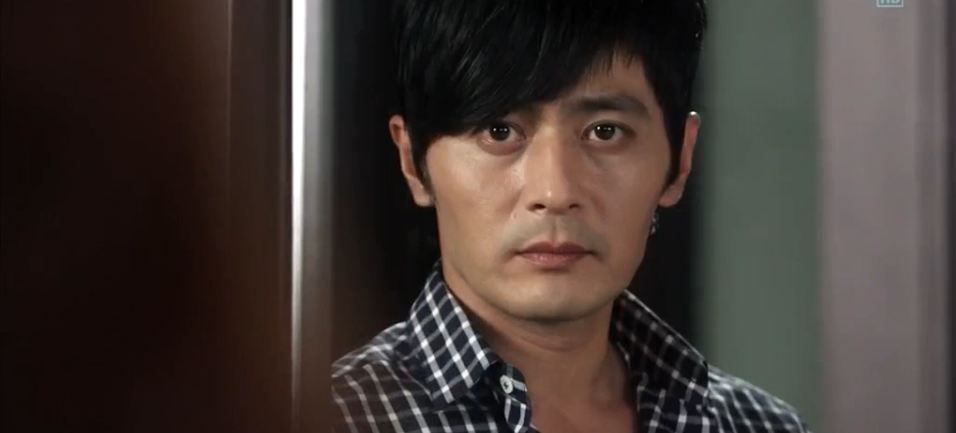 He uses a napkin to write his message and shows it at the window: "My next appointment is you". She gives a silent reply by closing her eyes and planting a kiss on the window. The misery is over…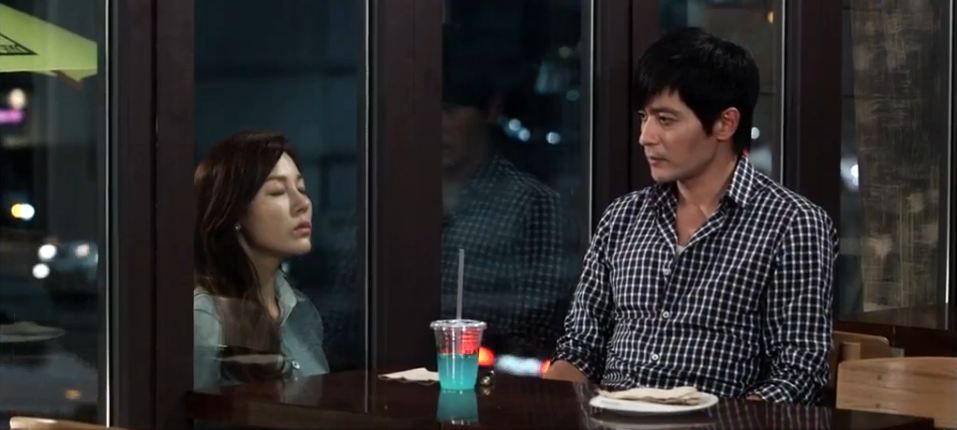 To be continued…
Comments:
It's time to behave like adults in that episode. Big decisions needed to be taken, lives are going to change radically. Pretty much a transition episode where everyone meditates on their own. The calm before the battle if you ask me…
- This show is like a mirage: You think it's an inoffensive rom-com and bam! You're bombarded with questions categorized as "What is the sense of life?":
*Growing old, becoming old: One is needed and obtained by painful experiences, the other one is dreaded (but can be partly solved by wearing skinny jeans and playing MMORPG).
*Bullying at school: Causes and mechanisms. A scene of 3 minutes, and still.
*The different approach of sexuality between men and women: Hello Dr Ruth! Men don't invite us to their place to clean the windows? Who knew! Platonic love is not their thing? Damn! It would be so nice if people could talk comfortably about sex BEFORE entering the bedroom: Less misunderstandings and disappointments. "What do you want and need, what are the conditions, what is unacceptable for you?"
- Ratings for the show on SK TV: They are more than good and they increase. 20% on National and 22% for Seoul for this episode. Keep it going Korea! I want the 30% and the first place!
- Next week we should have the crunchy and sweet scenes of dating for our love birds. I just can't wait!!!!!!!!!!!!!!!!!!!!!!!!!!!!!!!!!!!!!!!!! At the same time I want to see her rolling on the floor from frustration. Ottoke???????????????????????????