Tags
A Gentleman's Dignity, Jang Dong Gun, Kim Eun Sook, Kim Ha Neul, Kim Jung Nan, Kim Min Jong, Kim Soo Ro, Kim Woo Bin, Lee Jong Hyuk, Lee Jong Hyun, Sandglass, Seoul Broadcasting System, Unrequited love, Yoon Jin Yi, Yoon Se Ah
I didn't want to recap this episode. At all…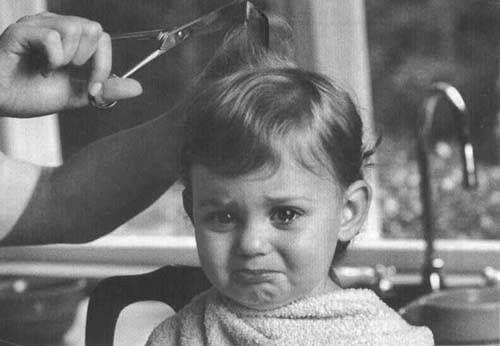 Flashback – Winter 1995: Timebomb, The Jerk and NiceGuy were fighting the cold, curling up under a blanket. They were watching the final episode of Sandglass on TV.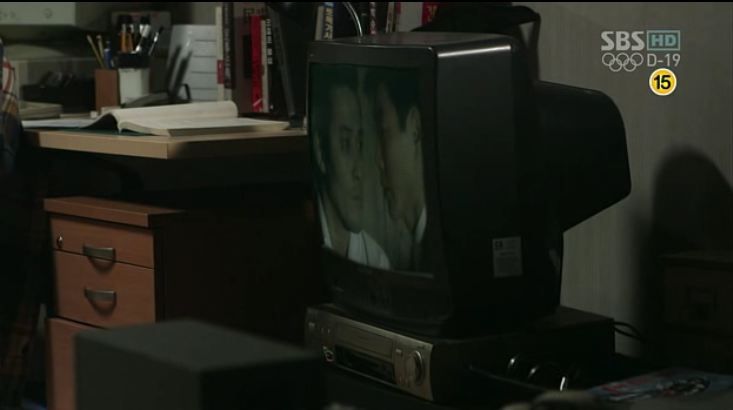 This drama had ratings of 65 %, seems so crazy now…
Oska#2 is late and can't participate in the fanboying session. The others don't want to tell him how it ended but he doesn't care, he will ask his mom: He has a mobile phone now.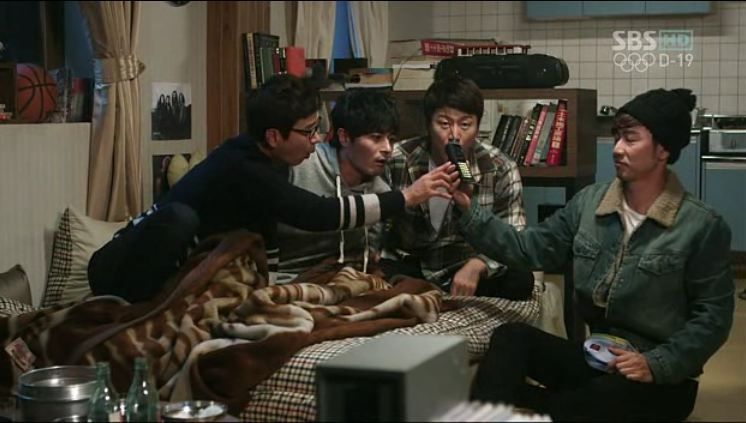 The boys get ecstatic and start imagining the future: Hand phones without buttons, slim TVs on the wall and computers that you can put on your lap like books. If they weren't losers they could have been rich and leaders of the world…
 Steve Jobs X 4? Not sure about the consequences…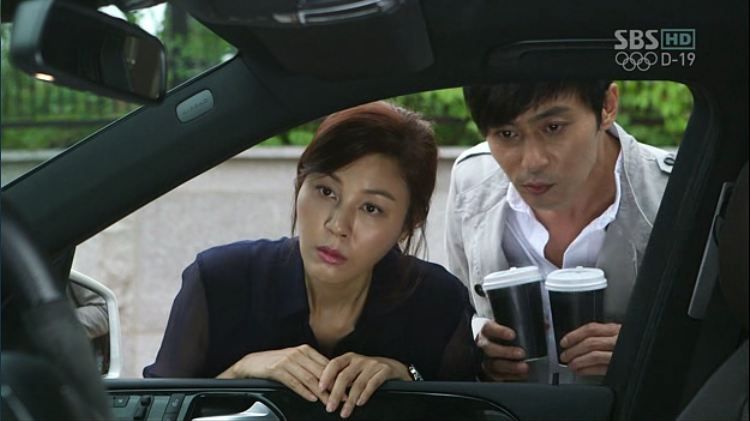 Back to present: DoomedGirl inspects Betty and wonders where the driver has gone. He arrives behind her and gives her a scare: Is there something to steal? He teases her, saying she's ugly. To conceal her ugliness he suggests a dark room with a bed. Pfft. She saw the plane ticket in the car and The Jerk explains it's for Kim Eun-hee's son. He tells her not to worry: She shouldn't be so troubled by the situation. Ever heard of feminine intuition?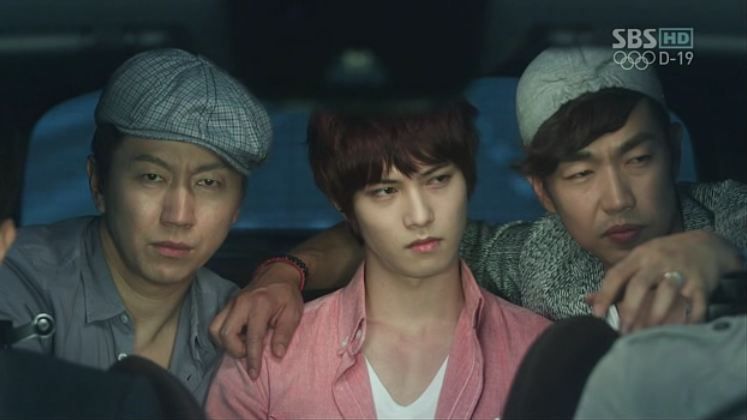 Revelation time: Baby stalker is the son of one of the gentlemen. 3 of them believe it's a stupid joke and give the reason why it can't be possible, materially speaking. The only way to be sure is a DNA test and Oska#2 doesn't like the idea. Scared of needles? The lawyer of the bunch reassures him: One hair will be enough. They return to The Jerk's house with the kid under their arms.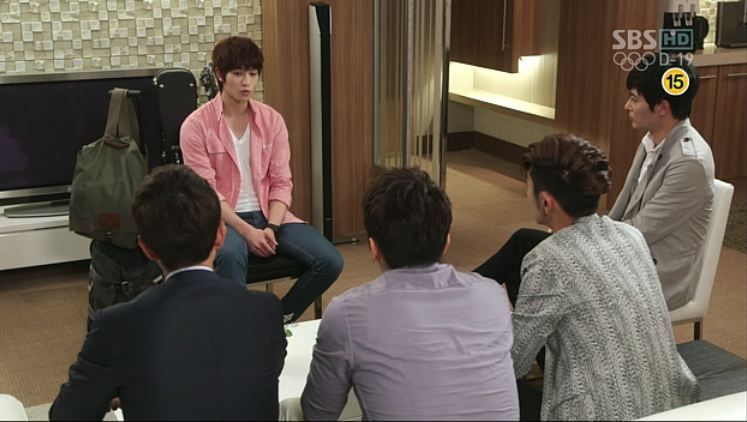 Baby Stalker confirms he learned the truth when he was 10: His dad on paper is a blond Caucasian and someone spilled the beans at school. Now, his reason for wanting to meet his dad was his face: He finds himself so handsome than he had to see if he looked like him. Narcissism is bad for your health… The Jerk asks to see his passport and after a bit of mental calculation he declares he must be the dad. He asks everyone to give them some privacy.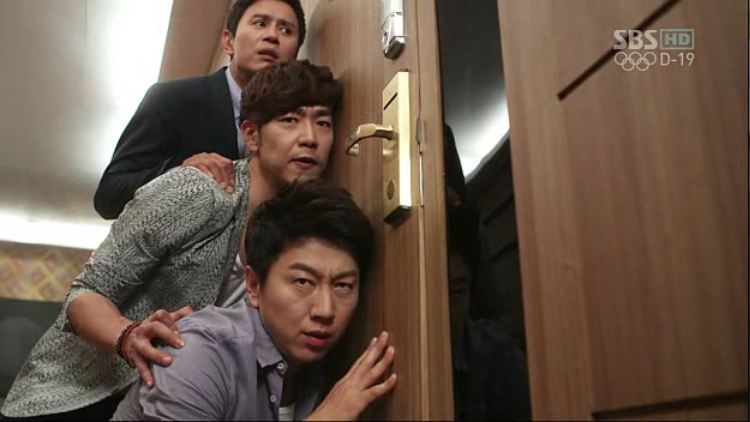 Nothing much to hear tho: The Jerk only wants to have the phone number of the mom in order to meet her. He asks his buddies to leave the kid and himself alone. During all that time, Doomedgirl is left in the dark, literally: He doesn't show up to their date and doesn't reply when she calls him.
*Time for brooding pitifully each one on his corner*. Bleh…
The Rat Pack minus 1 gathers at the bar: Oska#2 says he imagined the situation could happen to him quite often: He would have loved to say the "I'm your father" line.  You're a Star Wars fan so I will let you live. Now dear viewers, we just need a secret twin sister and we can all kill ourselves…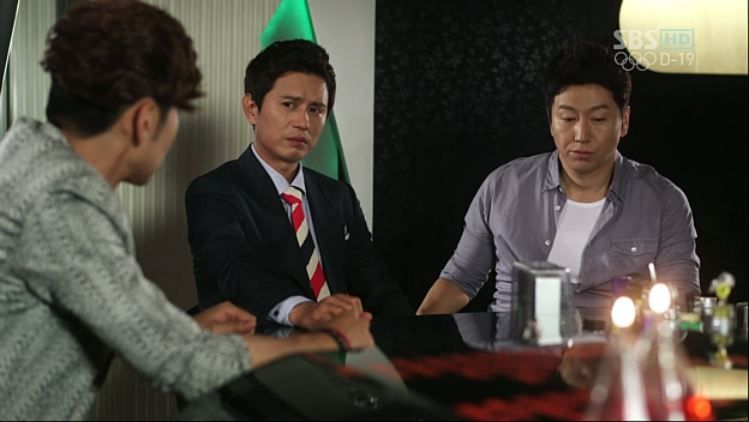 Timebomb understands why the mom decided to keep it a secret. If they are honest about the situation, it's not sure the father would have taken responsibility at that time: Men are immature if not cowards when they are 20. HotBar as a good spy reports the conversation to his master, aka The Queen.
She decides for pro-active measures and invites all the potentially involved women for a crisis meeting.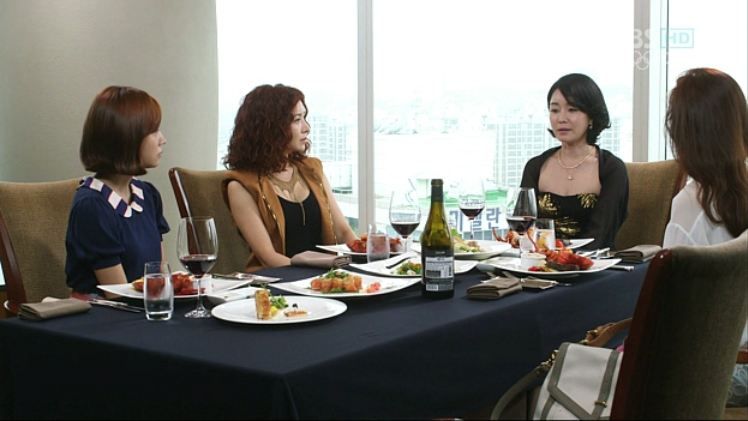 At first, Baby Fox believes it's to give her blessing for her couple and The Foe wants to know if her ex has gone bankrupt (she must dream of banknotes that one). *Buzzer sound*. No one has a clue on who among the 4 men is the father of the kid but Baby Fox doesn't see that as a big deal: Timebomb always wanted to have children and his parents would be happy with grand children. I agree technically but I think you underestimate the conservatism of Korean society… Given the looks and the personality of the boy, the consensus is that The Jerk is probably the father.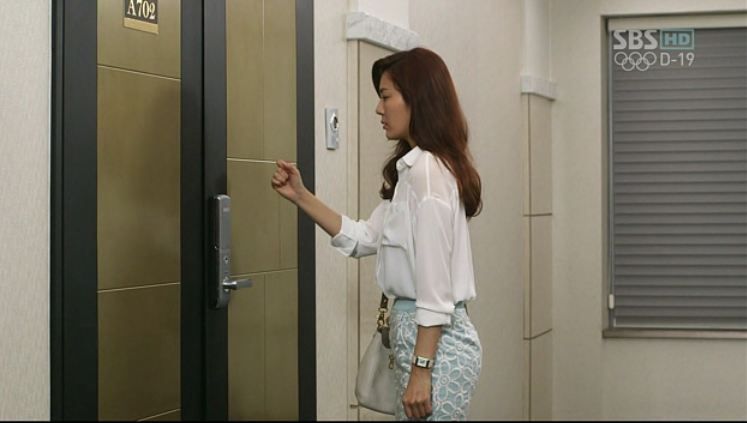 DoomedGirl comes to his appartment to see him but chickens out at the last second. Father and son meet for lunch and the atmosphere is depressing.
The Jerk finally meets Kim Eun-hee that same day but the interview is not friendly at all. He throws accusations at her and acid remarks: She didn't have the right to disappear and hide something as important as this from him. Amen! She replies she ran away because she was scared. She wanted to abort at first but changed her mind later. Also, he should never have known anything. She tells him he should have lied to the kid when he guessed he was the father.
Because you're a coward he is supposed to be one too? Don't like that woman at all!!! He gives her his card and tells her to stay in South Korea until he has taken a decision on his own.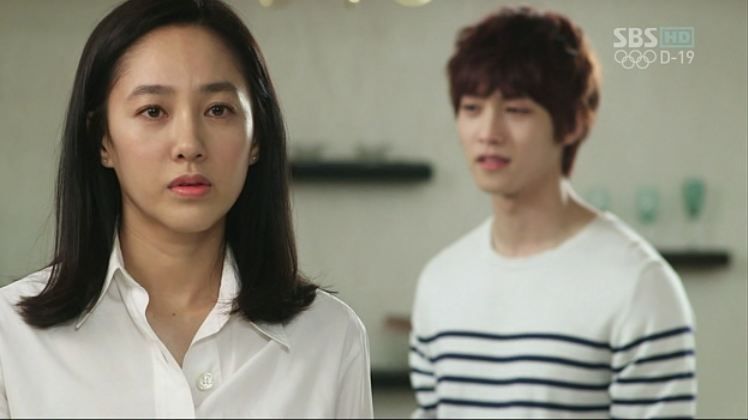 Mom and son are together for the first time in 4 months and Baby Stalker tells her he knew it was him at first sight. She is madly angry at him: He has triggered a chain of events that will destroy the peace in everyone's life: He betrayed the man who raised him. In fact, today is the first day since he was born than she regretted her decision: Keeping the baby. OUCH, OUCH…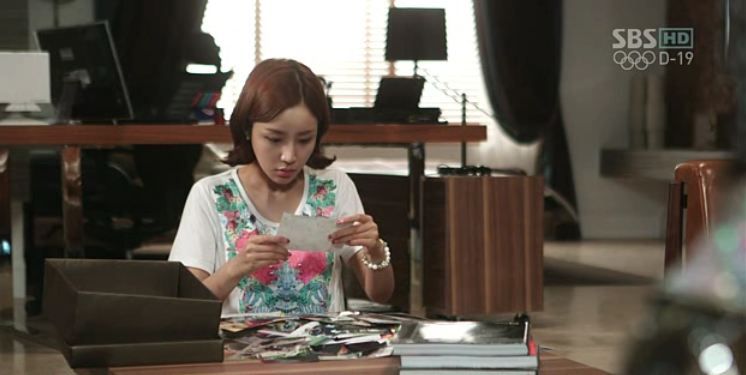 Baby Fox searches in the family photos and finds the one with Kim Eun-hee and the 4 gentlemen.
DoomedGirl is still stewing and dying of anguish. She misses her man too. HEARTBREAK!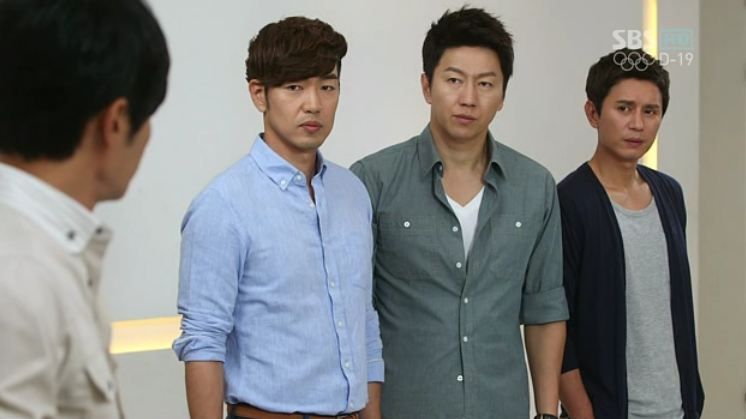 They stayed quiet for a while, but finally the buddies gather at home to hear the latest news. Yes, he met the mom and yes he is the father. The boys offer to help in any way but he tells them to save the jokes for later: He first needs to inform DoomedGirl. The men tell him than all the women are aware of the problem anyway, they just don't know who is the one. All the phones start ringing but one and The Jerk tells them to answer and say the truth: No need to worry innocent people…
Baby Fox and Timebomb have a drink together. Of course she wants to know if… And oppa asks her what will she do if it's him. "I will raise him well and take his education in charge. Don't worry!" 
Baby Fox leaves and the owner of the bar joins the conversation, only to make fun of his friend. He tells him to seriously consider the option of Baby Fox: She's young, pretty, educated (in theory) and forgiving. Timebomb says than it's exactly why he can't flinch. *The Countdown Continues*.
HotBar misunderstands and calls The Queen to confirm than Timebomb is the father. She texts him back: He is a lame spy. Bwahaha…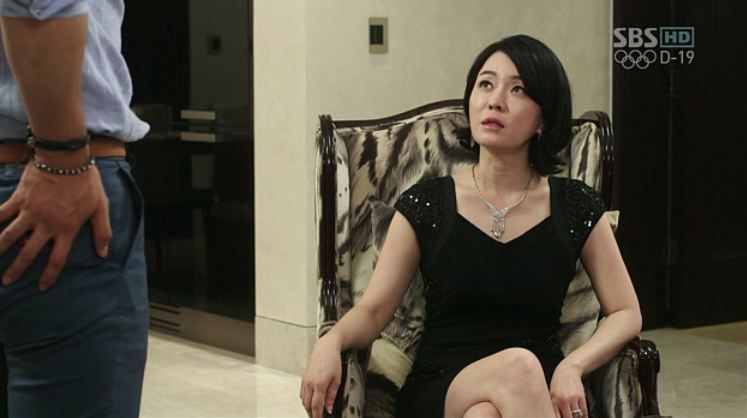 She decides to fish for information herself and summons her still-husband at home. He confirms the father is not him but he can't betray a friend and tell who it is exactly. The only hint he can give is: The kid has double eyelids. She tells him she believes him now, but not because what he just said. She knows the kid is temporarily housed at the residence hotel and if he was his father he wouldn't have done such a fatal mistake. She asks him if he wants to eat with her and stay for the night and the man cries tears of gratitude. 
The Queen thinking: "Would you become an adult if you had a son to raise?"
I hope the lesson is integrated but I will keep my expectations low.
Oska#2 spots the remote of a car and wonders if it's a welcome back gift. She tells him no and than he should mind his own business. The cheater suspects a hidden lover and goes to the parking to verify. He realizes it's the car of The Foe and understands the situation immediately.
The Foe Meets NiceGuy and asks for a slow parting. What? Never heard of such a thing. He calls her a coward for dumping him and still wanting to see his face. Also, who's the father of the kid is not her problem anymore. She replies she's still his friend and wants to help him if he needs it. Maybe you should live by your own principles… He tells her to stop contacting him: He doesn't believe in exes becoming friends. The Foe is left in tears.
Baby Fox shows the infamous picture of Kim Eun-hee with the 4 boys to her teacher friend. She asks if The Jerk has called her recently. The teacher tells her that she knows one thing about life: You can't predict happiness but foreboding is always confirmed by the facts. At this moment her phone rings: The Jerks wants to come. She'd rather go to his office: Waiting for him would get her crazy. She takes the wheel and almost has a car crash because of the anxiety.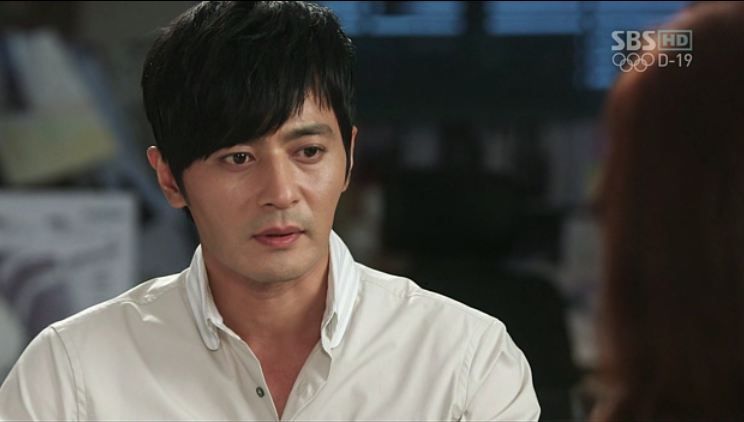 She tells him he looks tired and emaciated. Live shooting system, girl. He replies he is sorry… For what he's about to say.
"Us living together-Us being happy-Me staying by your side until you throw me away… I take back those promises."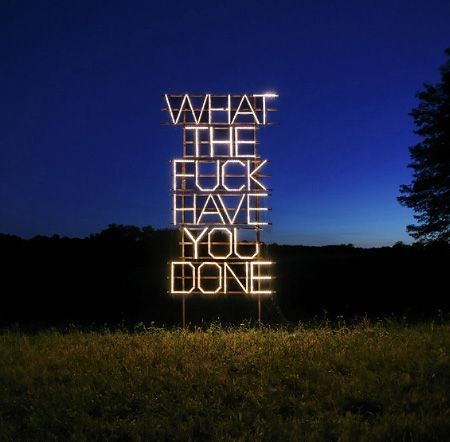 He can't look at her in the eyes all the while and she asks again and again if he is sure than the boy is really his son. He says yes: He was pretentious and arrogant and this kid is here as a punishment. He wanted to be with her but he's simply not good enough. He wants her to forget about him and find someone worthy bla, bla,bla. She wants to talk about their feelings but he has nothing more to say. He tells her to be careful on her way back. She leaves the office calmly and he calls the security agent: He will see a crying woman climbing down the stairs: He can't let her drive in her state. As expected she has a nervous breakdown in the parking and he decides to drive her home himself.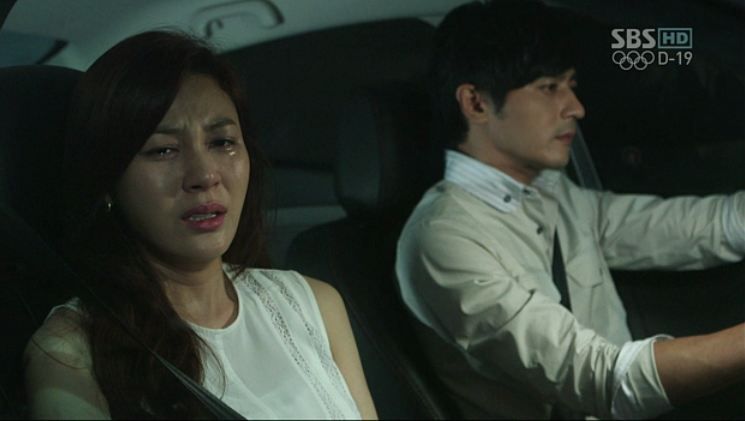 Her tears dry finally and before entering her house she spits her pain to his face: She knew it was too good to be true! With her luck he surely has more than one hidden child in town. She calls him a bastard and closes her door.
HER…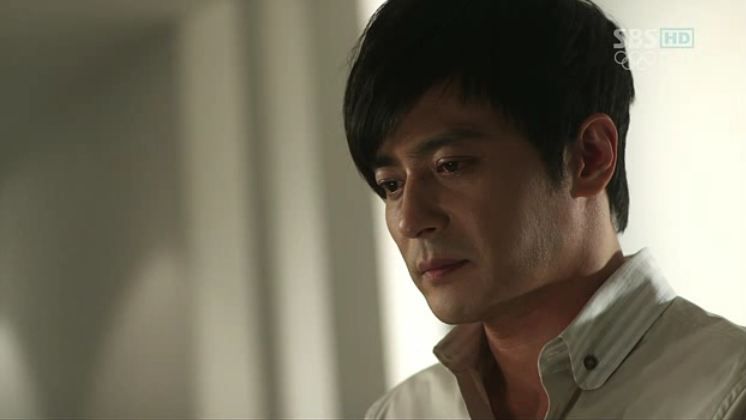 HIM…
At school – Baby Jerk has taken good resolutions: The student he used to bully will not have to transcribe books for him anymore. The victim wonders if it's a vicious joke or the end of the world…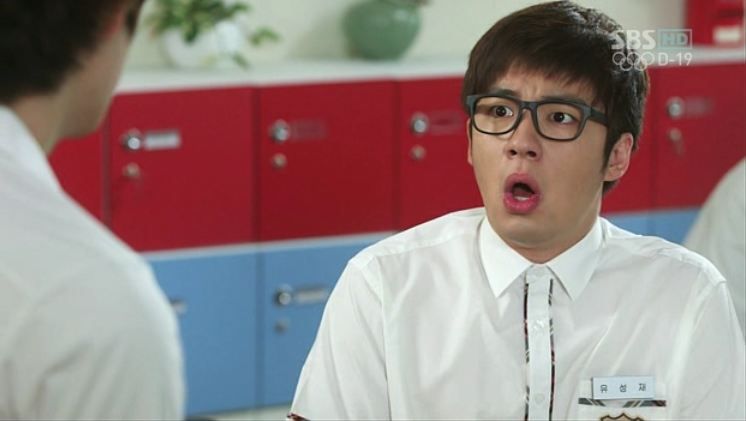 Karma is still a b***h: The mother of the bullied student comes to school and slaps the bully twice before Ethic Teach arrives to calm everyone.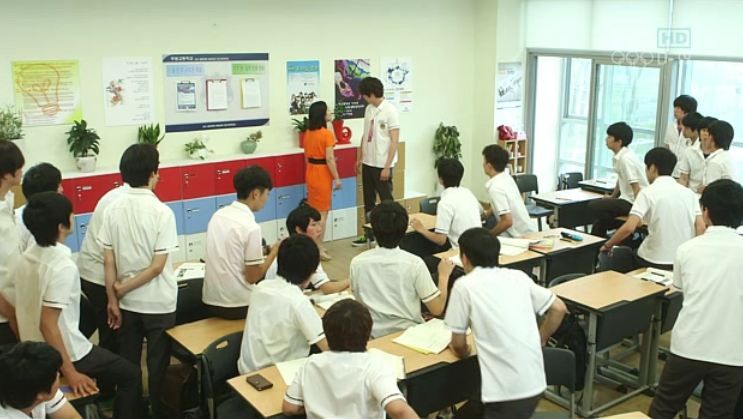 The scene took place in the classroom and we can guess it will become a scandal quite soon. Baby Jerk grabs his bag and leaves the school despite the words of his teacher. Another one who needs to think about his life.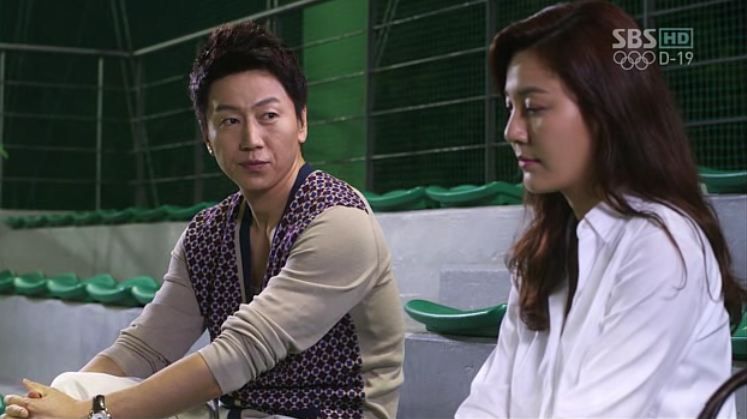 DoomedGirl goes to drink alone at the baseball field after her day of work. Coincidentally, NiceGuy is in the area too and he comes to talk a little bit. Question: Really, the same idea? I'm sure The Jerk asked you to watch over her… He asks if she's alright and of course she says no. NiceGuy tells her he would have probably done  the same thing if he was his friend: A clean cut to set her free instead of a burdening "think and give me your answer". She thanks him for the comforting words: At least she liked one good man in her life. He tells her it was an honor and leaves her to join Oska#2.
This one spills the beans about the car of The Foe given as a collateral and NiceGuy immediately checks with The Queen.
She tells him he wasn't supposed to know that but… You left the keys on the table and invited your husband at home (his best friend) the same day, not knowing than he would tell him? Sure! [...] Anyway, she couldn't refuse to help her and took the car to protect her pride.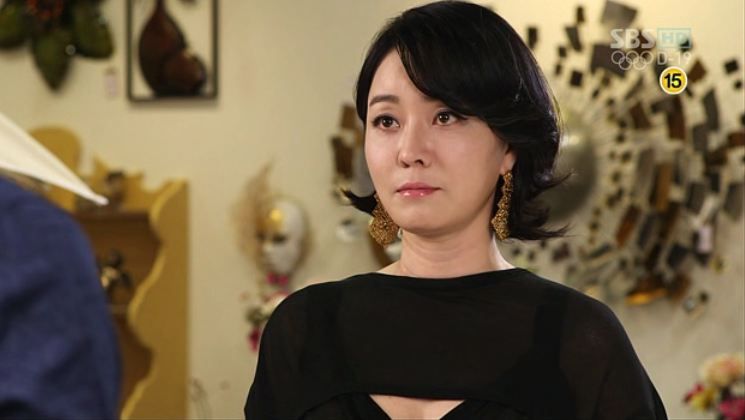 NiceGuy says he has his own pride and pays back the amount right away. He meditates and begins to understand why she didn't want to marry… Yes, she didn't want it because she didn't want to drag you in her personal financial hell. Not that I approve, but it makes sense.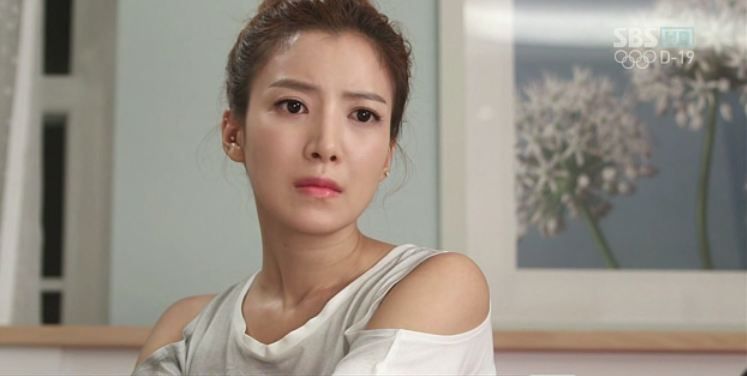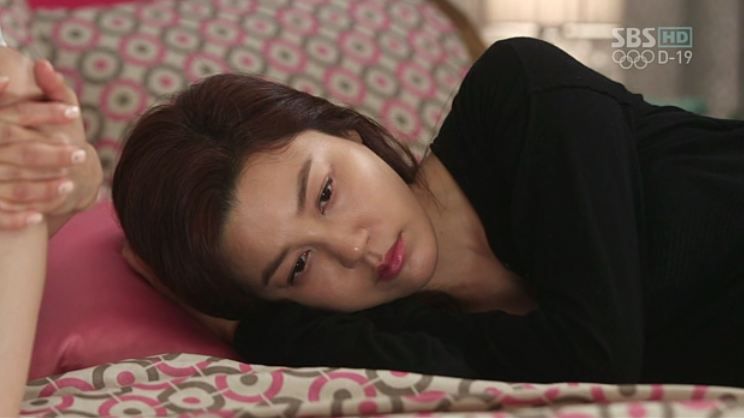 DoomedGirl stays at home depressed and for once The Foe tries to understand and comfort her the right way. You don't have a boyfriend anymore so I guess you can't accuse her of trying to steal him. DoomedGirl tells her than the boy is the son of The Jerk. The Foe would have preferred if NiceGuy was the father, this way she could have hated him. Is there anyone happy on this episode???
The Jerk and Baby Stalker have another gloomy meal together, officially to learn about each other and bond like father and son. The Kid asks him for a few hair and brings them to his lawyer, aka Timebomb. All for naught: The lawyer is one step ahead and already did the paternity test: 99,9% of probability. Timebomb schedules a family council in his office…
Annoying teacher comes to find DoomedGirl at home since she doesn't answer her phone: As predicted, the hysterical mother wants to sue Baby Jerk and surely the school too. DoomedGirl comes to the lawyer's office to see Timebomb and of course she comes face to face with The Jerk and Kim Eun-hee.
Awkward… She wants to brush them off but The Jerk grabs her wrist to stop her. He makes the introductions: Kim Eun-hee as the first love and her as the lost love.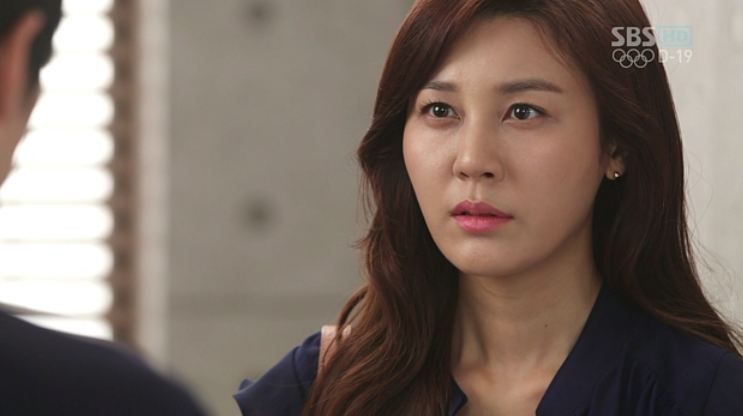 To be continued…
Comments:
- Hopefully, I know this writer loves her happy endings (in her last dramas at least) or else I would be worried. But I also know you have to be careful with the appearances: She likes to play with the minds and hearts of the viewers. So, a few theories about The Jerk:
1° – He is a noble and an idiot and the father of the kid: He wants to protect mother and child when they actually don't need it. Well, he is a jerk, NOT a bastard. I don't buy it. Kim Eun-hee doesn't look happy about the situation either. From what we know, she betrayed him on the business department. What can he do with such a SheJerk? We'll probably have the answer this week, after the gathering in the lawyer's office.
2° – He didn't lose his memory when he learned about his son or when he met the mom. Soooo, it wasn't such a great shock for him. Which means DoomedGirl is N°1 in his heart, and a priority. The Jerk is putting up a show here and maybe the pen recorder will have a role to play…
3° – The Jerk is not the father. Someone reads Korean and can do a macro of that DNA test? It's not Christmas and it's not my birthday either but I can hope. In that case, Oska#2 as his dad would be cool: Just because the kid doesn't want him to be, and because the player would have another spy on his back. And because The Queen seems lonely: She would love to take care of a child, even grown up. Also, she's used to scandals. One more, one less…
One thing I always wondered: We never heard about the parents of NiceGuy and Baby Fox. The age gap between them and their whole relationship seems strange. Who wants to bet than she is a half-sister of Baby Stalker? I smell a birth secret…
A pet peeve: Am I the only one who gets mad at the sight of untouched food during the restaurant scenes? Yummy steaks or seafood and no one eats because obviously it's cold on the plates. Dear drama staff, ever heard of micro-wave? You need only 30 seconds…
Now, please, please Dramagods… Let this week be full of smiles, rainbows and unicorns…