Tags
A Gentleman's Dignity, Jang Dong Gun, Kim Ha Neul, Kim Soo Ro, Kim Min Jong, Lee Jong Hyuk, Yoon Se Ah, Kim Jung Nan, Yoon Jin Yi, Lee Jong Hyun, Kim Woo Bin, Kim Eun Sook, Unrequited love, smile on my face
I take back what I said about cameos. This one brings a smile on my face.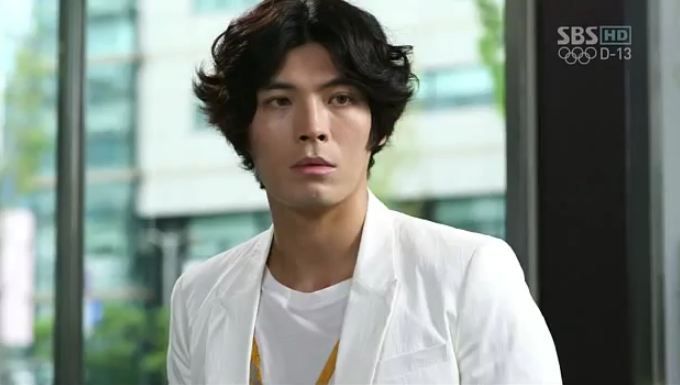 Hello my friend! how you doin' these days? Could you please come back on my screen with a bigger part in a drama? Thanks in advance. Signed: Your fan forever.
Flasback – The RatPack had to attend one of those exciting training sessions for reserve soldiers.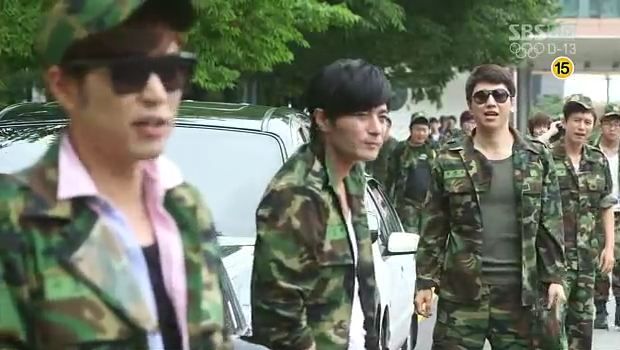 To spice up things they put messages instead of serial numbers on their helmets: "Women's corp", "Pretty army". Bwahaha… The poor junior who had to take in charge those rebels lost his last gram of authority when he started to give direction orders: "Move? What for?", "I'm tired, it's hot.", "Why on the left?"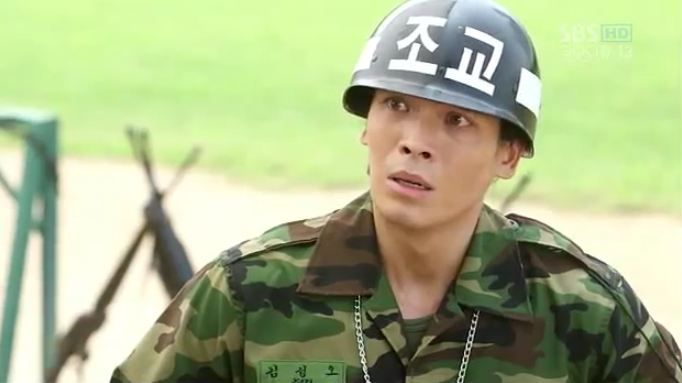 Instructor traumatized…
Things can get worst even if you don't think it's possible: No smoking and no alcohol allowed in the canteens? Pfft. The boys gave the fatal blow:
NiceGuy: "Why are you so strict? Must be because you don't have a girlfriend."
Oska#2: "The army suits you perfectly. You should stick to it."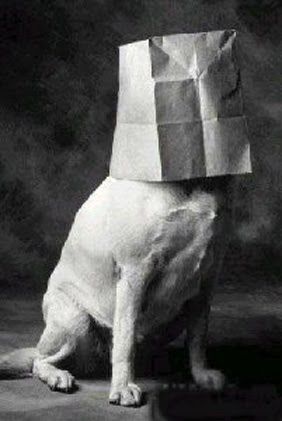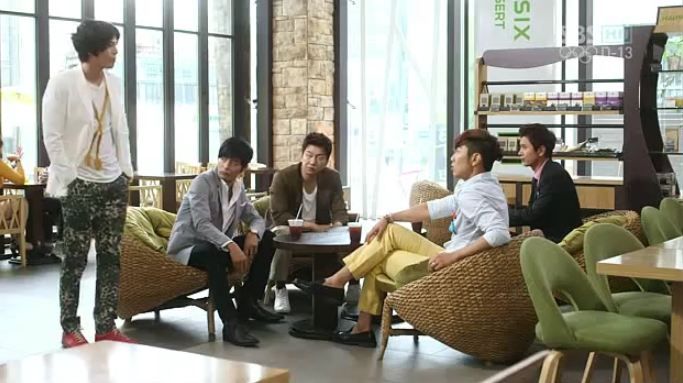 A few years later, the guys are at the café and discuss a big designing/constructing contract for a certain President Song, a very important client. Their old victim from the army enters and the old habits resurface: Bad jokes and humiliation. Secretary Private Kim calls his mom for help in the street (literally). The mom of course is President Song.
The Jerk and NiceGuy suddenly become all kind and attentive while the other 2 don't understand anything. Bwahaha… This time it's NiceGuy who narrates the scene and gives us the lesson of the day: A First class doesn't stay a first class for the rest of his life.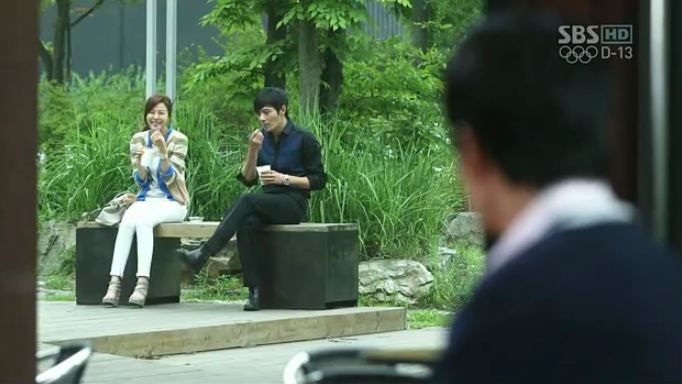 Back to present – The Jerk is waiting for Kim Eun-hee and remembers a cute date he had with DoomedGirl. She called him an old man and warned him: If he didn't behave like a young fool in love she could still go and date a younger man. "A goal keeper can score too". She opened her mouth and waited patiently for him to give her some of his ice cream: "HAAAAA…"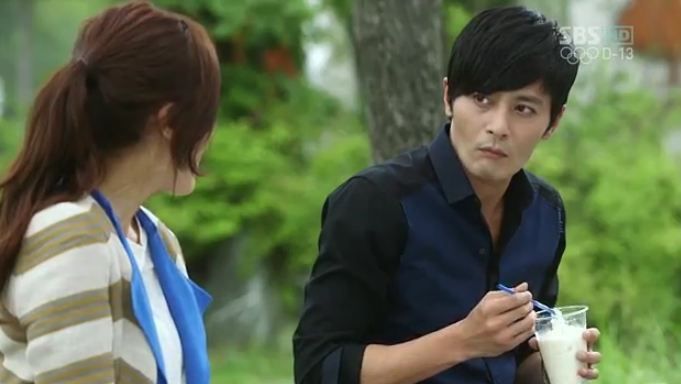 Perplexed? Terrified… Or ashamed?
They thought of watching a movie, her for the movie and him because it's a dark place with 4 walls where things can happen…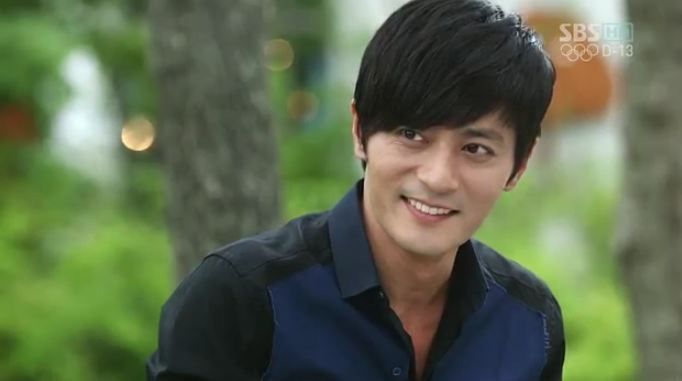 "If you don't want to watch a movie we still can live together…"
I swear he has the 3rd most beautiful smile in the world. After Yoon Shi-yoon and Vampy of course.
Kim Eun-hee arrives and the sweet dream vanishes. He tells the ex girlfriend than they are awaited at the lawyer's office with "him".
Eun-hee says "him" has an English name: Colin. In fact she wanted for him to give the child a Korean name when they met 8 years ago. The Jerk has absolutely no recollection of that event and she has to tell him the all story: It was the first time Colin had asked her questions about his biological father and she wanted for both of them to meet. Strangely, he never came at the appointment.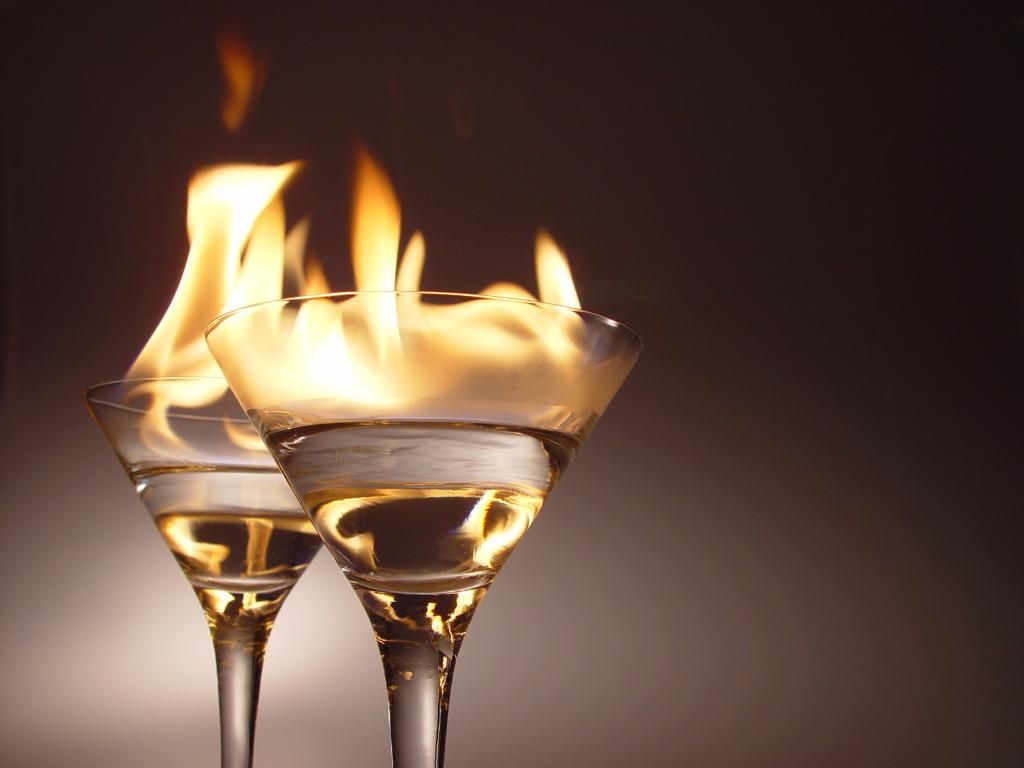 Guilt and Shame cocktail: Secondary effect = Amnesia.
The Jerk tells her he had his first episode of memory loss at that time and starts being aggressive: She has a gift for making life difficult for him. She replies that's why she kept quiet all those years, she didn't want to embarrass him. She understands what he's going through these days because she felt the same 18 years ago: Disbelief, anger, sadness, anguish about the future.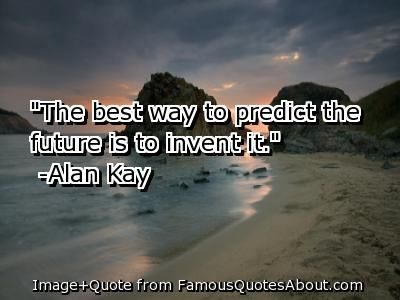 She proposes to return to Japan with the kid but he tells her it will fail: Baby Stalker is not the kind of child who does what he's been told, exactly like his father. Georges Lucas wouldn't say otherwise.
Flashback of the awkward meeting between the 2 women and The Jerk – Kim Eun-hee is actually polite and deflates the potential fight: She would have liked to meet her successor in better circumstances. DoomedGirl agrees with her then states than she is not angry at her but at him. For the records, she's not a "lost" girlfriend but a "dumped" one. She tells The Jerk not to introduce people to her anymore: She can make friends by herself, thank you very much.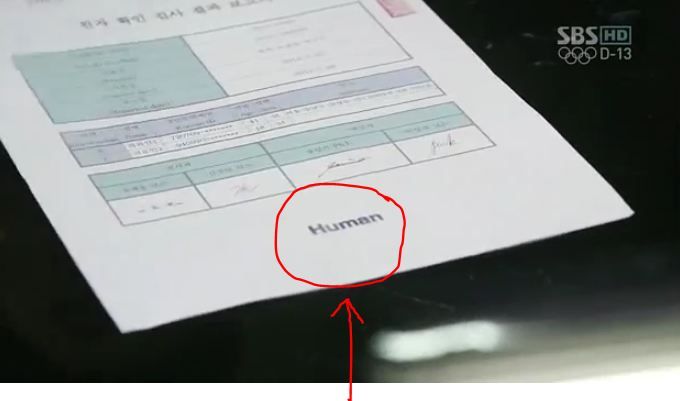 Think positive…
Timebomb shows the result of the DNA test. According to him, the first thing Baby Stalker asked when he heard the good news was: "Is he rich?". Mom wants to hide under a rock and tells them she will redo her son's education. Please don't! I will have no fun if he stops practicing radical honesty.
She leaves and the 2 friends can have a heart to heart conversation.
The Jerk says he will live one day after the other: He never had a son and doesn't know how to start. He tells Timebomb to be extra careful next time DoomedGirl will come to consult him: She will probably cry and curse him. "You can curse me too because I deserve it." I'd rather give you a good kick in the ass but whatever…
The Foe comforts her friend the best she can. Worrying about her health is quite a progress. Doomedgirl is the archetype of the defeated adversary, one knee on the ground: According to her, Kim Eun-hee is prettier than all the girls in the universe. She should read the comments at viki: That would improve her mood drastically. She says she can't compete with a woman who is such a big part of her man's past. Huh… If I remember correctly, you said in a previous episode than Present always wins against Past, no? The Foe her, wants to know what will be NiceGuy's future. Please refer to the motivational picture above…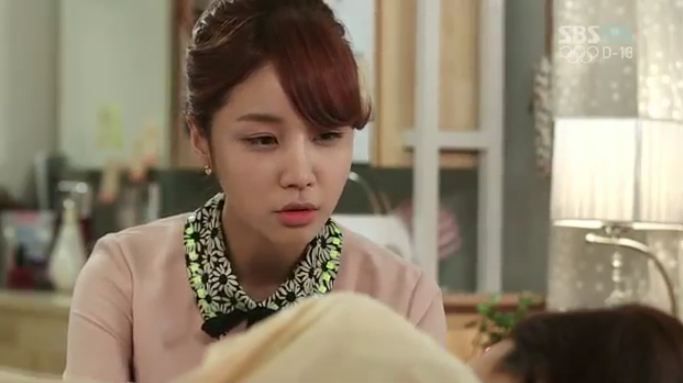 Baby Fox comes to visit her favorite teacher at home. She says it's no use being jealous: She has to be determined and must kick her adversary out of the ring. She offers to give her the passcode for The Jerk's house and I'm very much interested: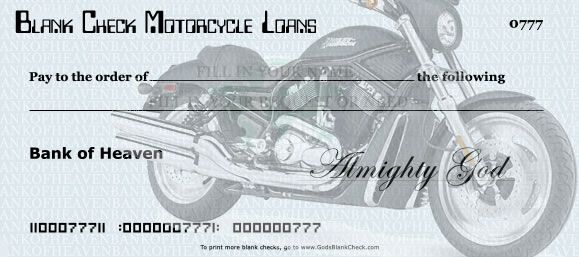 Would you prefer this…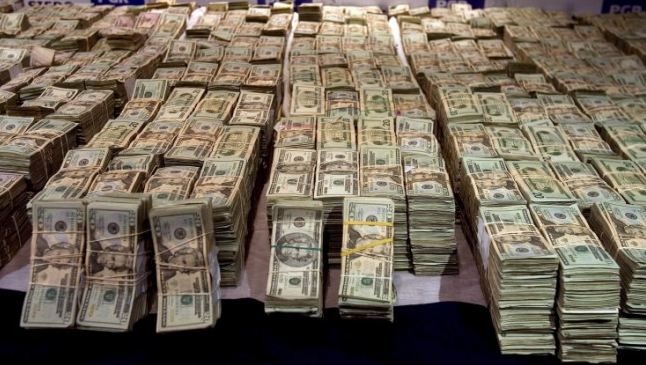 Or this…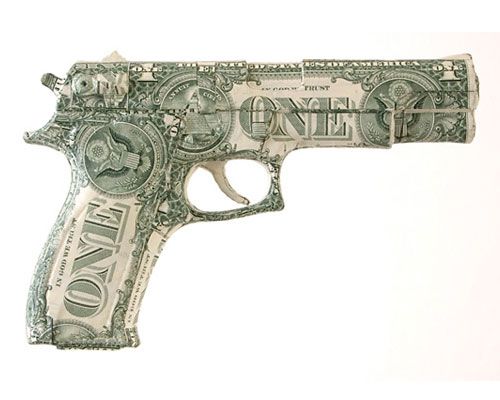 Or maybe that.
The choice is yours.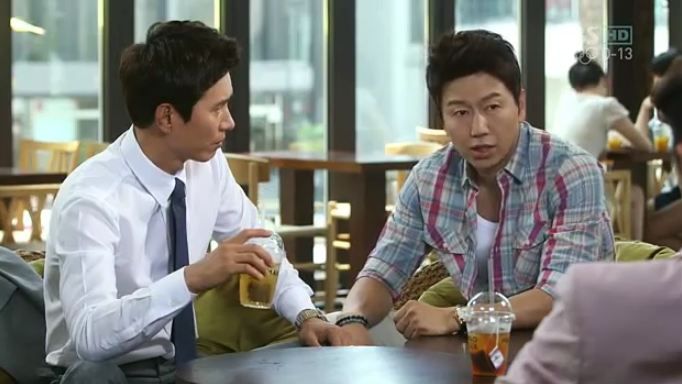 Mango 6 café – Timebomb informs the other 2 of the result for the DNA test. NiceGuy suggests to buy clothes for Colin since they are now his uncles…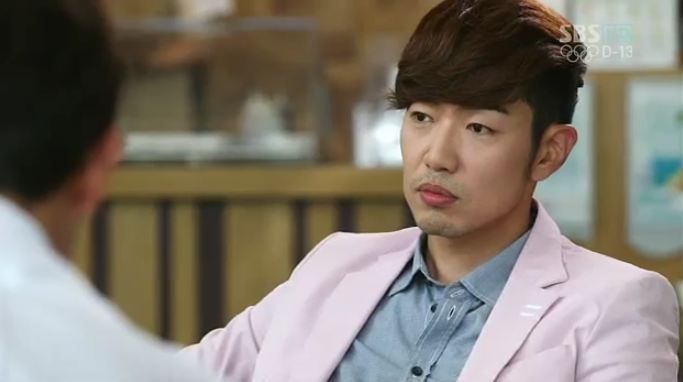 Oska#2 still hopes he is the father: 0.10% of "risk" is enough for him. He wants to choose the welcome gift himself since their lack of taste is notorious but the others order him to keep a distance with the kid: With his big mouth he would just bring shame on their heads. They call Colin and set the rendez-vous at the nearest fast food restaurant.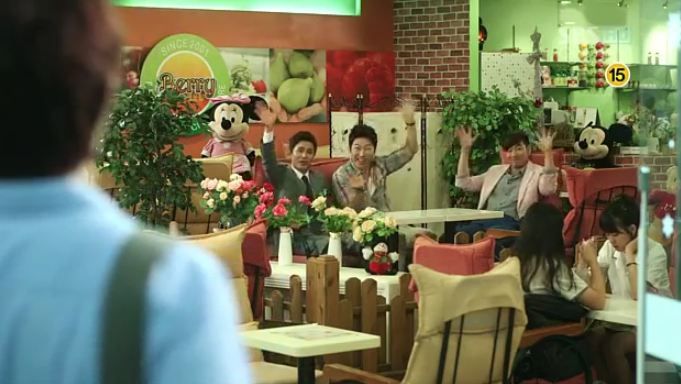 In the children's area. Bwahaha…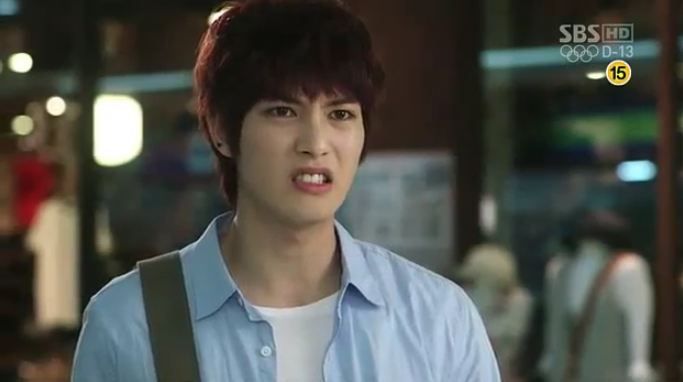 Oska#2 starts the questioning: Birth date, Blood group, favorite color… According to him, AB Virgo's are very gentle. They also need a lot of love and attention. Bwahaha… NIGHTMARE ahead!!! Baby Stalker asks if they are really friends with his father and the answers is yes: They know each other for 25 years and it's still one for all and all for one. Even if they keep fighting like kids…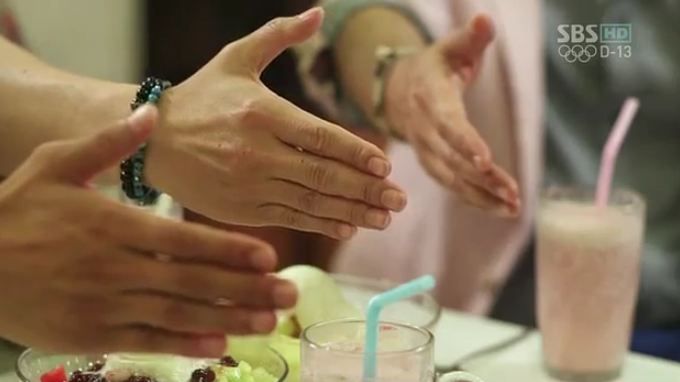 Welcome to the family! Best bromance ever…
DoomedGirl at school – Baby Jerk didn't come today and she asks one of the student to find him before the end of the day. She finally catches the runaway kid and can have a proper discussion about what happened.
He doesn't try to lie: Yes he hit the student and yes he made him transcribe the books. She tells him he needs to apologize for his wrongs but he also needs to receive an apology from the mother who slapped him: Justice works both ways. I love idealists, they are cute. But in real world it doesn't work exactly that way… She asks if he wants to quit school and he tells her he has other priorities now: Like you know, earning some money to live AND being able to go to school. Because transportation, clothes and meals out of home are not free… Welcome in the real world.
Kim Eun-hee calls DoomedGirl and asks for a meeting, just the two of them. She clarifies the situation/ She has a husband and is living happily abroad. She is not interested in Baby Stalker's father at all. The Jerk is actually having a hard time adapting to the situation and needs some time too. As an older woman who walked the same path she knows it's hard for her. Her advice is to listen to her heart: It's obvious they love each other a lot. She informs her than Baby Stalker will be a pain in the ass for her: He is one for his own mother… Bwahaha. Kim Eun-hee clears all the mines and the genuine smile on her face puts DoomedGirl at ease. Omo! Womance? Are you a bodhisattva? Why so many likable characters? I can't handle that. DoomedGirl asks what gave her the courage to follow her heart. Answer is: Motherhood. Ethic teach ends the conversation with nice words: She knows The Jerk loved her too when they were young. Eun-hee says it's a good news for Colin then leaves.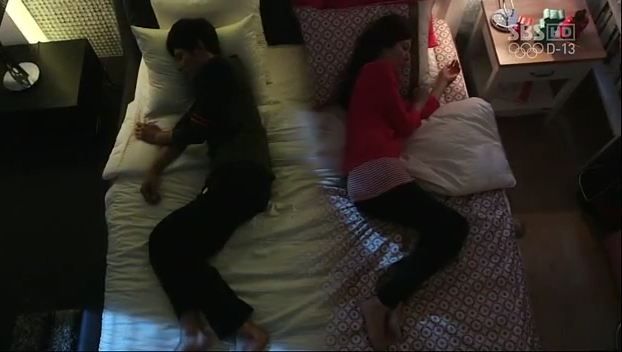 We are given another sequence of let's be all broody at night and remember the good times. Actors needed to rest, I can understand that…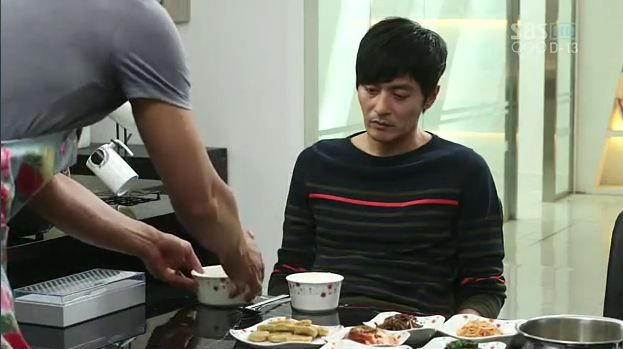 Next morning, Timebomb has to force feed a grumpy roommate. The Jerk tells him he doesn't need company for breafast: The rice cooker talks enough for 2, furthermore in polite form. And it looks like a motorcycle helmet: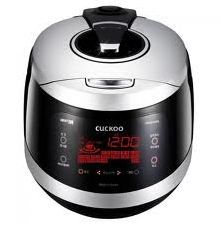 It's like a slow death for DoomedGirl and The Jerk and Oska#2 wants to do something to help them since they refuse to see each other.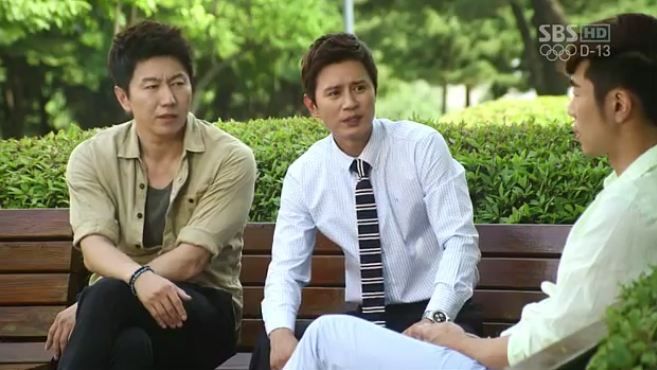 Oska#2 is the perfect matchmaker: They met at his café in the first place. NiceGuy calls Ethic Teach for a fake date and fails miserably: He can't start a normal and relaxed conversation. Seeing his face she understands it's a trap but still thanks him. She knows he has good intentions and to be honest she misses the man. Timebomb arrives with The Jerk and pretends it's a coincidence. In a K drama? Pfft. Epic fail…
*Awkward silence* – She tells him she's in a hurry because of an appointment and leaves.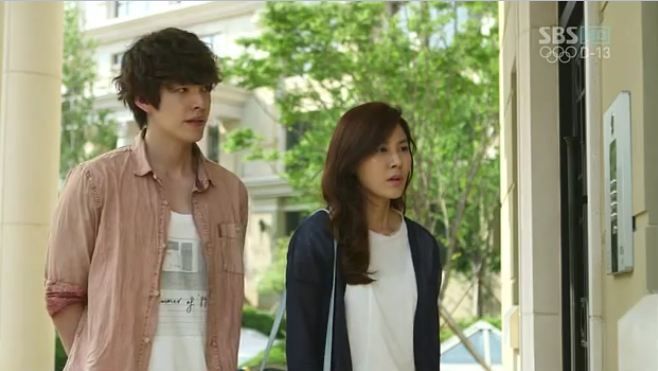 Actually, the appointment is with Baby Jerk and the slapping mom. The discussion by intercom leads to nowhere: The witch even wants to call the cops to kick them out of her property. Hopefully, The Queen arrives to the rescue.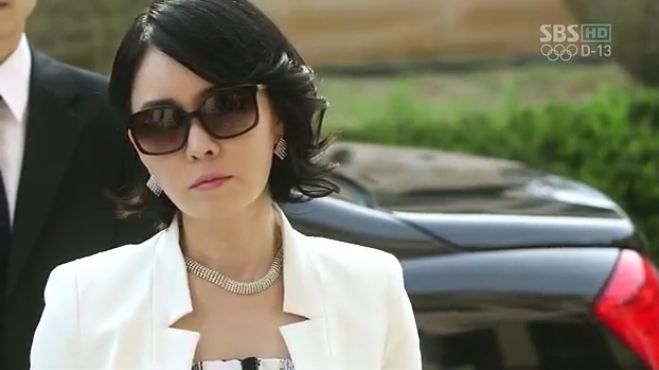 Squeeeee!!!!
The witch listens carefully to her and the "nephew" of The Queen has to apologize correctly after a good Gibbs head slap™. The lawsuit is miraculously dropped and Ethic Teach can't thank her savior enough. The Queen tells her she just payed her back for the incident at the residence hotel, with the interests. Noblesse oblige. She gives a lesson to the kid: Money is not valuable in itself. It's valuable cause it gives you freedom and prevents mighty obnoxious people to step on you. And if you're not from a wealthy family, you must study to be rich.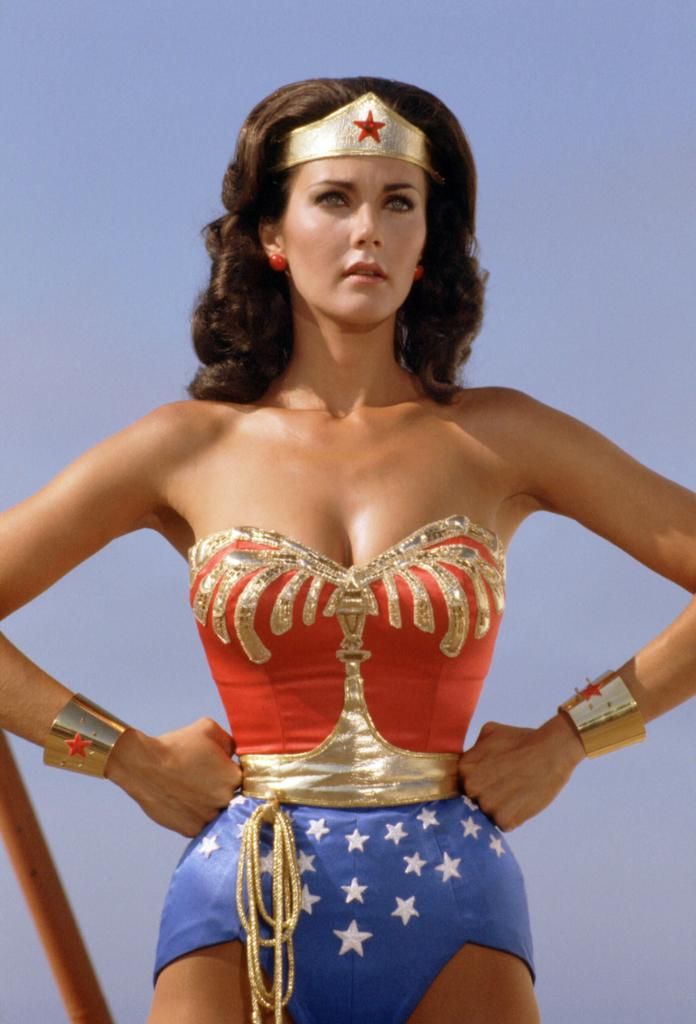 Understood?
The Queen has apparently a lot of free time and she invites DoomedGirl for a tea.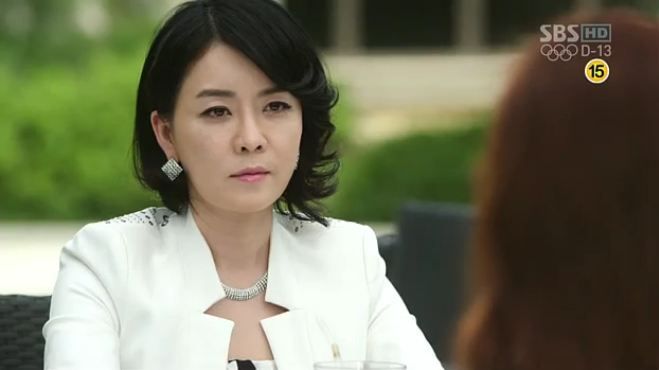 *Let's save the world, one person at a time*…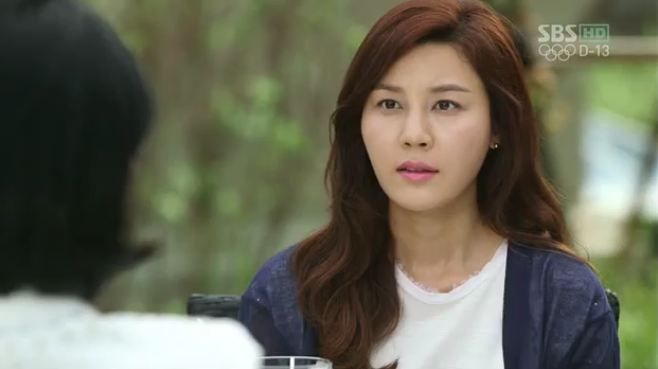 DoomedGirl feels comfortable enough with her psychoanalyst unni to tell her how she feels: She's not angry at the man anymore, she just lacks confidence. Can she be really happy with a man who has a child? She tells her than some days she feels capable and other days she wants to hide. The Queen summarizes the situation: "You can't go back and you can't move forward…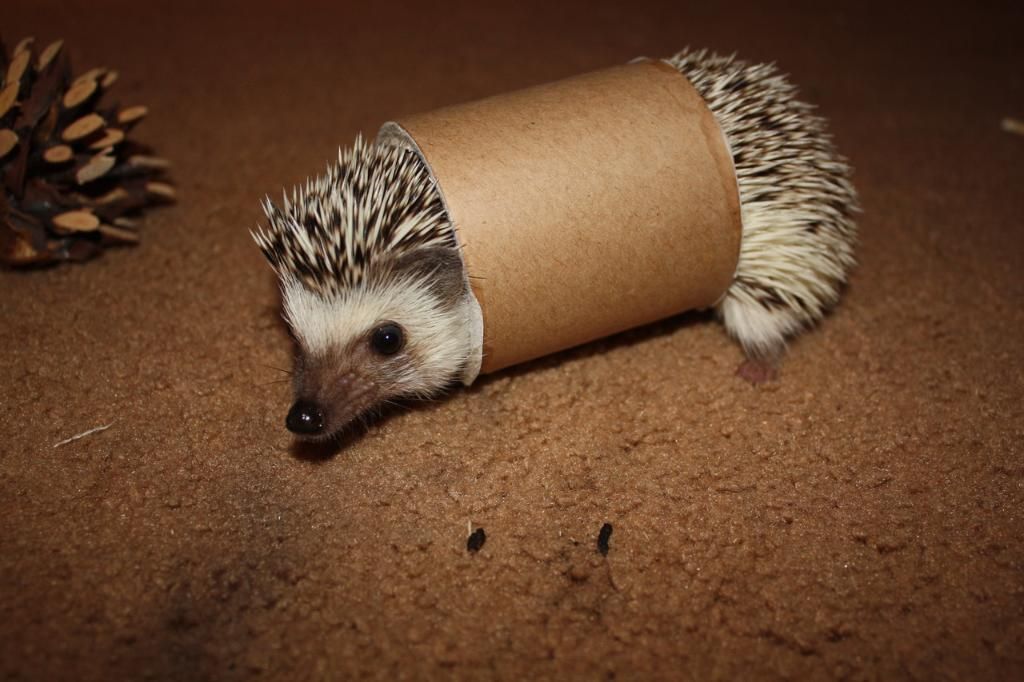 A bit like this?
DoomedGirl confirms she still loves The Jerk and we see the 2 ex lovers frozen in time: They were hearing their song on the radio at the same moment. Now, depressing nights are on the menu for both of them.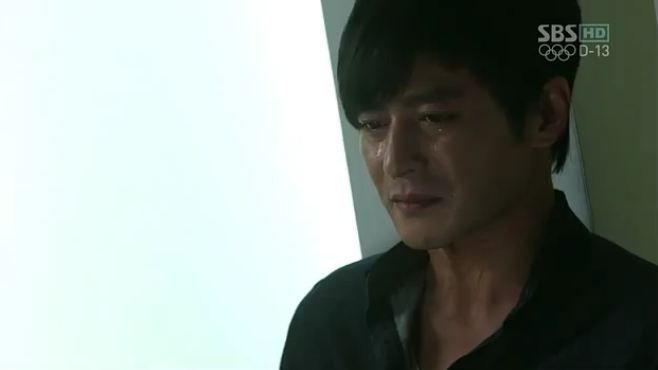 HEARTBREAK!!!!! 
Baby Fox comes to see Timebomb at his office. He doesn't give false excuses to get rid of her and she finds it suspicious. He tells her he just gave up: She doesn't listen and she doesn't obey either anyway.
She puts a bracelet on his wrist and he wants to check her arm. Couple bracelets! Bingo! She asks if he really can't wear it, it's not like she MINE(D) him or asked him to marry her: Even The Jerk and Oska#2 wear the ones she offered to them. He cools her  enthusiasm with the usual litany: The age gap, the precious friendship of her brother etc… He also demands she uses formal speech with him. Like it will make a difference in someone's heart. Pfftt. She gets upset and throws the bracelet in the trashcan before storming out.
She goes to a noraebang to sing her despair. NiceGuy appears and gets mad at her, even calling her a b**** and a drunkard. ????? I will pretend I heard nothing or else it could turn nasty.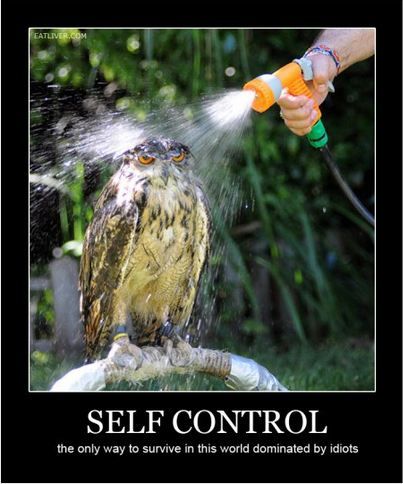 At the end of his rope, he calls Timebomb and curses him too on the phone, threatening to cancel their friendship. You know what dumbass? With friends like you we don't need enemies. Go jump from a cliff somewhere. 
OK, that was a bluff from him and I feel better: A last warning before putting her in the next plane for anywhere. NiceGuy heads back home with Baby Fox. She sees the car of The Foe and wonders why it has been parked here for days. She wouldn't be against driving it if the owner doesn't need it…
DoomedGirl kills the time near a fountain. She calls The Jerk and asks him to come so they could talk. She's been wronged and wants him to fulfill his more important promise: Liking her a whole month and waiting for her to be tired of him first. She wants him to come whenever she calls and follow her wherever she goes, silently. Poor puppy feels so guilty than he agrees to the slave contract. Where is the lawyer of the house? Never here when you need him.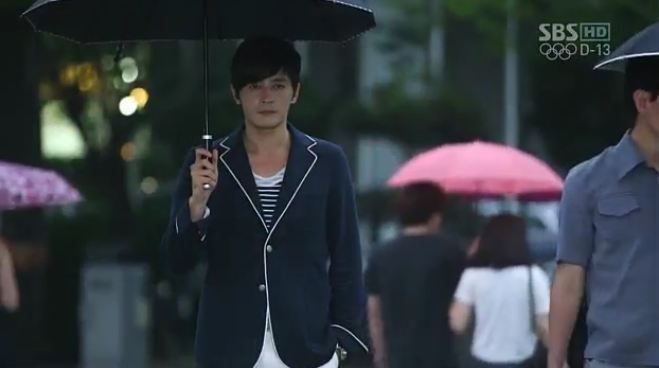 On the street…
At the bookstore…
At the cinema… Hello JYP!
He remembers all the harsh words he said to her and uses the free time to imagine ways of saying I'm sorry. Seriously, you could think the man killed someone. Someone stops that idiocy. A guy bumps into her and The Jerk grabs her by the shoulders to prevent her from falling.
Her: "Let go! You pushed me way harder than that…"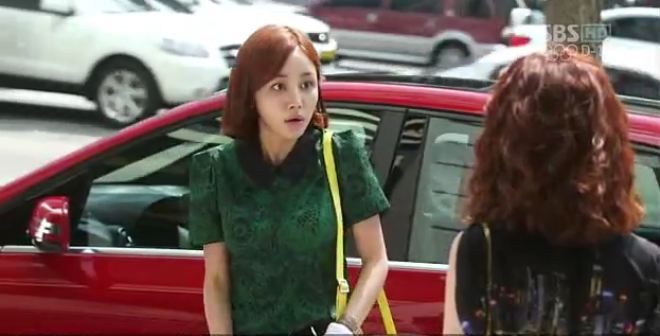 Baby fox comes to work and meets The Foe who is surprised to see her driving her car. Baby Fox says she borrowed it from her oppa: Looks like he will buy a new one for her. Oh la la… Drama ahead. The Foe comes to see The Queen, all feathers ruffled and asks why her ex boyfriend has her car.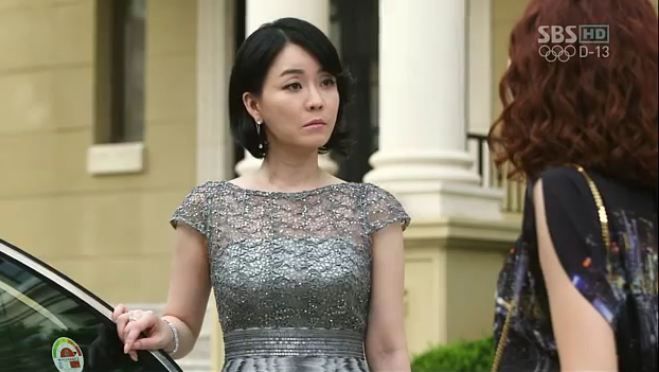 Of course it's because he paid for her debts. The Foe calls her a traitor: She said she would keep the secret. Uh oh… The Queen decides to show her teeth: He came to see her and not the other way around. Also, she wanted to protect his pride more than hers, is that a problem? And your couple quarrels are not her problem I might add…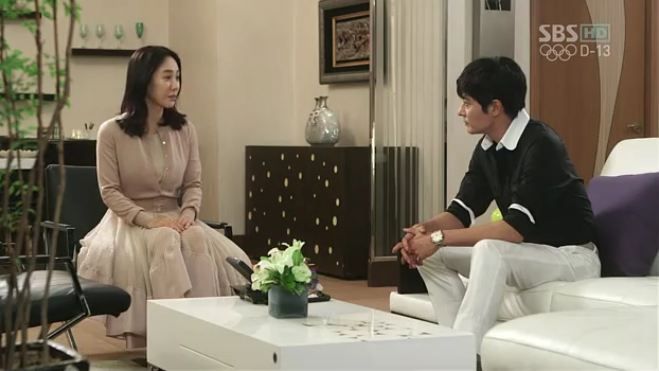 Kim Eun-hee comes to see The Jerk. She tells him she knows about his memory losses: Oska#2 couldn't shut his mouth. LOL! She's going to go back to Japan because she misses her husband but unfortunately her son would like to stay in Seoul. She's sorry for the inconvenience. He tells her it's OK: He will take care of him, and also think for a Korean name since this is her wish. They part in good terms and all is well: No slapping, no glass of water at someone's face. Sayonara!
DoomedGirl calls The Jerk for a "one-sided meal".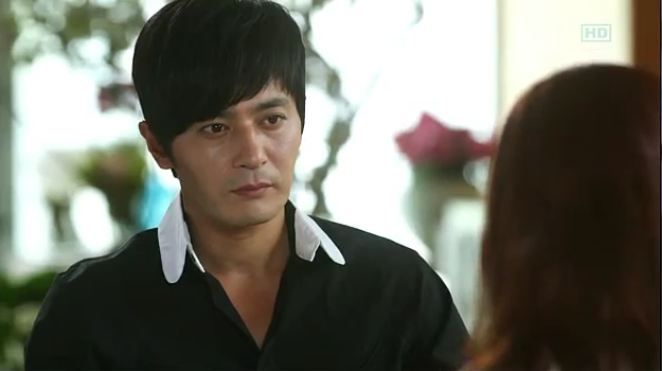 Him: "Eat slowly".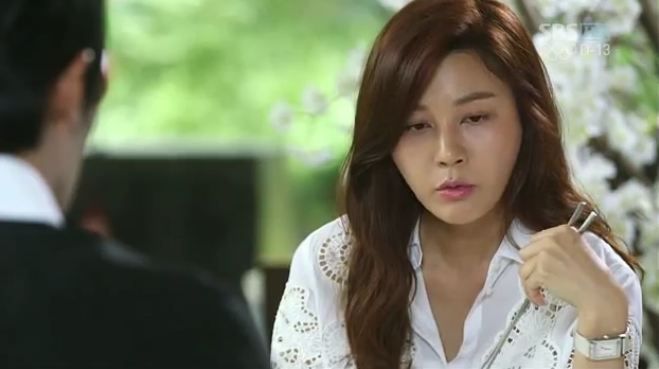 Her: "I never said you could start talking to me."
OKAYYYY… What a nice atmosphere.
She gets an unpleasant phone call and he asks who it is. She starts leaving her place since he doesn't want to stay silent but he grabs her arm to make her talk.
Her: "If you're so curious, let's just say it's a woman who abandoned her own child to go and raise children of another man: That kind of person. Do you want to see it by yourself? Then come with me. If you don't, then release me."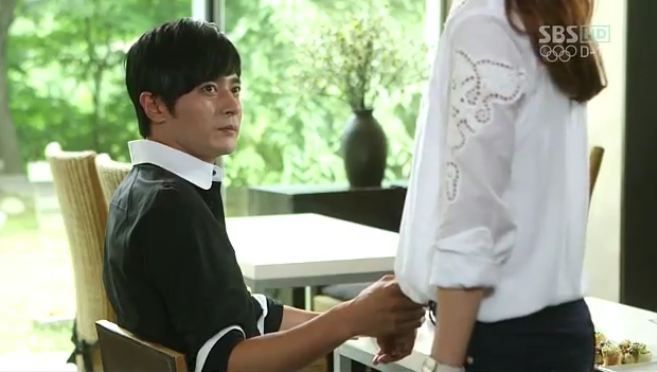 To be continued…
Comments:
- Pretty sad episode. I'm not exactly a fan of self-flagellation. That said, we now understand better why DoomedGirl reacted so badly toward the "child of another man" issue. It's a moral dilemma but also and mostly the result of a deep emotional wound. Patience, patience for the healing process… Do I look like someone patient, seriously?
- Strangest subliminal product placement ever: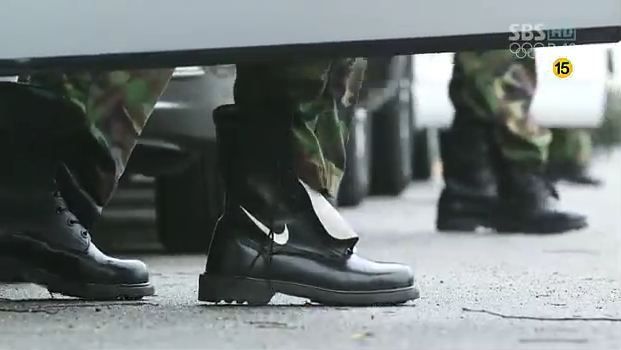 - The ratings keep their ascension: Good, good, good!
Credits to koreandrama.org.
| Date | Ep | TNmS | TNmS | AGB | AGB |
| --- | --- | --- | --- | --- | --- |
| | | Nationwide | Seoul | Nationwide | Seoul |
| 2012-05-26 | 1 | 13.7 (2nd) | 15.9 (2nd) | 14.1 (2nd) | 16.0 (2nd) |
| 2012-05-27 | 2 | 12.1 (5th) | 15.2 (4th) | 12.8 (4th) | 14.6 (4th) |
| 2012-06-02 | 3 | 14.0 (3rd) | 15.6 (3rd) | 14.9 (2nd) | 16.7 (2nd) |
| 2012-06-03 | 4 | 14.8 (4th) | 19.0 (4th) | 14.8 (4th) | 16.5 (4th) |
| 2012-06-09 | 5 | 17.4 (2nd) | 20.5 (2nd) | 15.9 (2nd) | 17.0 (2nd) |
| 2012-06-10 | 6 | 16.5 (3rd) | 20.3 (4th) | 16.8 (3rd) | 19.4 (3rd) |
| 2012-06-16 | 7 | 18.7 (2nd) | 22.6 (2nd) | 17.1 (2nd) | 18.6 (2nd) |
| 2012-06-17 | 8 | 18.4 (3rd) | 22.3 (3rd) | 16.6 (3rd) | 18.6 (3rd) |
| 2012-06-23 | 9 | 19.7 (2nd) | 22.9 (2nd) | 18.6 (2nd) | 20.2 (2nd) |
| 2012-06-24 | 10 | 19.8 (3rd) | 22.0 (3rd) | 20.3 (2nd) | 21.9 (2nd) |
| 2012-06-30 | 11 | 23.1 (2nd) | 26.0 (2nd) | 22.0 (2nd) | 23.0 (2nd) |
| 2012-07-01 | 12 | 23.1 (2nd) | 26.3 (2nd) | 20.3 (2nd) | 21.7 (2nd) |
| 2012-07-07 | 13 | 21.9 (2nd) | 26.0 (2nd) | 22.0 (2nd) | 23.4 (2nd) |
| 2012-07-08 | 14 | 22.8 (2nd) | 26.7 (2nd) | 21.6 (2nd) | 22.3 (2nd) |
| 2012-07-14 | 15 | 26.0 (2nd) | 30.1 (2nd) | 23.5 (2nd) | 24.8 (2nd) |
| 2012-07-15 | 16 | 26.0 (2nd) | 29.6 (2nd) | 23.7 (2nd) | 25.3 (2nd) |