Tags
A Gentleman's Dignity, Buster Keaton, Jang Dong Gun, Kim Eun Sook, Kim Ha Neul, Kim Jung Nan, Kim Min Jong, Kim Soo Ro, Kim Woo Bin, Lee Jong Hyuk, Lee Jong Hyun, Sandglass, Seoul Broadcasting System, Unrequited love, Yoon Jin Yi, Yoon Se Ah
Hopefully, this will be the last episode with tears and sad puppy eyes…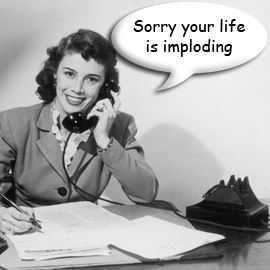 Flashback – That day, The Jerk was about to take a flight for Shangai but abandoned his luggage on the treadmill. Oska#2 had lost his wedding band, again, but even his wife threatening of a divorce couldn't keep him in the room. NiceGuy was having a party with important clients but literally dropped them on the spot. Why?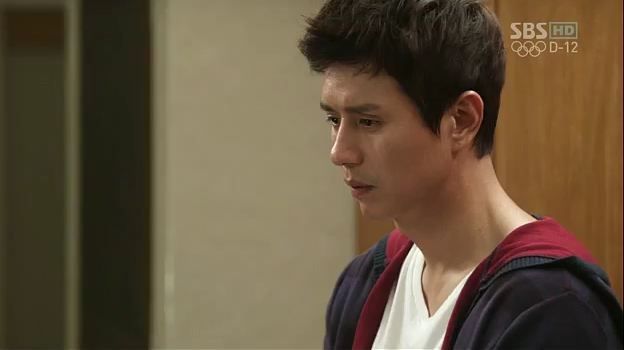 That fateful day, Timebomb had lost his wife and he sure needed the support of the RatPack. "2 black lines on the armband means you're family of the deceased. 1 black line means you're a friend or an acquaintance."
"The bastards who stayed by my side on that day will be the hardest farewells I'll have  to make in my life and they are the luckiest fortune I've met in my lifetime". 
Someone needs a tissue?
Flashback to the last date from hell – DoomedGirl receives a phone call from her mom. The Jerk asks what is the matter since her face is the one of a zombie. She tells him to let go of her arm: He is not her boyfriend and he's not going to support her or solve the problem, right? The Jerk says he will come with her.
"Everything is better than waiting without knowing what happened: Did you cry? Did you kill yourself on the road?"
She gives him a meaningful glance like " It's always about YOU, YOU, YOU…" and leaves the restaurant.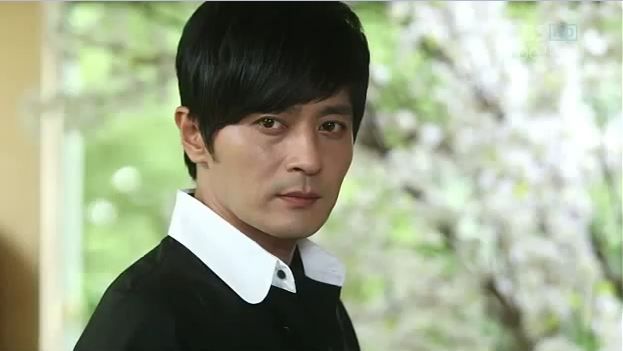 "Sure, I'm going to leave you alone…"
She goes to meet her mom and I feel like in a horror movie… The Forever Crying Mom of A Thousand Kisses! NOOOOOOO!!!!
The ahjumma starts with a compliment: "You've become a beautiful woman my daughter". They didn't see each other for 6 years and she scolds her for rejecting her phone calls. Personally I would become hand phone phobic.
She goes straight to the point: She must have heard the news from the sons of her current husband. DoomedGirl gets upset. Yes, she saw them and she can't understand why she is part of that family mess: She is a stranger to all those people, including her. The unworthy mother tells her there is an inheritance fight between her and the biological children of her husband. By the way, he is not dead and cold yet. This is absolutely disgusting! Thanks for ruining my lunch.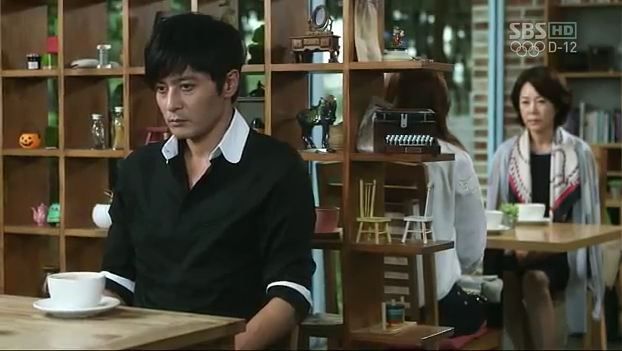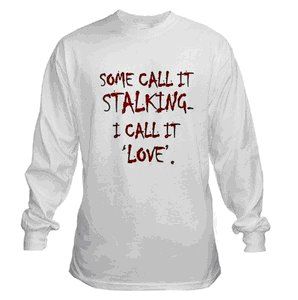 DoomedGirl tells her she doesn't care at all about her life or them or what could happen to her. The ahjumma (I can't even find a proper nickname for that ****) tells her she did her choice of life 24 years ago precisely to improve her social status and give a good future to her child: She thought it was her best option then. Now, the choice to make is either a divorce or a settlement (easier, quickier but less lucrative). She wants her daughter to avoid the sons of her husband like the plague and tells her she will solve the situation.
Architect's office – NiceGuy replaces The Jerk as a team manager. The boss must be left alone and no one is allowed to call him. Too bad for the cover, The Jerk arrives and begs for work: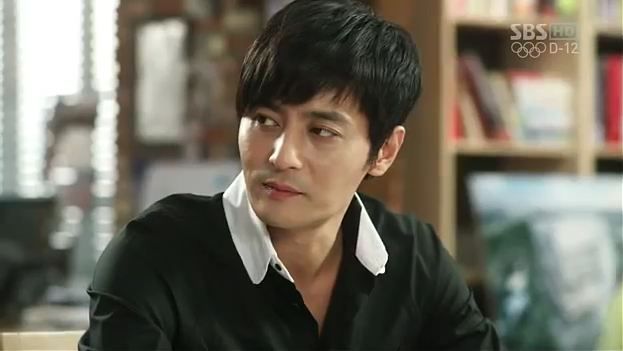 "I'm not willing to rest and I don't deserve it either."
Mmmm. Where is my frying pan already? 
The project this time is an allotment of 44 city houses with shared gardens. Why 44? Not 12 or 38. I just want to believe it's a wink aimed at the dramabeans chiefs and readers. The juniors of the team are asked to work together AGAIN and don't seem super happy about that.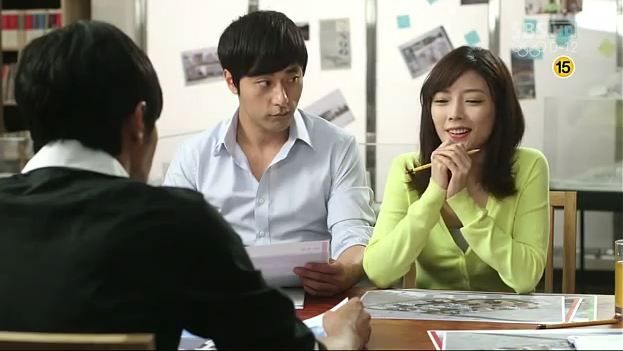 Future happy couple? 
NiceGuy leaves to work for his own company and says there is a meeting planned at the café for the RatPack at 4pm.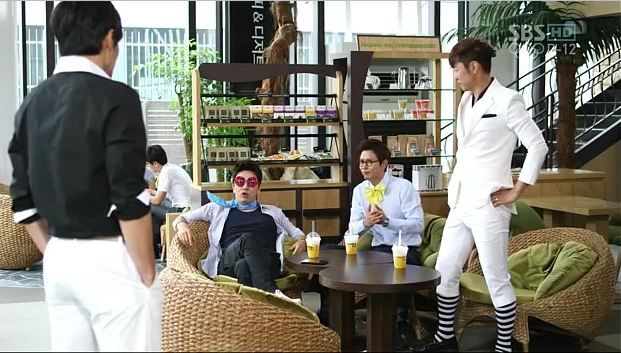 Missions of the day:
1°) Bringing a smile on his face.
2°) Distract his mind from depressing thoughts.
The Jerk laughs effectively and asks if they are auditioning to be gagmen in variety shows. They feel stupid indeed BUT: The whole universe can think they are nuts, they don't care. They tell him not to worry about the company or even his son: They will help with that. "Your priority should be your woman, nothing else".
OK. That's it. Starting from now I will support human cloning. 
The Jerk objects: They are unable to deal with their lives and they want to help? NiceGuy gets a call from The Foe and leaves but not without putting his ridiculous scarf around his neck: 30 minutes of embarrassment and free mind guaranteed. Timebomb leaves too and gives him the round glasses: 20 minutes more of no brooding.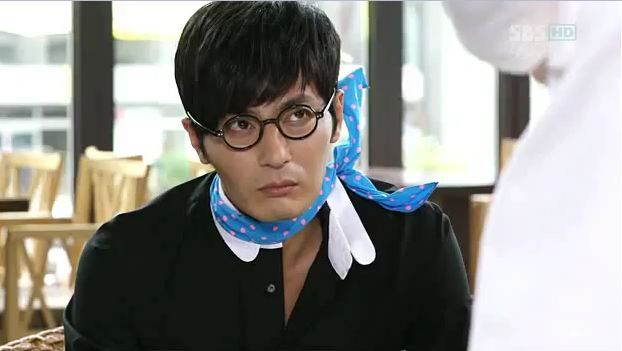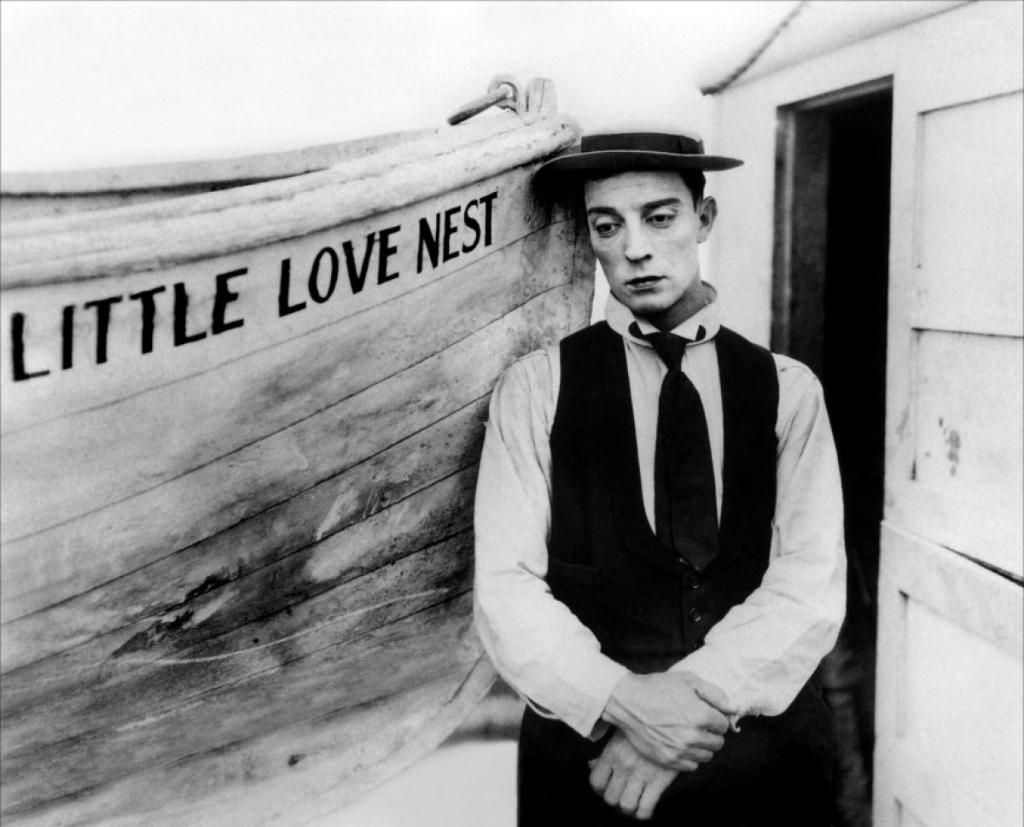 For some reason he reminds me of Buster Keaton and his "stone face sorrow".
Oska#2 starts unbuttoning his pants and I don't even want to know what he wanted to give him. The Jerk tells him it was a nice try but everything he sees recalls him DoomedGirl these days.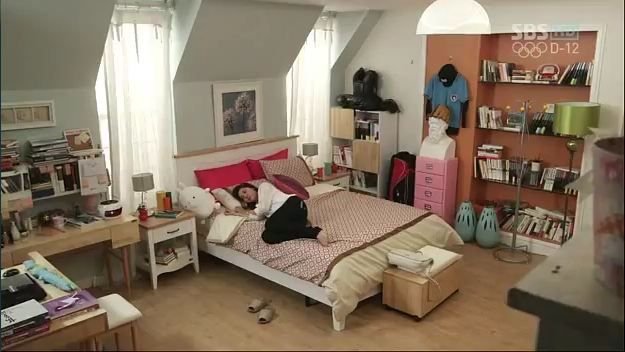 DoomedGirl has another pang of depression and is rotting on her bed. Good news tho, this time she remembers the good times and not the hurtful words. She can't bear the loneliness anymore and runs to see her man.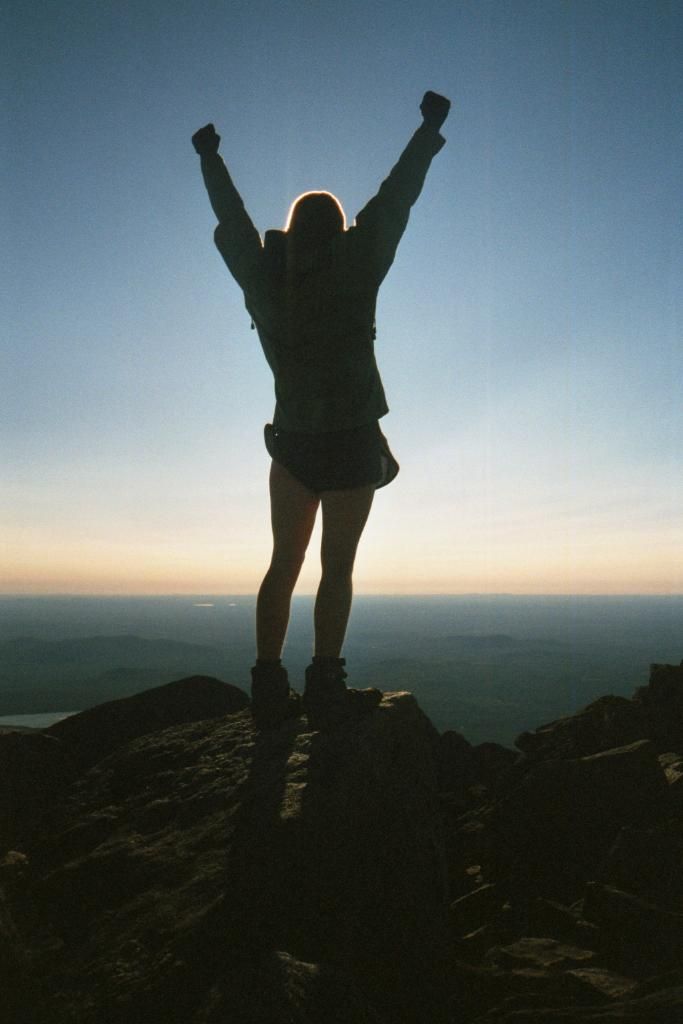 *Epic music not included*
The Jerk is all happy when he sees her appearing in front of him.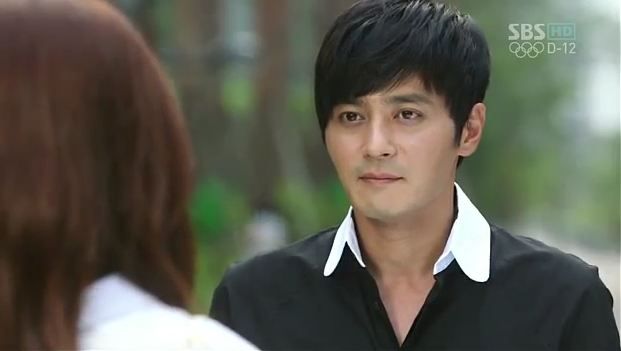 But the good mood is soon killed when he does the fatal mistake: Asking why and who did she came for. She returns the questions to him: "Do you miss me? Do you want to hold me? Do you want to come in? Try answering those, I'm very curious. "
He picks the wrong answer: "An Ethic teacher is dating a man with a child: Why would she do that? Is she crazy? Maybe they both are…" / "This is how people will see you. This is what they will say about you. What kind of love can ignore that reality?"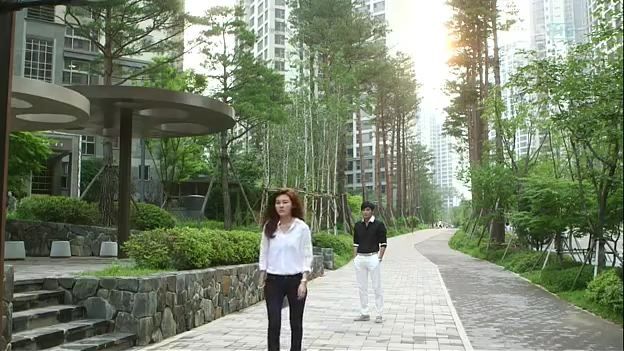 This is not what you were asked! S.T.U.P.I.D!
At home, The Foe announces to her roommate than the house in on sale and people already came to visit: She needs to clear her debts and live accordingly to her income. She asks DoomedGirl if she started searching for a new place. No need: She will move to the classy all white appartment where the bedroom has a leaning door…
Next, she decides to visit her ex boyfriend. She wants to defend her pride and asks why he paid for her debts: He basically should have watched her fighting alone: Because of his attitude she feels ashamed and can't come back to him.
I'm going to make a sandwich with the pride of everyone in that drama and eat it. I won't be hungry for a thousand years. 
NiceGuy's phone rings: It's his mom calling from the hospital because she's ill and he rushes outside the office.
Hopefully, it's a trap from mom to lure him in a blind date. Bwahaha… I got owned like a Pavlov's dog, and I like it.
 The Foe sees the girl and passes on jealousy mode: She takes a seat just beside them and listens to the conversation. She looks at the rival straight in the eyes and NiceGuy can't hide his embarrassment. The woman tells him she doesn't care about his age if that's what bothers him. Rapidly we discover the girl is completely neurotic: She's the daughter of the Director of the Hospital and everything is planned in her head: She's willing to cook 2 meals a day and plans to have 2 children, 2 years apart. NiceGuy and The Foe have a hard time trying not to laugh and she tells him it's alright: She has a gift to make people smile.  Bwahahaha… Apparently she goes to bed early: He should call her before 6PM if he is interested. I just hope she's voluntarily sabotaging herself or else she's a patient from the mental ward. Crazy girl leaves and the laughs die. The Foe tells him she will pay him back probably next month. Also, she doesn't want his pity and will stop being clingy. The seams burst:
NiceGuy: "Do you want to die? I love you! Get in my arms now!"  
 RAWWWWRRRRR!!!!
SQUEEEEE!!!
The Queen does her jogging along the Han river and a man on a bike honks behind her.  It's hubby, who's here for a surprise: He is quite sure she has been picked up by a lot of bastards in nice cars, but not by handsome bastards on bikes. Omo! Is the player becoming human? He puts earphones on her and tells her to jump behind him: This way she will see the landscape like in a music video. He wants her to hold on tight but she's all stiff. He does what every guy would do: He feigns a fall and by reflex she circles her arms around his waist. Squeeee!!!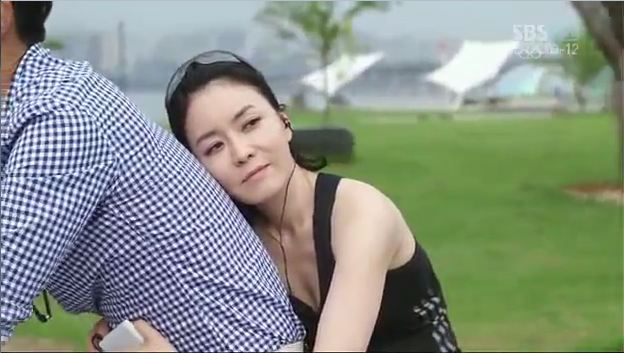 The Queen on cute mode is not bad either…
He starts confessing his feelings while pedaling: She's not cute, she's short, old and her temper is awful. Her only quality is that she's addictive in a strange way. And of course she's rich. He orders her to stay close to him like this forever even if he is sweating like a pig… And gets startled when she actually answers "yes": The MP3 player was on hold and she heard the all monologue.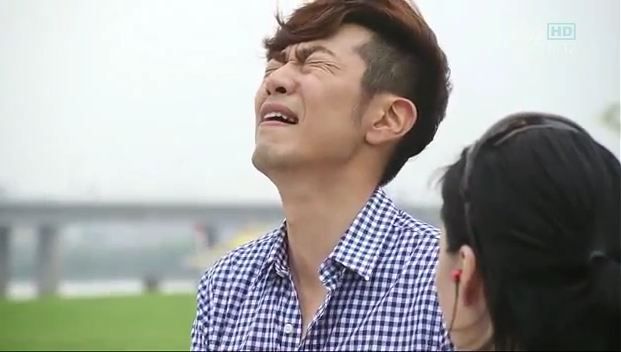 Bwahaha…
The embarrassed macho has to hide behind his shades.
The Jerk comes to the furniture store of The Queen and our bodhissatva continues to save the world.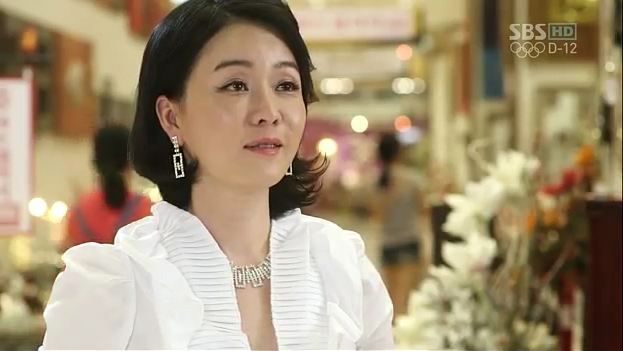 So pretty!!
He came to buy a chair and she guesses it's for Baby Stalker. Hum. Is it written on his forehead? She tells him she knows he's having a hard time: Conciliating fatherhood and the love for a woman who is not the mother…
She explains to him than a man who once said "I love you" should never say "I'm sorry": That's why DoomedGirl is also suffering so much these days. "Men don't know such things…" That's it: Either she is a telepath or she listened to that damned recorder pen.
Baby Stalker moves in with his "new" father and immediately notices the ugly orange thing which doesn't match with the rest of the room. The brat redecorates according to his taste: Posters of sexy models and guitars everywhere. "A teenager must have hopes and dreams."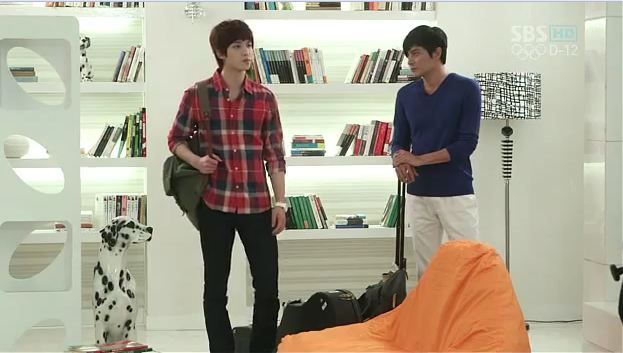 Before…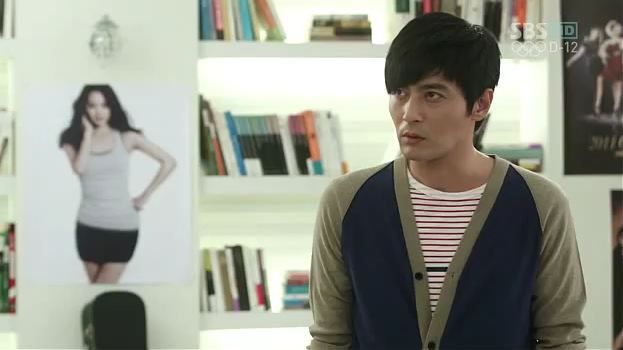 After… Hehehehe…
The Jerk tells him to put things in their initial state and Baby Stalker opens the negociations: If his allowance is increased he will consider the possibility. Bwahaha… 2 expert blackmailers in the house? *Sharpening knives*. He tells him his mom was more generous: The cost of life in Tokyo is high as every one knows. The Jerk says he will check that with his mother by phone and the bluff is exposed? As a result, the allowance is reduced for blatant lie. Retaliation comes quickly: Baby Stalker has put the appartment on sale on the net and his father's phone keeps ringing at work.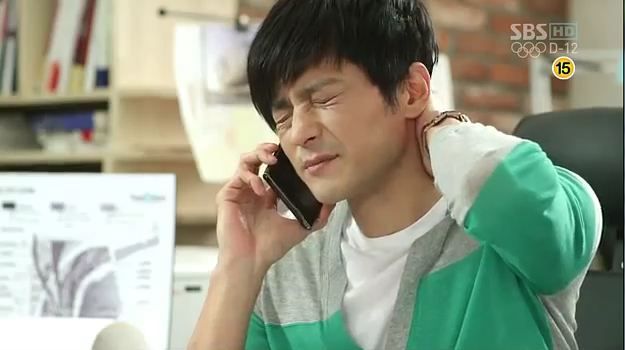 What you call a pain in the neck…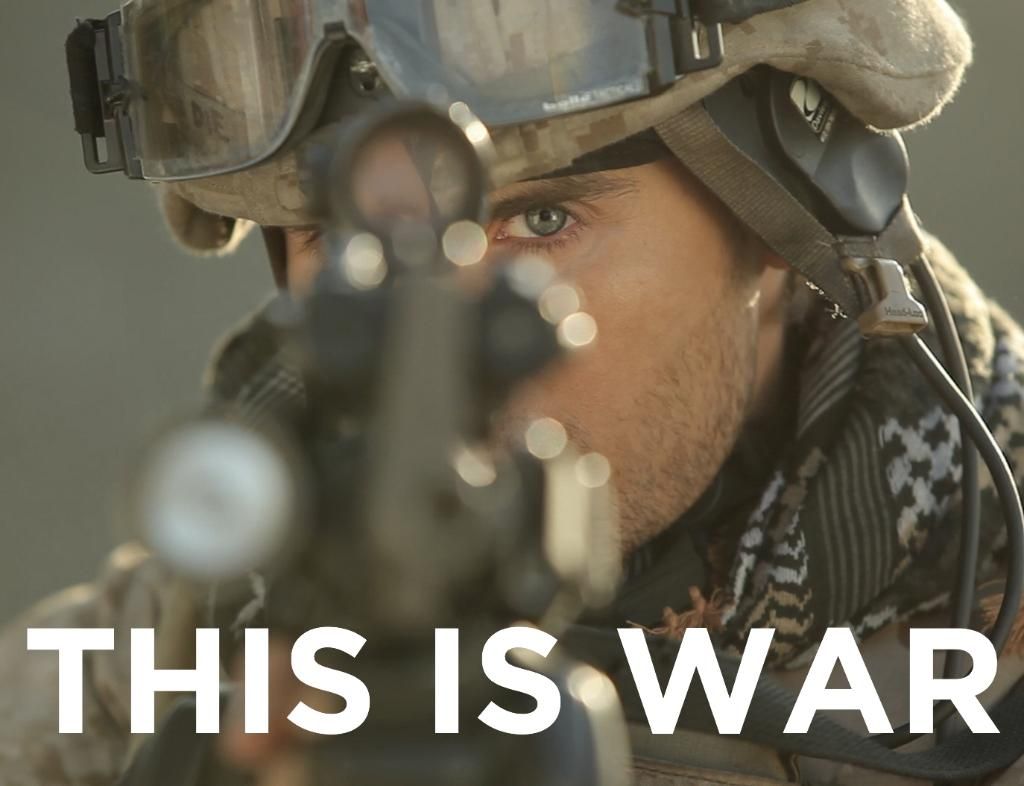 Baby Stalker apologizes for the lame attempt of rebellion and The Jerk accepts it. Now what daddy wants is for him to go to school. Baby Stalker says he won't stay for long in South Korea so no need for that but his father stays firm: High school is important and furthermore this is where he met his best friends. He warns the brat than this is a fact, not a proposal: "Korean fathers are like that." Glad I'm not Korean for once…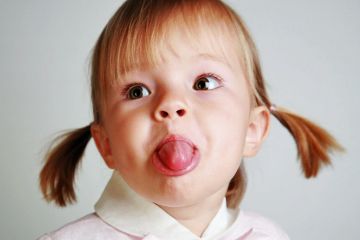 The Jerk goes out to have a drink with Timebomb but refuses to tell the kid: It's personal and for adults. DNA can't be denied: Who wants to bet the son followed his father? 
Timebomb plays innocently with the bracelet of Baby Fox but clumsily tries to hide it when his friend arrives. He confesses it's a couple bracelet and The Jerk calls him an idiot: Again he accepted a mark of affection without having the courage to act on it and it will bring problems. Next he wants to know if everything is OK for the school and the lawyer says almost…
Timebomb calls DoomedGirl and asks her to come to his office. He confirms the son of her ex could land on her school… But he can change that if she feels uncomfortable. Ethic Teach puts herself in the kid's shoes: He will probably be relieved to see a familiar face. Also, all that family mess is not his fault and he shouldn't be blamed for it. Good girl. Timebomb doesn't know if he should thank her or apologize… Why do people want to apologize when they don't have to?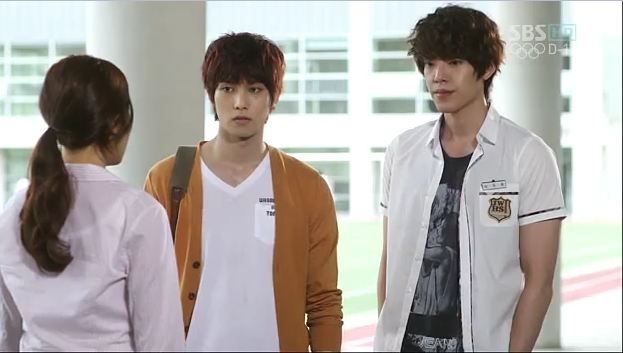 Baby Stalker arrives at school and is welcomed by DoomedGirl: She will be his homeroom teacher. She gently scolds him for calling his father "ahjussi". He tells her than he is living with him and than his mother has returned home. He asks if she doesn't feel embarrassed about him and she tells him no: She's always at ease with her students. On the other side, unruly students don't feel exactly comfortable with her. Is that a threat? Pfft. Baby Jerk arrives at school too. He finally wants to graduate. Ethic teach is happy: Now he just needs a dream and he will be a complete human being.
DoomedGirl meets The Jerk for the first day of school and follows strictly the protocol, formal speech and all. He keeps looking at her with puppy eyes while she persists looking at her sheets. She finally lifts her head and asks if he heard what she just said. He is in love, not brainless…
Her: "Do you know what is his favorite subject? Also, what does he dream about for his future?"
Him: "I know he loves music. His dreams… We are not close enough to talk about that."
Her: "What about the dreams of his father? Or are we not close enough to talk about that either?"
Geez… Stop with the hot and cold and the mixed signals. I'm getting nuts!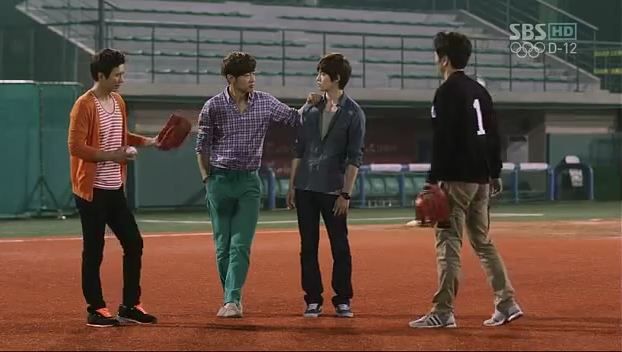 The "uncles" take Baby Stalker with them for an afternoon session of baseball. Their goal is to brief the transfer student about the law of the jungle at school. Oska#2 has a firm grip on the kid, literally. According to him, if he wants to be respected he has to integrate a few techniques. Timebomb whispers he may not need those: The Jerk Attitude Code of the adults he practices is similar to the Boss Attitude Code in high school. Anyway, they try to teach him how to impress the potential bullies: Show your muscles, have a fierce look and harbor self-confidence. Timebomb is not sure about teaching him bad ways but Oska#2 tells him it's their duty: Uncles always teach bad things first.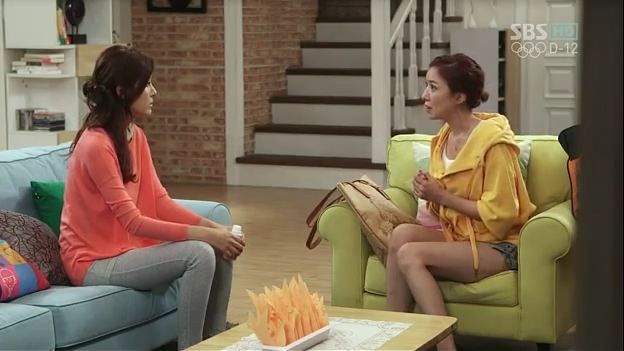 The Foe and DoomedGirl discuss moving out projects. It's still abstract but one thing is sure: Both will have to downsize their new homes. I love when people waste their energy for nothing… We all know how this will end.
 Their relationship seems on good track again and they start talking personal stuff. DoomedGirl tells her frenemy about Colin's situation. She admits she took the kid in her class to have an excuse: This way she can see the dad whenever she wants to. Still, she feels depressed because he doesn't try to hold on to her. For once The Foe is useful since she understands the situation perfectly: The man is PROUD, exactly like herself! And too much for his own good… Actually she would act the same way if she was him.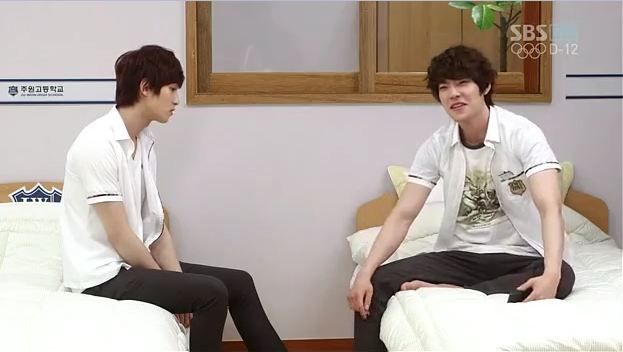 School infirmary – Baby Jerk is here to skip lessons and do some stock exchange speculation on his phone. Between money and studies someone has made a choice… Baby Stalker arrives and his senior is impressed: For a transfer student from Japan he adapts well. Baby Stalker tells him the truth: He didn't go to high school in Japan and he is part of a birth secret. "You have all my attention." The conversation is interrupted when their home room teacher finds them: One has to write a letter of apology and the other one of course has to bring his parent. Double standard much?
The Jerk is scolded for his son. He tells her "as father, as son": He just abandoned his work to come and see her, because he was curious. She asks if that's the real reason: Didn't he come because he missed her? He doesn't answer and she decides for plan B: She will turn a blind eye on the incident and accept bribery. How, when and where will be decided by herself. The Jerk leaves the room and stumbles on the annoying teacher who is gossiping again: "Ethic teacher's perfect man is in fact already father of a child! Maybe divorced but rich for sure! That's the only reason she could accept dating such a man! Or else she's plain stupid!"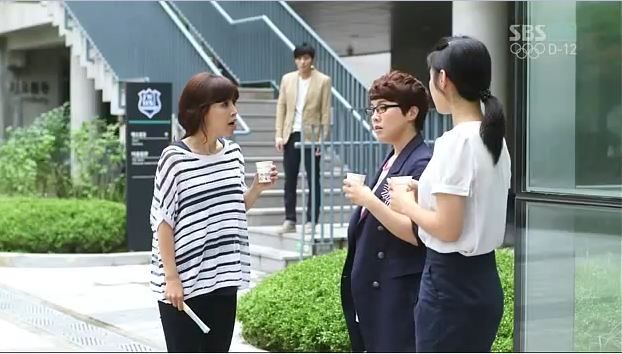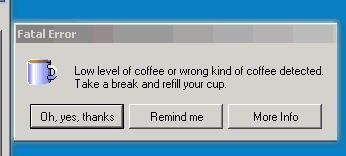 I have the perfect idea for a revenge – I want her to fall head over heels for Baby Jerk (sorry buddy, nothing personal…): He is one of her students, a notorious delinquent, and has The Queen as a protector (this episode triggered my sadistic tendencies). Of course she would be gloriously busted when a picture of them making out in the swimming pool would appear on the pin board of the school…
The Jerk is all conflicted and realizes than the bribery wanted by DoomedGirl is a picnic date. She calls him "Colin's father" in all her sentences and I can't understand why: Persuade herself? Put him at ease?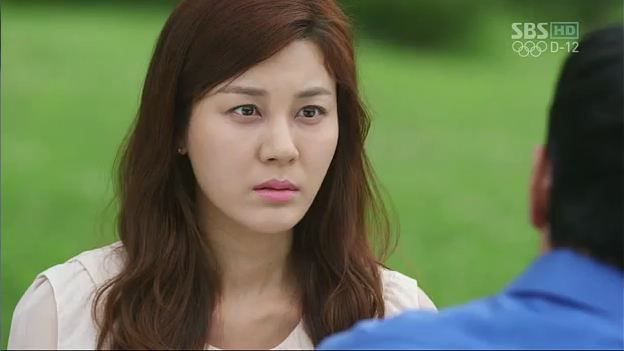 The place is too exposed for him and she tells him she will consider his liking of enclosed places for their next meeting. She took her time to prepare everything and she wants him to eat too. He can barely talk or breath and you want him to eat? I've never seen a soul so torn in my life. I just want to cry… She puts her cards on the table: She digested the fact than he has a son and she still likes him. She must love him a lot indeed if she can't throw her feelings away. She can't believe they split up either when it's so obvious they love each other: She can see the love in his eyes too.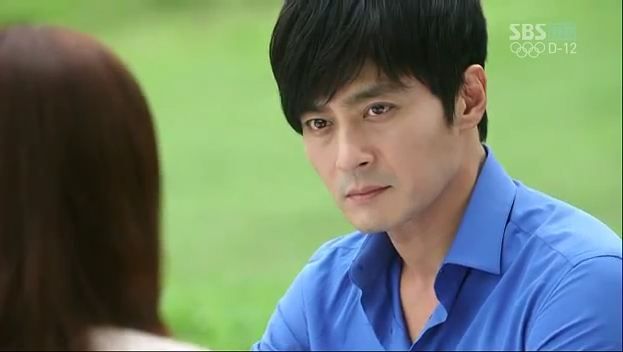 Him: "Am I supposed to hold on to you because I love you? People break apart for no reason sometimes. But we… You… Would have to walk on an awful road. What kind of man wishes that for the woman he loves?" 
Her: "I'm willing to take that road. That's what I'm trying to tell you! Just stand at the end of that road and wait: I will come to you."
He wants to reason with her and she stops him with a hug: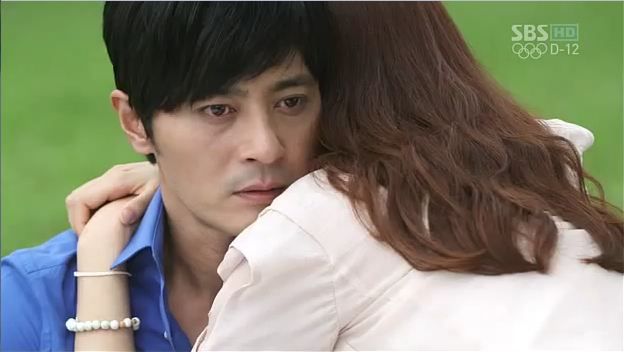 Her: "What I'm hearing now, I don't think it's my heart beating… But I can pretend it's mine if it's too hard to admit."
Correction: It's MY heart we are hearing right now…
They arrive at her house and she asks him to come in. She is exhausted and wants for him to caress her hair until she gets asleep, like he did before.
Her: "I'm trying so hard… All you have to do is follow me. Even if you don't think you can, just follow me."
A teardrop rolls down her cheek and she finally falls asleep.
When The Jerk leaves the house he sees the two step brothers stalking her house. Those ones don't look very loving… They summon DoomedGirl to the nearest café and resume their psychological harassment. When she tries to call her mother, one of the guys grabs her phone and throws it on the floor. They tell her not to worry: The amount of the compensation will allow her to live nicely. They put the contract under her nose and behave like perfect loan sharks: They threaten to come at her school and cause damages if she doesn't sign the agreement for the inheritance. DoomedGirl goes to the restroom to cry and curse the universe.
When she comes back, the atmosphere has strangely changed: The guys flee the battlefield like cowards and we can see broken cups on the floor.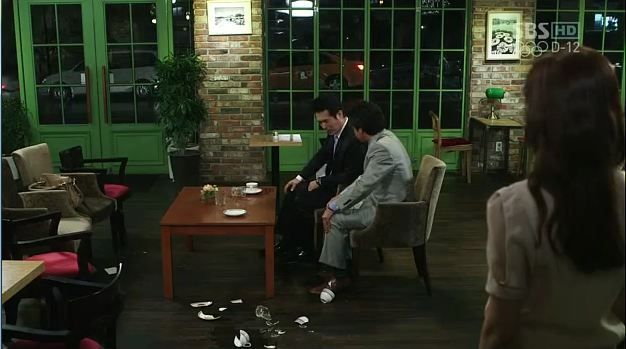 The waitress asks her to pay for the damages: 4 guys who claimed to be her oppas caused that mess and she recorded the scene to have a proof.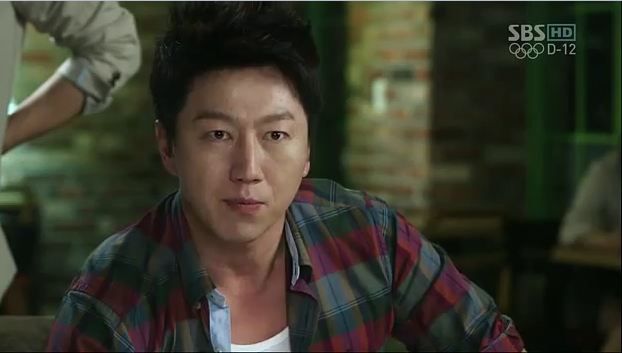 NiceGuy *creative insults, at your service*.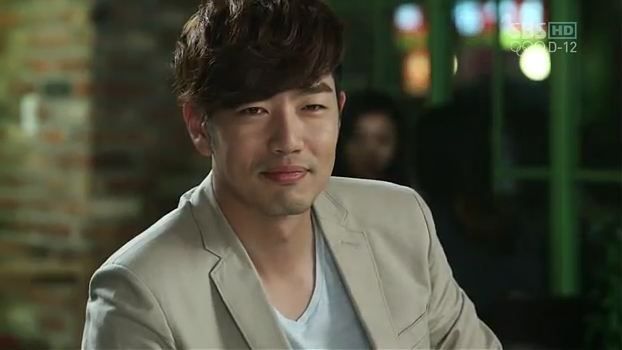 Sexy Oppa *who has a lot of money*.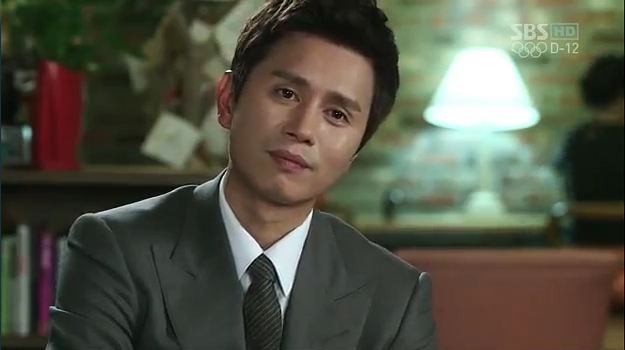 Justice Oppa *your preferred interlocutor starting from now*.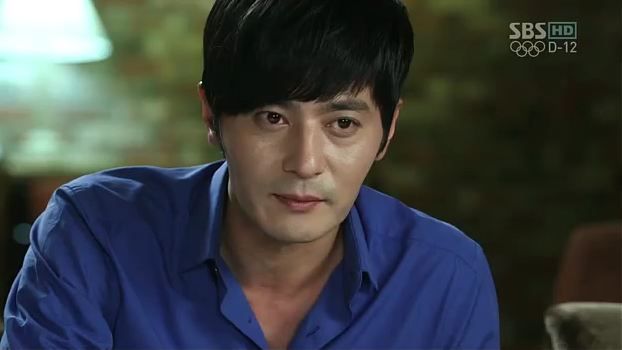 Super Oppa, *who loves that woman".
The bastards must be retarded since they don't understand why they should be afraid of the gang. The big mouth of the 2 calls Doomedgirl a b*** and both are rewarded with a kicked table (all in sync!) which lands on their kneecaps. Yeaah!!!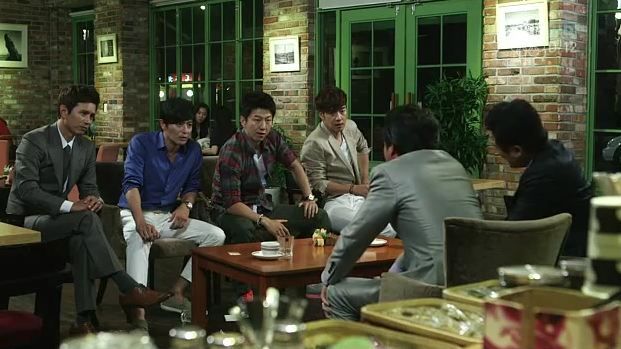 The Jerk: "We are not gentlemen either…". Shhhh. He is… He just doesn't know it.
DoomedGirl replays the part of the "oppa who loves her" and rushes outside to find him. Of course, he left a long time ago…
Next day, Timebomb gets back home and finds his friends preparing the ritual food for the death anniversary of his wife.
 If that's not brotherhood, then I don't know what it is…
Everything is packed and brought at the house of the mother in law. She tells them it's the last year she will accept their help: What she wants now is for Timebomb to find a new person to love. "Is there no woman interested in him?" 
*Cough*awkward silence*cough*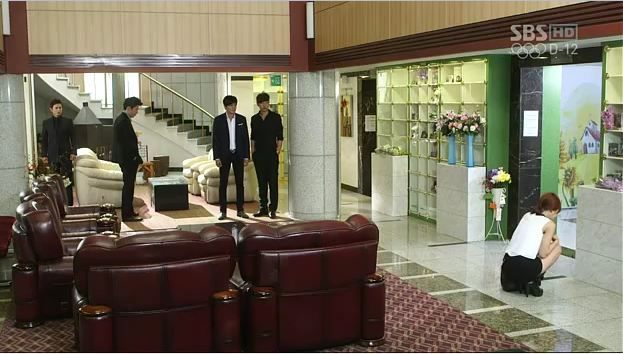 The team heads to the funeral house. Surprise! Baby Fox is already here to pay her respects. She soon falls in tears: She really loves Timebomb and wants him to love her back. She feels ashamed and guilty for begging her unni but can't find another way to solve her problem: Can't she give her permission and her blessing to her? "I'm sorry for liking him!"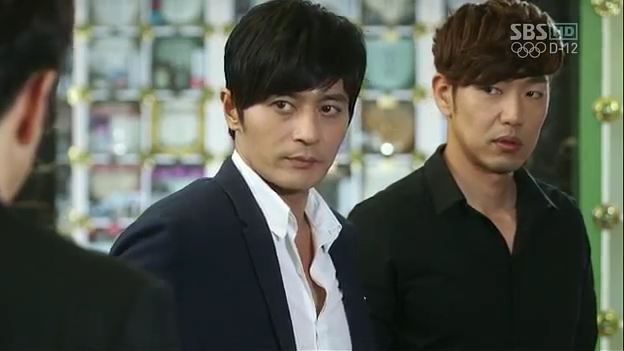 TIME FOR A GOOD OLD RANT:
1°) I'm sure at 200 % that she's putting a show here: She knows they are watching her. Or else she's autistic.
2°) Her problem is living people (starting by herself), not dead ones.
3°) No one in the world should be sorry for loving someone sincerely (loving, not being infatuated).
4°) If respecting the dead is so important for her, why coming here and troubling the peace?
5°) She should be treated for depression, not broken heart.
→ This scene doesn't move me at all: It makes me want to kick her ass, pretty badly at that.
END OF RANT
Later, Oska#2 and The Jerk discuss strategy at the café. The former wants to protect his employee: Baby Fox is the weakest. The latter wants to side with Timebomb cause he is an idiot exactly like himself. Pffft!!! I personally want to smack all of you or throw you in the Han river. GRRRRR!!!!!
The Jerk comes back home that day and finds DoomedGirl waiting for him in the alley: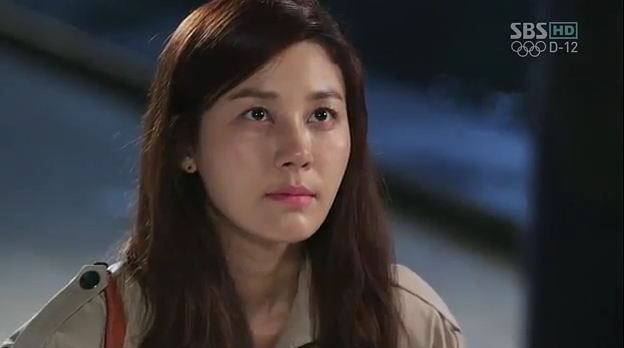 "Stop pushing me away. Instead, when you are ready, wear them and come to me. On a good day, prettily."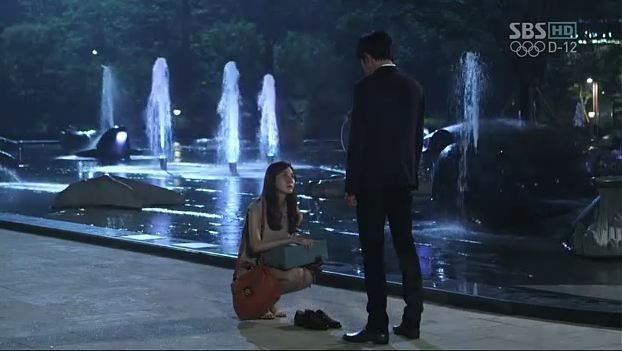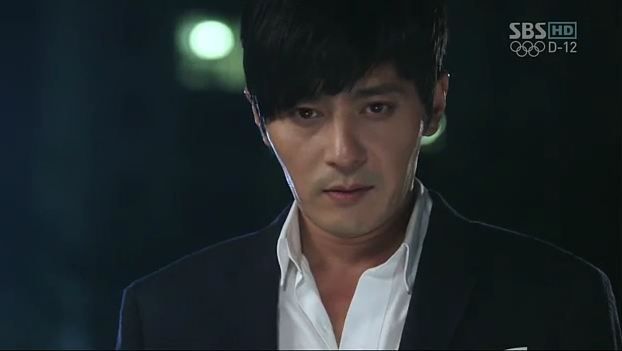 *Tears of relief and gratitude*  Me or him, I don't know…
To be continued…
Comments:
- OMG!!!! I finally ended that recap from Hell! *Victory dance*. At one point I wanted to throw the comp by the window. Good thing I'm persistent, I swear.
- I want to create a Society for Innocent Tortured Jerks: The 2 last episodes were a modern version of the Way of the Cross. Seriously, his scenes taken out of context, you could think he killed someone or ruined the economy of a country. Give the guy a break!!!
- We have 4 episodes left "Is this the best you can do? Are you sure?": I want 4 weddings and thanks but no thanks no more funerals. I want my butterflies in the stomach and the stupid smiles on my face. Come on Show!