Tags
A Gentleman's Dignity, Jang Dong Gun, Kim Eun Sook, Kim Ha Neul, Kim Jung Nan, Kim Min Jong, Kim Soo Ro, Kim Woo Bin, Lee Jong Hyuk, Lee Jong Hyun, Seoul Broadcasting System, Unrequited love
Loved that episode! Back to the cute, funny and sexy!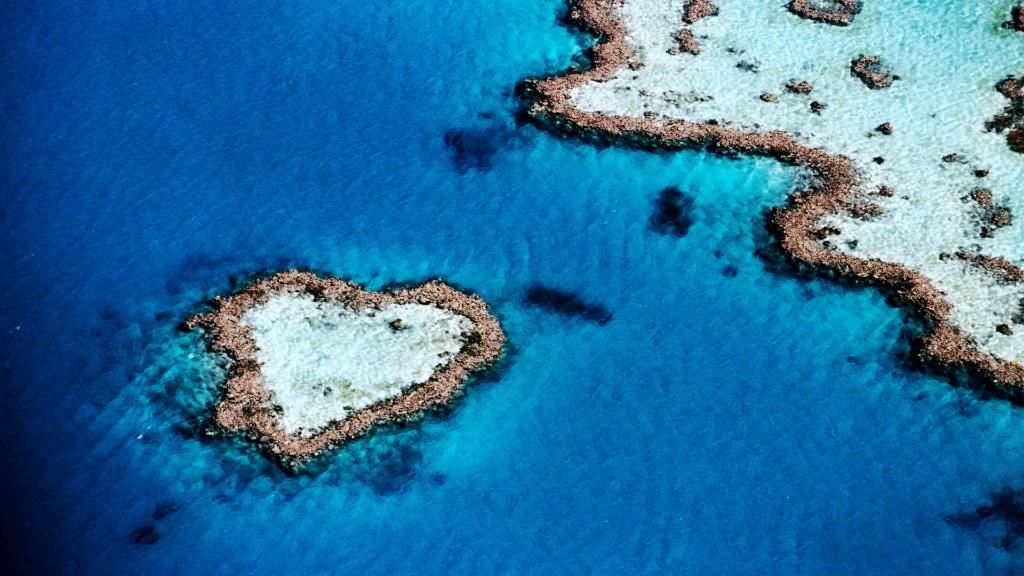 Opening sequence  - The gentlemen watch some soccer on TV and remember the World Cup of 2002. The Jerk says he is proud of his favorite player: That's why he calls him hyung (big brother) even if he is younger than him. Oska#2 arrives with a surprise: A cake than he bought just because there was his favorite anime hero on it.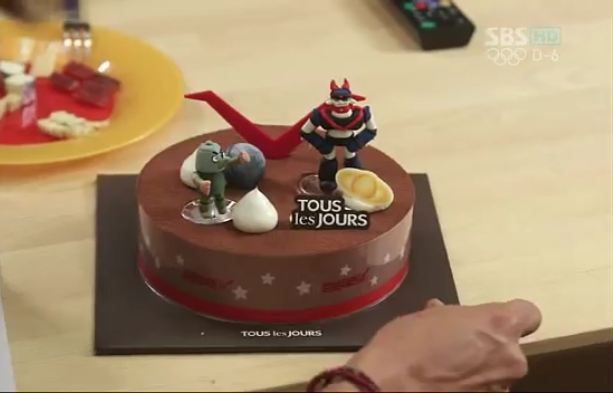 Chococake! Gimme, gimme!
The men transform themselves into little kids who want to save the Earth, with the help of their idol: Timebomb is Superman (who cares if the planet is safe when you can't be with your love, right?). The Jerk prefers Batman (elegant, a bad guy disguised as a hero). NiceGuy opts for Spiderman (you just can't escape the viscous web of a spider). Oska#2 sticks to his robot persona, Tae kwon V (because he is the most loyal and reliable). In voice over, we hear The Jerk saying than the debate is still not closed after all those years:
"Where are the heroes of our childhood gone? Also, how to protect the ones you love once you're a grown-up?" 
Don't ask me… I got no clue either.
Fountain scene – DoomedGirl tells The Jerk she heard about his muscled intervention at the café to intimidate the bastards. She also heard the "I'm the oppa who loves her" part. He pretends it was meaningless words but she's not convinced at all. She calls him a coward and he agrees: He is a coward to protect her happiness and her bright future. Pfft! Here we go again. She's fed up with the noble idiocy and gives him the luxury shoes so he could come to her: "I will give up on you in our next life. Not in this one". That's my girl!
NiceGuy harbors his long face at home but refuses to tell his little sister why. Timebomb comes to their house but can't find the courage to ring the bell.            The Jerk does a meditation session over the nice pair of leather shoes.
They all had lost their voice that day. That's why they had silent scenes… 
The Foe and DoomedGirl have a nice little chat: The latter can't wait for her boyfriend to come back to her, once his metaphysical conflict has been solved. She knows the road of love will be hellish but she can't live without him anyway.
The Foe understands perfectly and has faith in the happy ending: When the one you love opens his/her arms for you, all moral codes are shattered.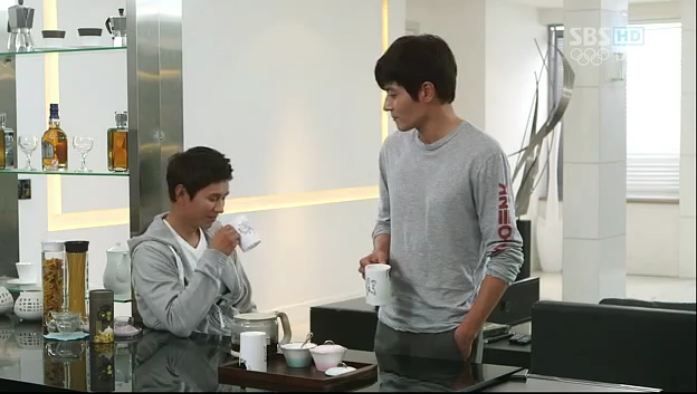 Timebomb and The Jerk have their own little conversation – New daddy is worried: Baby Stalker still feels awkward around him and he would really want to get closer to him. Awwww. Just find an excuse to pull him in a hug. Seems to work fine with everyone. Plus I ♥ hugs too. He also confesses he became a male version of Cinderella last night. The good news is: He will try his best to make it work with his princess.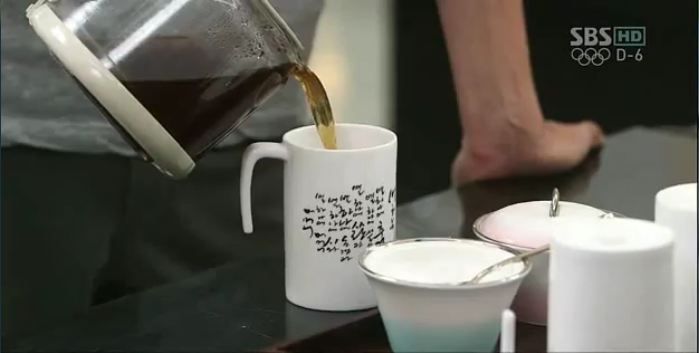 When I say than I could watch 50 episodes with only the boys drinking coffee, I'm not joking.
Timebomb wishes him the best and The Jerk tells him to keep some for himself and Baby Fox. Lawyer oppa plays the Big Loser: NiceGuy will never accept their relationship. The Jerk gives a cryptic encouragement: A story about climbing mountains, reaching the summit and getting the prize. I say just heads home, punch him and voilà. Yes, I'm a very subtle person.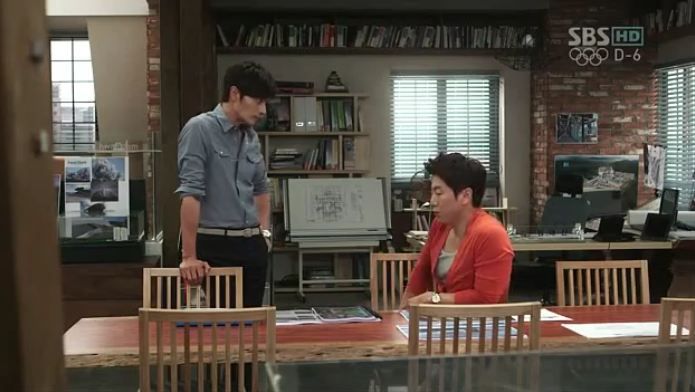 Architect office – There is going to be a big reception for the presentation of the Qualze Resort aka the Megalomaniac Artificial Island. The Jerk asks who will attend it. NiceGuy says no need to book a seat for baby Fox: He has something else in store for her. The Jerk pretends not to understand and asks for help: He would like to play drums at the party, in order to impress someone.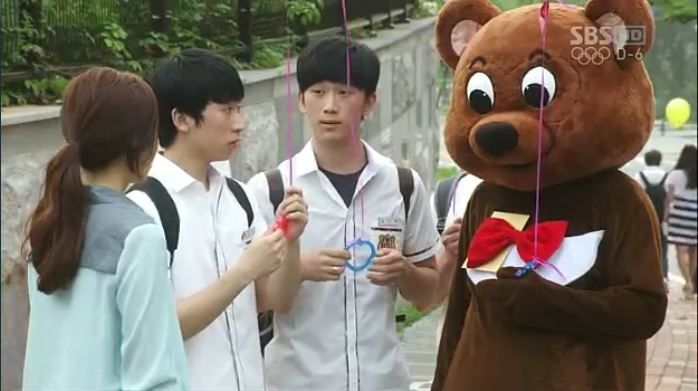 Ethic Teach checks out from work and is approached by a man in a bear costume. She scolds him for selling things in the perimeter of the school but he doesn't care. He hands her an envelope and a balloon. Of course, the poor guy who almost died from heat and dehydration is The Jerk.
You can come home to take a shower if you want…
Everyone prepares for the ball. The Foe is jealous and gives permission of midnight. Baby Fox wants to come with her brother.
Worst timing ever for a text message: Baby Fox receives a warning from her bank for her credits. Everyone in that drama is supposedly rich but they are all broke or indebted or bankrupt. Someone to explain? NiceGuy can't take it anymore and gives her the plane ticket for the US: He already called her aunt to say he would send her back.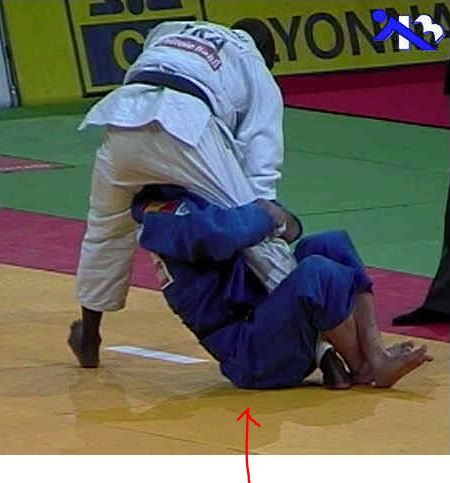 Don't be fooled! The thing in blue is Baby Fox!
The party get started and our favorite Jerk has for mission to welcome the guests.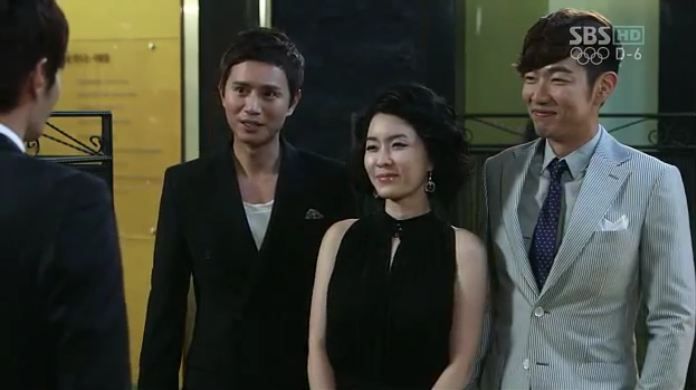 Enya playing in the background: Me likey. He tries to find DoomedGirl but she's late. The MC introduces our businessmen to the assembly and there is just 1 little bug: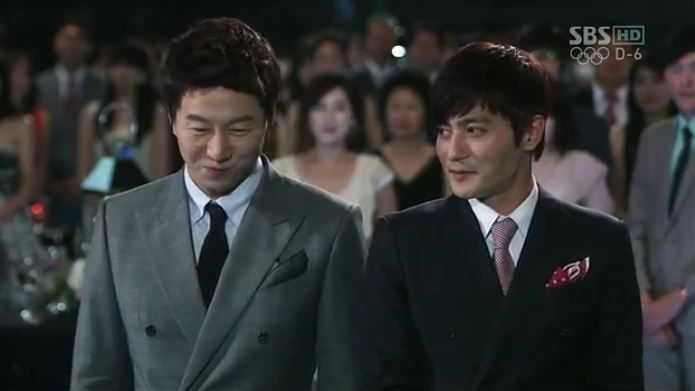 "Didn't know we were single"  —  "Neither I…"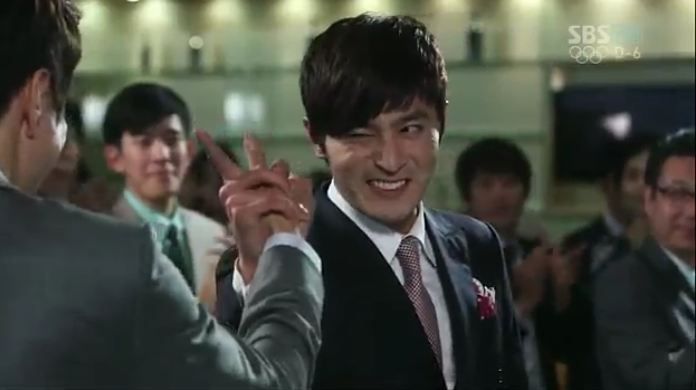 What you call a moment of glory…
DoomedGirl finally arrives and he spots her in the crowd while he is being applauded. The Queen gives her a trick: Walking straight to him with 2 glasses to isolate him from his admirers. They finally find each other among the unknown guests and realize they had the same idea.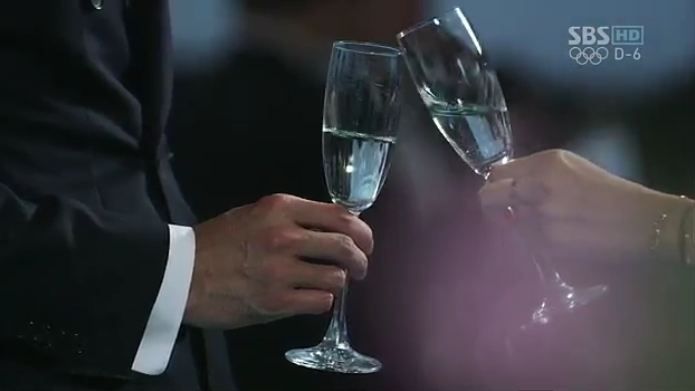 The Jerk teases her: She is so pretty tonight than he almost forgot his speech. Pfft. What a smooth talker that one!
What should happen actually happens: NiceGuy and Timebomb bump into each other. Say with me: "AWKWARD!!! The conversation quickly derails and our lawyer asks shyly if Baby Fox is absent because of him. Big Bro apologizes on her behalf for her obsession. Nothing new… Conveniently, the phone of Timebomb rings and NiceGuy tells him to pick up: "She must have something important to tell you".
The Jerk eats his ex future girlfriend with his eyes while DoomedGirl looks at his feet. She's disappointed to see he didn't come with the shoes she gave him. I want a law who forbids to use shoes to convey messages in dramas: It never works and only creates cascades of misunderstandings. He plays the lamest prank ever: He just had an episode of memory loss and also lost his pen recorder. He doesn't remember the shoes nor having given her an invitation to come. "I thought you came only because you missed me. Did you say something important that day?"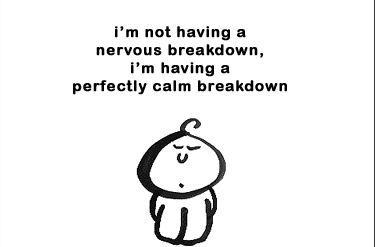 Can I slap him behind the head? Throw the champagne at his face? It doesn't leave stains on clothes…
Oska#2 has to deal with a grumpy paranoid Queen while The Jerk does some showing off playing drums.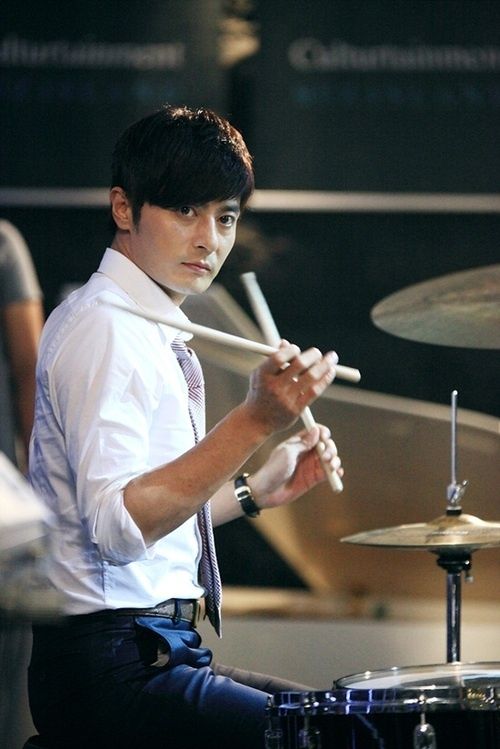 Why so smexy? Credit: ammel123 at soompi.
Stupid DoomedGirl is so upset at the absurdity of the situation than she leaves the party before the end.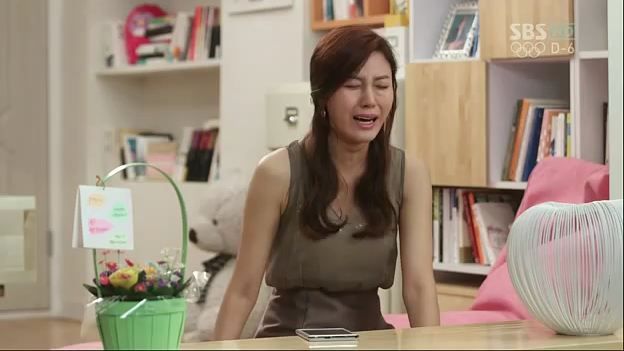 She cries alone at home and packs some clothes to go… Somewhere. She refuses to pick up the phone when he calls and curses him. She even asks the waitress of the café where the brawl took place to give her a copy of the video, in order to curse at his face. Does it sound coherent? My mind is blurred too.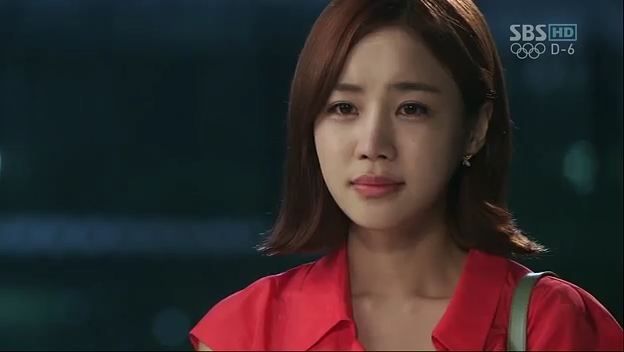 Baby Fox meets Timebomb at night and tells him her brother is sending her back to the US. She must have been a package sent by airmail in her previous life. She has one of her tantrums / crying scene and I swear it's really painful to hear. She wants him to hold on to her but he won't… Bla, bla, bla… Fast forward and mute button please. Maybe I'm a guy:
http://news.discovery.com/human/tears-women-men-libido-110106.html
On the other hand, seeing that poor guy falling in tears is truly heartbreaking: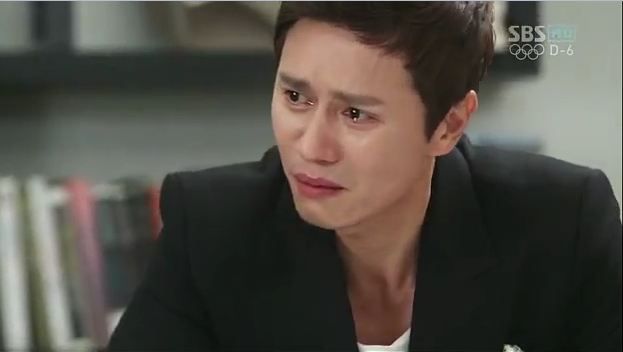 I guess it doesn't need explanation…
The Jerk realizes he made a blunder and the track game begins. The Foe manages to contact her and gives him a hint: She's having a farewell trip at the lake and drinking heavily. His suspicion is confirmed when he founds her car parked WTF style at the hotel.
Bwahaha… 
He tries to obtain the number of her room but the manager is very professional: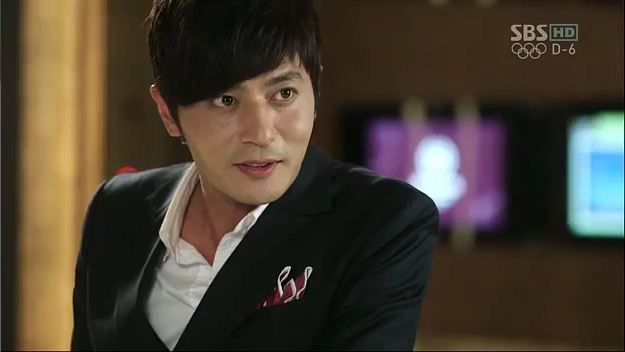 Note for self: Aegyo doesn't work with straight hotel managers.
He does a sitting in front of the elevator, ALL FREAKING NIGHT.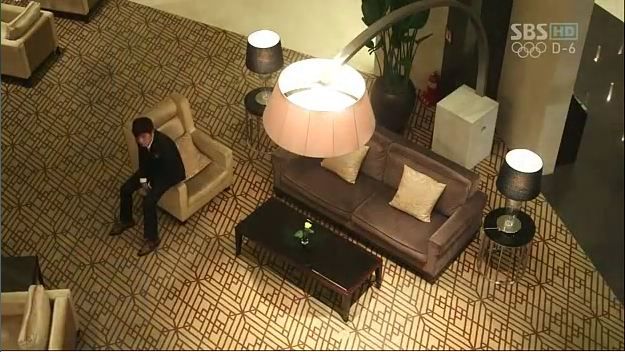 That photo is here just because I like the furniture and the pink lamp.
She checks out in the morning, worn out and drunk. A guy helps her with her luggage and takes the driver seat while The Jerk resumes his stalking habits: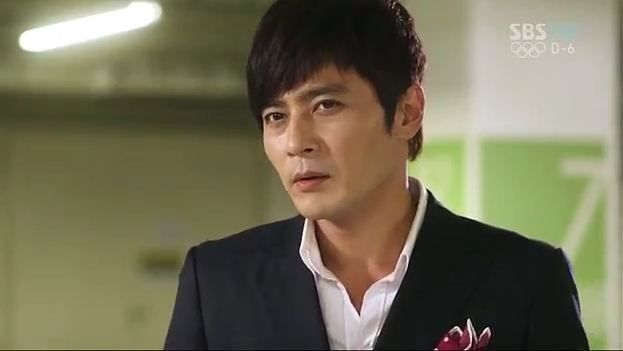 "I can't believe it face".
The designated driver lands her in the fields and The Jerk is relieved. He won't need to kill anyone today.
Baby Fox calls Ethic Teach to ask for her advice: How can one know when a love is over? Answer is: If you can't erase his image from your memory and can't believe it's over, THEN it's over. Both women start crying in chorus on the phone and it's just the most ridiculous scene ever. Sorry people.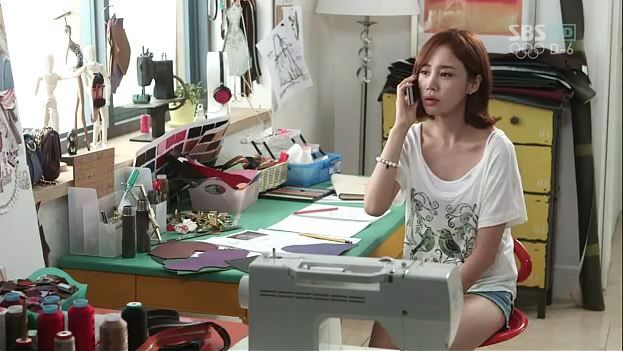 DoomedGirl starts insulting the boyfriend who dumped her out loud *again*. Of course the bastard pops out in front of her to request a direct conversation.
"My name is Kim Do-jin. I have a son who's 19 years old. I had a lot of women in my life. I'm a bad guy who makes women cry. Will you accept to be with me?"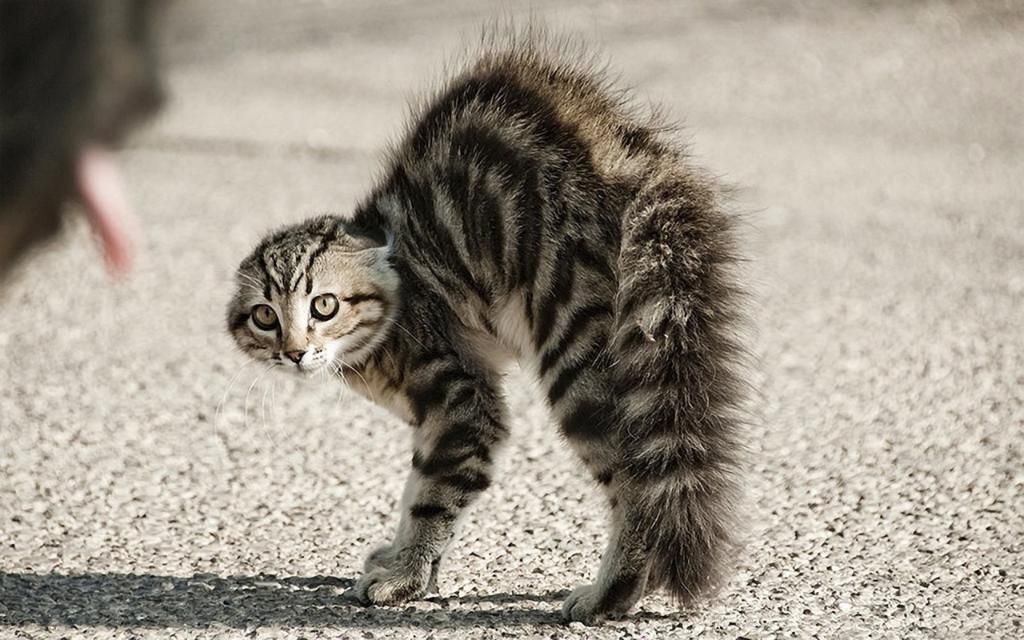 DoomedGirl: "I'm cute, scared and dangerous".
She first says no: She'd better be a nun. But then she sees the shoes on his feet. He clears the misunderstanding about the prank…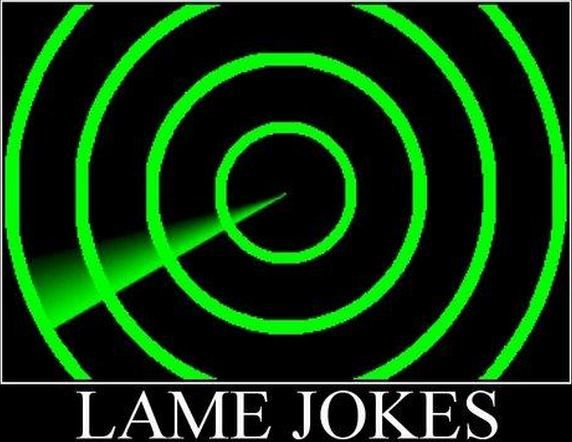 She explodes in tears of frustration/relief/anger like a kid and he has to pull her in a hug to calm her down.
The Queen gets out from the gynecologist's office where she heard bad news: She's not pregnant and her chances of having kids are decreasing rapidly.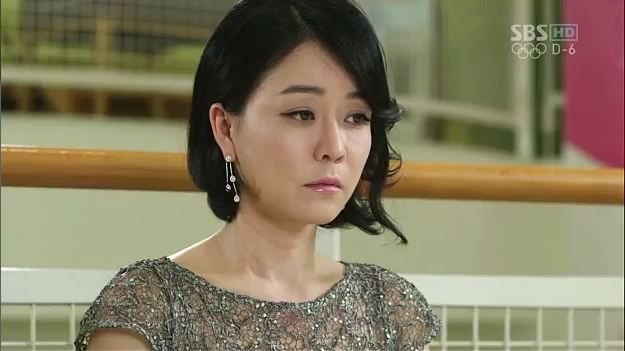 Unni, don't be sad! Huh! Where is Doc Without Borders when you need him?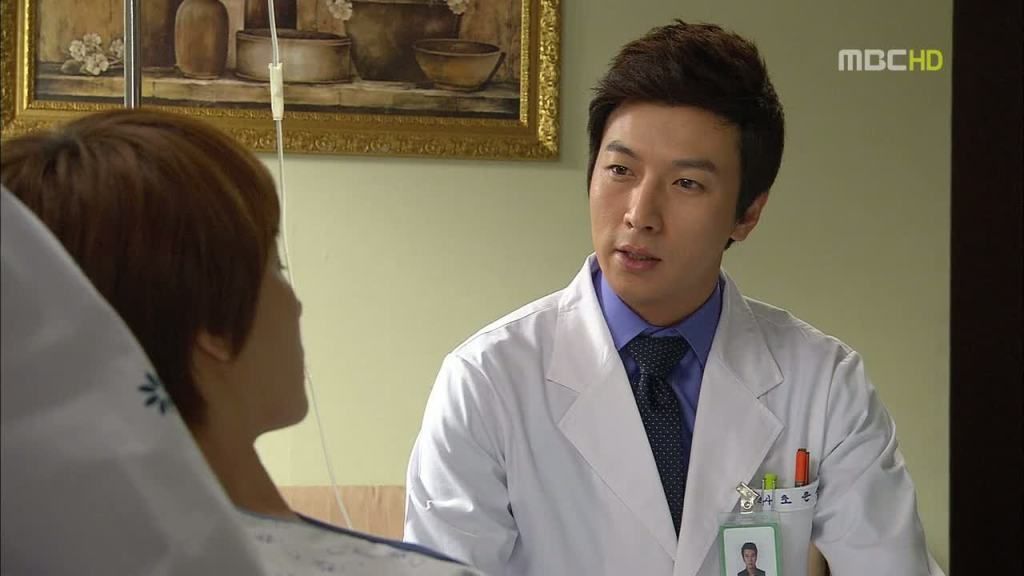 Her husband arrives from nowhere and plays the oak in the storm. He tells her to have faith, not because the Doc said it but because HE says so. Awww. You can be an ass sometime but I still have a soft spot for you. He teases her: She would be pregnant by now if she had let him sleep at home all those lost nights. Also, she should stop hating him.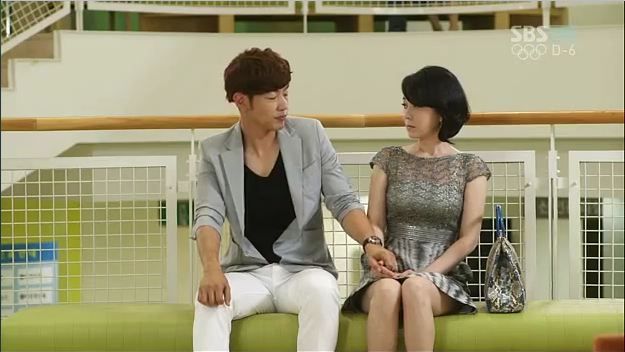 Her: "I don't hate you anymore".
Him: "Good. I don't fear you anymore. Can I come back home?".
→  *Murderous glance*. Bwahaha…  Love those 2!
She sees the wedding band at his finger and doesn't resist when he pulls her in a hug.
Him: "Starting from now, I'm all yours, from head to toe. Even my heart."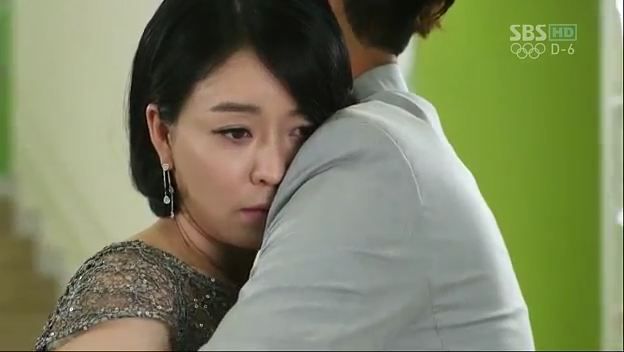 Squeeee!!!
The Foe and NiceGuy have a gloomy meal together. She wants to know what is bugging him and he replies he will tell her once they are married and a real family. I will not marry anyone just because of a silly secret used as a bait, just sayin'. 
They talk financial arrangement and removal (so romantic…) and finally we see a smile on his face: Once the Baby Fox problem is solved he will take her for a trip on the coast. Hotels are going to be trendy in that area…
Smile!!!!!
He wants to give her back the car but she tells him to keep it until she paid him back the last cent: She doesn't want pity but support.
The Jerk finally reaches his girlfriend's home safely and she crashes on her bed, still heavily drunk. She acts cute despite herself and drags him in bed with her when he wants to go. If we didn't know than alcohol lifts inhibitions…
ALERT… ALERT…ALERT… ALERT…ALERT… ALERT… CUTENESS OVERLOAD BELOW.
She wakes up from her stupor in the arms of a handsome guy who's wearing a suit. I officially declare I dig romantic scenes in clothes: More please. She remembers some shameful actions and gets all panicky.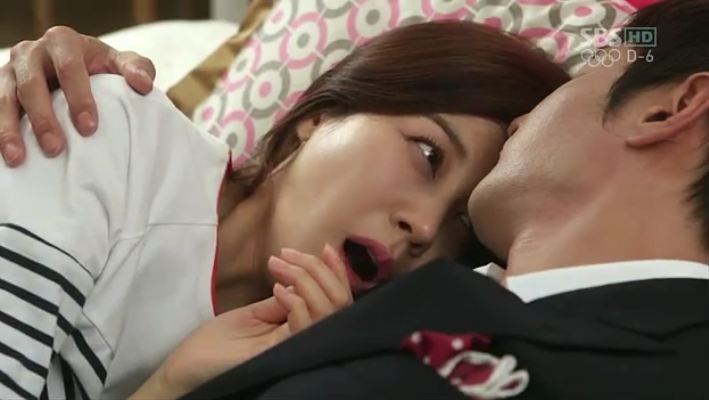 Her eyelashes tickle his face and he asks her to stay quiet. She pretends to be half-asleep and turns on the other side to shield him from her bad breath.
Bwahaha… I'm sure his totem animal is a squid: Grab and squeeze. Can I have the plushie at least?
He tells her to listen carefully while she's dying of shame. He apologizes for the break up and for the lies: He said he didn't love her when actually he loves her a lot. He is also sorry for all the tears.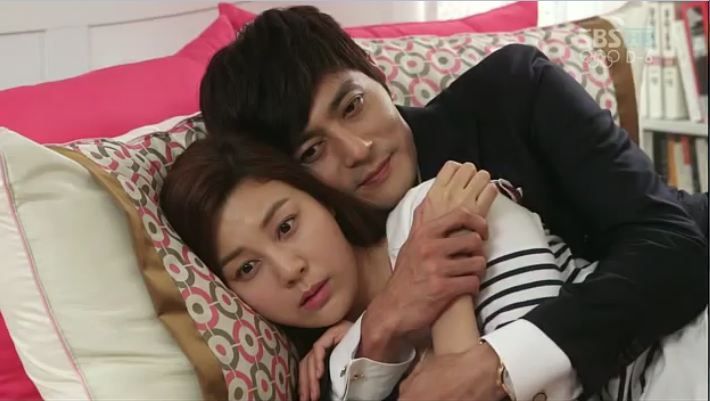 "I will say I'm sorry just today. Starting from tomorrow I will only say "I love you"." 
He tells her he has to go to work and silently leaves the bedroom. She turns over in bed and cries over the soju smell on her clothes, only to realize he is still there.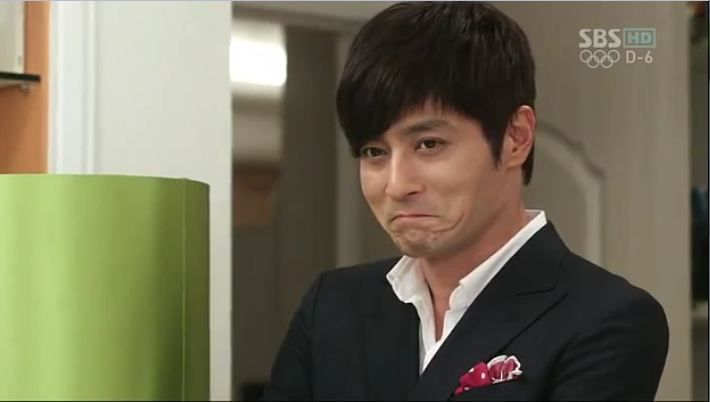 You've been jerkrolled!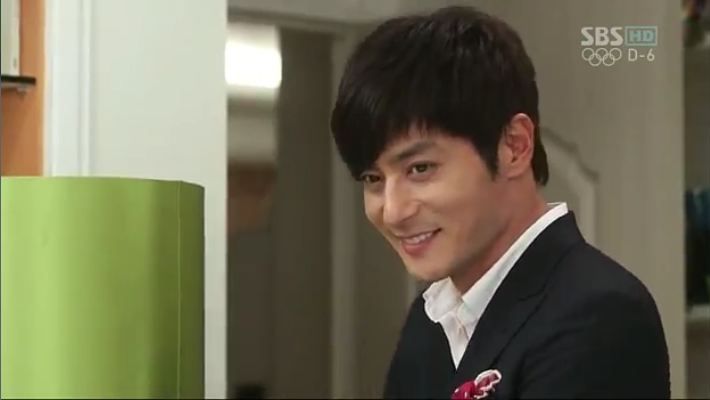 [Insert evil squid laugh]
This time she pretends to be sleep talking and THAT is embarrassing. Seriously, at some point giving up is a lesser evil, you know…
The Foe comes in to confirm she sold the house.
Work session at the architect's office – The employees find the good mood of the boss suspicious. Also, NiceGuy went on location to promote Crazy Island when he hates those kind of events normally.
A real yacht IN the building? Omo!  
Baby Fox comes to see Oska#2 at the café. She wants to run from home but still wants him to take care of her brother.
The cute manager is brought in the conversation and chooses to help Baby Fox: "I'm always on the side of the girls". Smart kid. Oska#2 orders him to shut up: He is just here as an alibi for his wife.
Oska#2 pays a visit to NiceGuy and starts a men's conversation - Without saying stupidities? quite a miracle in itself - He tells him about Baby Fox crying all the time and suggests him to mellow a little bit. NiceGuy says he knows: Actually he is not angry at her but at Timebomb. He also knows nothing guarantees she would met a better man in the future. And he is sad about the all situation.
NiceGuy: "You guys should take his side. He needs it more than me because I will break his heart."
?????? SO WHY THE HECK ARE YOU INTERFERING WITH EVERYONE'S LIFE: LIVE AND LET LIVE!! Oh, wait… I almost forgot it's a drama.
Baby Fox packs her stuff for the US and muses over her couple bracelet. As an echo, Timebomb does the same in his office.
The Jerk and his son share a moment together. Baby Stalker praises him in Japanese and the father suspects some swearing. The Jerk informs him he is dating his homeroom teacher and the kid is happy for them. That said, he can't hide the fact than he is shaken: He supposes right ahead he will be kicked out from the house to make some room for future half-siblings.
Tears appear even when his dad tells him he doesn't have to worry about that: What he fears won't happen and he shouldn't feel guilty for what happened. He reassures him by squeezing his shoulder.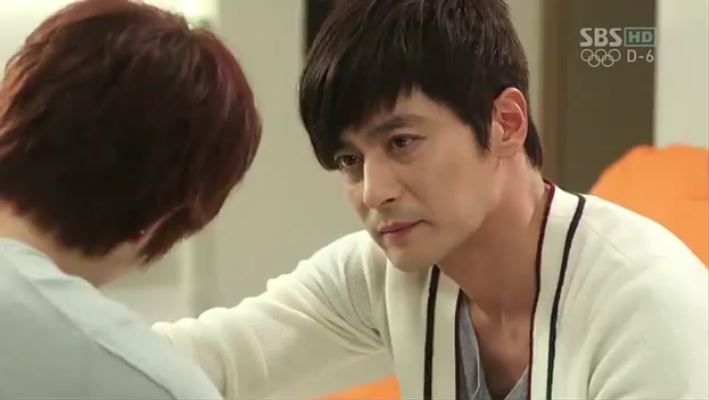 The Jerk and DoomedGirl walk in the street like newlyweds and can't help but smiling and giggling. They can't take their hands off of each other either and skinship goes crescendo. *Grateful viewer here.*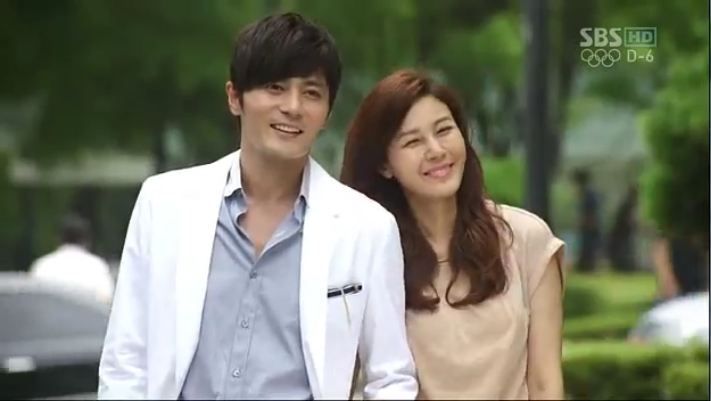 She pretends to be shy and nervous when she isn't at all. Since nothing is able to make her uncomfortable, there is only one solution: "Should we go for a trip?" Me think the only way to get rid of that gimmick is to answer "yes"… He promises more laughs and good times like this in the future. She's happy to be with "her" man and he warns her: Self control is not his forte.
Her: "I know! If I'm that spunky in the morning, what will it be at night?"
Him: " I just decided I will not go to work today."
Before heading to the airport Baby Fox sends a scheduled text message to everyone to say goodbye. She gives a last glance to the departure hall before taking her plane but nobody's here. It's only when all hope is lost than a hand grabs her wrist. Timebomb has found the guts to hold on to her and we can admire another epic hug.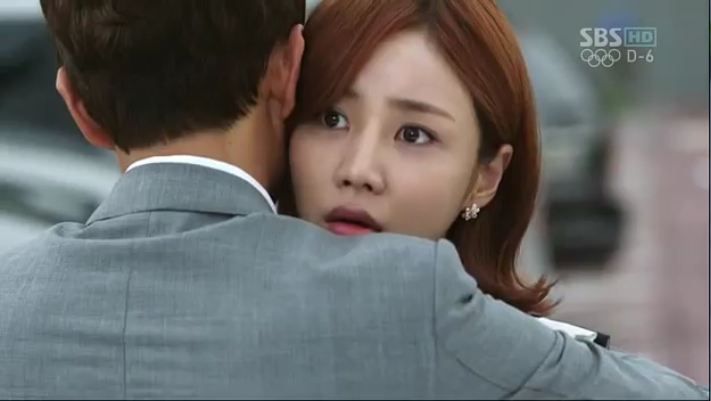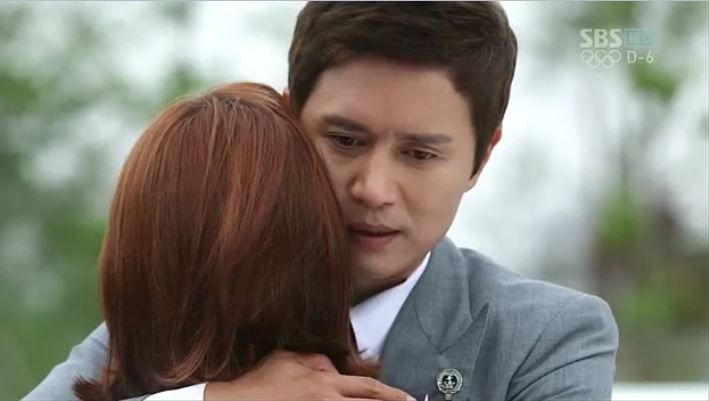 Damned! An now I have to find a new nickname for him… Or not: I'm getting used to the old one.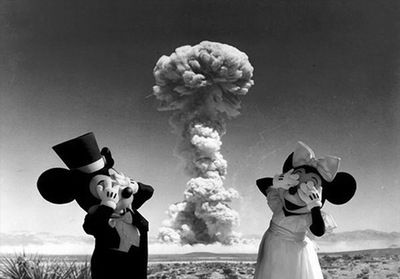 To be continued…
Comments:
- The super hero metaphor to explain the psyche of the boys: Pure gold! Now I know why I love The Jerk to pieces and why I can't stand NiceGuy: Black leather versus spiders… Am I supposed to hesitate?
- A mountain is an obstacle? Pfft. Let me help: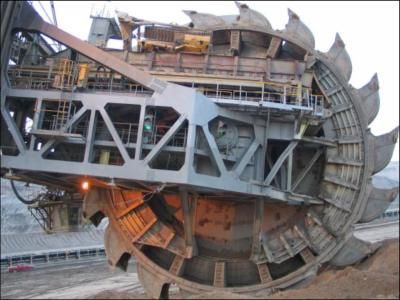 - A broody bed scene can be better than a shower scene. Seriously, am I the only one who wants to crawl on that bed?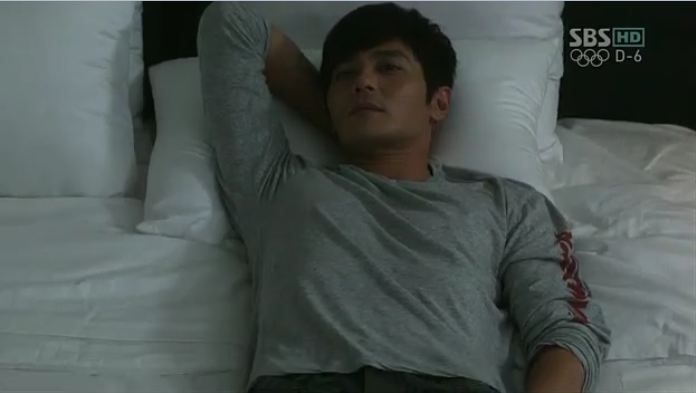 - I love the father and son scenes: The complicity slowly building despite the reserve. 2 pains in the ass who see bantering as a healthy daily activity. How to ground your authority in such a hostile environment? One strange thing: Colin is supposed to have grown in a warm family with a cool adoptive father. And then, abandonment issues: I don't find that kid heart-opened or well in his shoes. Something's fishy in that "perfect family" abroad.