Tags
A Gentleman's Dignity, Jang Dong Gun, Kim Eun Sook, Kim Ha Neul, Kim Jung Nan, Kim Min Jong, Kim Soo Ro, Kim Woo Bin, Lee Jong Hyuk, Lee Jong Hyun, Unrequited love
Episode seen 1000 times. Gold medal of "cute & sweet" .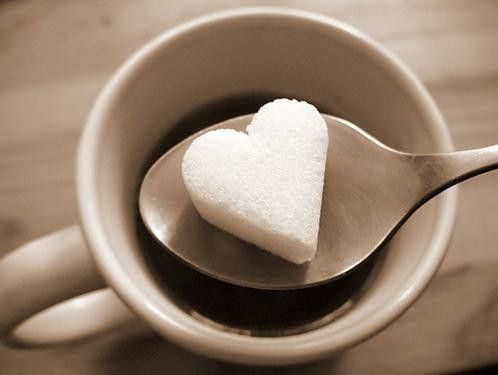 The perfect song for cruising along the ocean. Choose your driver ladies and let's go for a trip!

Opening sequence - Maybe the gentlemen were going on vacation, we will never know…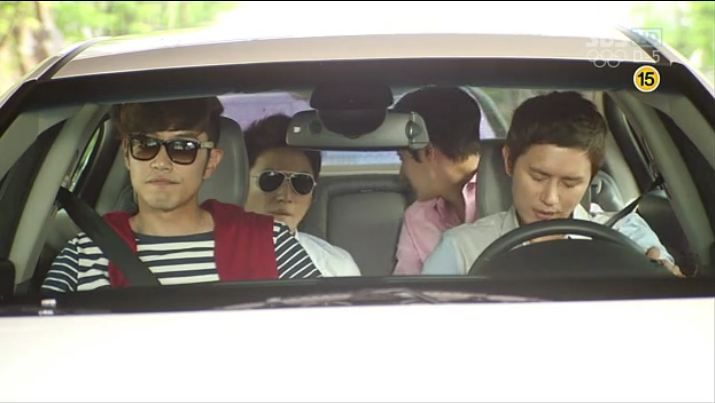 They were chatting, comfortably seated in the lawyer's car when a young driver rear-ended them. I know what to buy for the next birthday of Timebomb: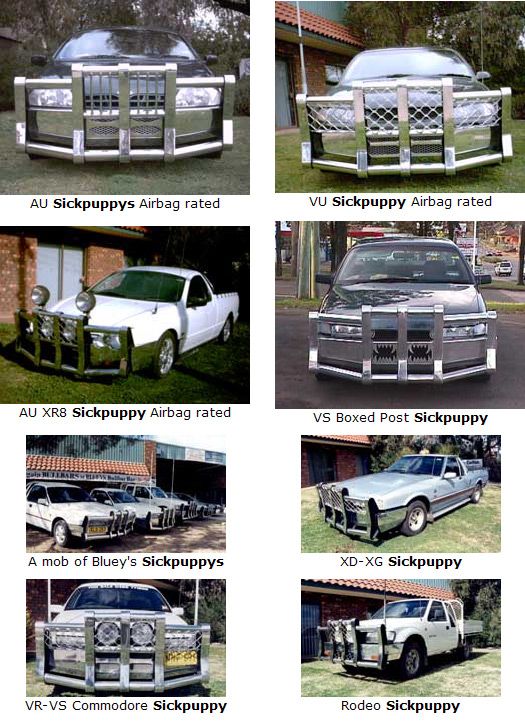 Do your choice buddy!
They smell a rat like a Mighty Daddy or a lack of insurance and decide for a strategy: Pretending to have their neck hurt (after a collision at… 10 mph). They also show their "muscles" by picking up their phones and faking calls to VVIP acquaintances.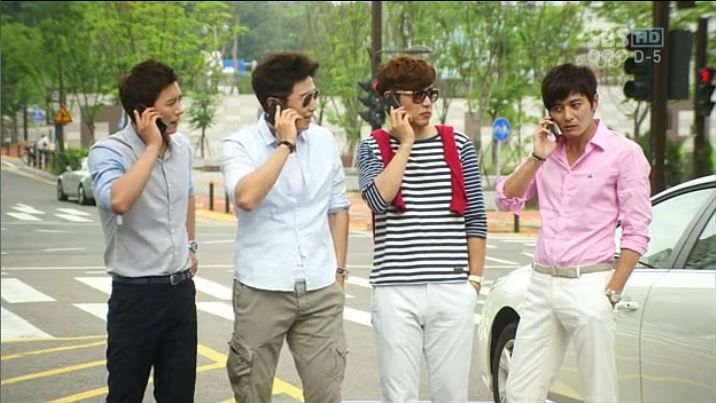 Forensics? Really?? Uhhh… What for exactly?
The guy doesn't get impressed and stays perfectly cool: He calls his insurance and honestly declares he is responsible for the accident.
Such a cutie can't be evil. Because I say so.
The plan backfires awfully and the gentlemen end up roasting on the car for hours.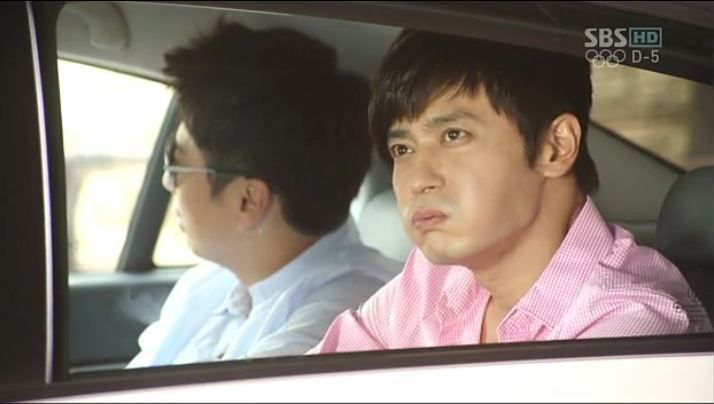 When prejudice toward youngsters comes back to you…
Timebomb's office – Our lawyer is musing over his couple bracelet (again). The Jerk and DoomedGirl rush into his office to kick his coward ass figuratively: Baby Fox is leaving now, today, AT THE MOMENT!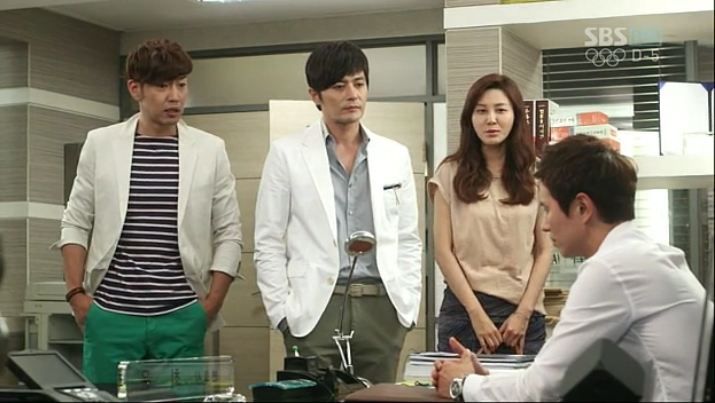 Oska#2 joins the chorus. They find reasons why she could be delayed at the airport: Fire guns in her bags for example. Bwahaha! Don't tell me The Jerk actually put one in it? Can totally picture him doing just that. Timebomb ousts them: He has a trial to prepare for the day after. The Jerk calls him stupid: The trial is tomorrow but Baby Fox's destiny (and his) is decided now…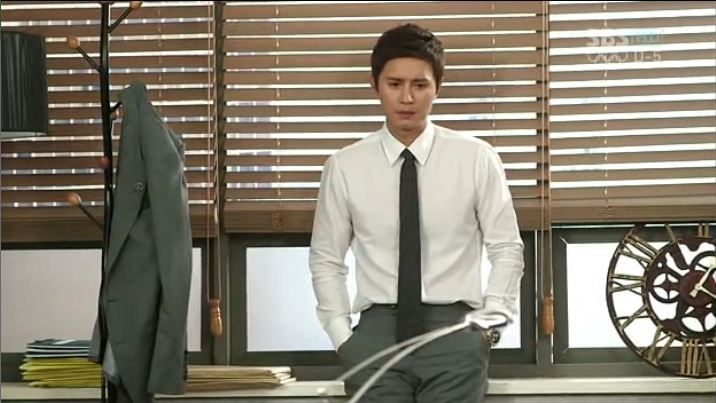 Flashback – Yes, Timebomb held on to his life and grabbed his girl at the airport.  He confesses his love for her and wipes her tears. He tells her everything will be alright now since they are together: A bumpy road is ahead of them but he will take care of the difficulties.
 Hmm. Should be fine… Sticking to you is quite a skill of her.

The Queen has outbursts of paranoia: She imagines her husband cheating on her just by seeing his car.
 I don't like this, at all…
NiceGuy is resting at home, firmly convinced than he get rid of his annoying little sister once for all. Timebomb rings at the door and we soon realize it's not a courtesy visit: He brought Baby Fox and her luggage with him.
By the way, they are a couple now. NiceGuy is flabbergasted and soon starts his critics. They both ask for forgiveness but he won't listen: He declares they are not family or friend anymore. He kicks her out of the house and for once she has a good reason to cry (still unbearable to hear tho). 

Cute scene #1 - The Jerk and DoomedGirl have a drink with Oska#2 at the café. They wonder if Timebomb and Baby Fox have started dating. The Jerk would bet his life on YES: When you found someone you thought lost forever you just cling to that person desperately. To prove his point he takes the tube of hand cream in his bag and starts applying some on his girlfriend's hands.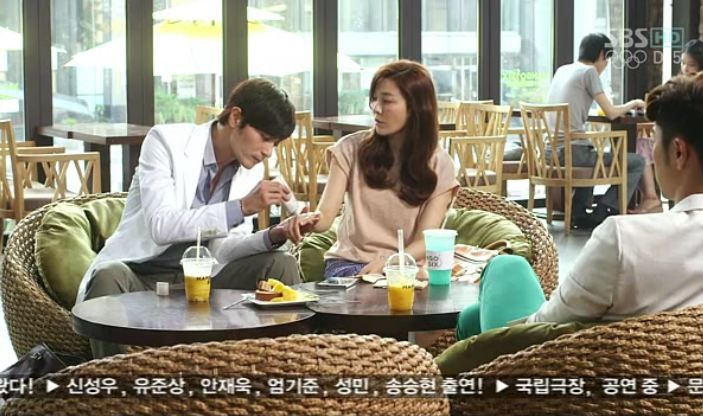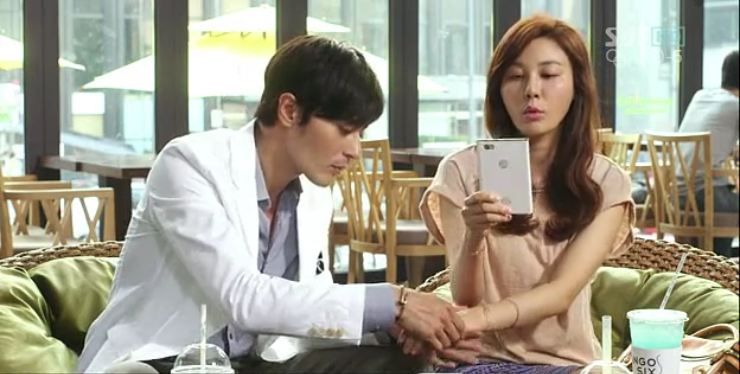 Just because he wants some skinship, your Honor! YES! I'm jealous! Wanna fight?
He says he would feed her himself if he could and poor Oska#2 is completely freaked out by all that saccharine.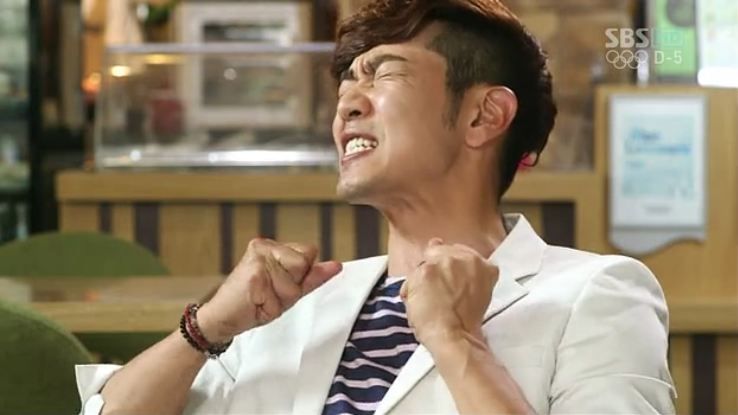 "What are you going to do next? Kissing windows?" 
Timebomb calls Ethic Teach. He needs a friend and a counselor. He tells her he feels miserable and she doesn't agree: In her eyes he is way cooler now. She knows by experience than the worst part is when you deny your own heart. Also, he shouldn't worry about Baby Fox's big brother: He just needs time to adjust to the situation. You're better than me. At this point I frigging don't care about what he needs. She thanks him for the divine intervention at the café the other day.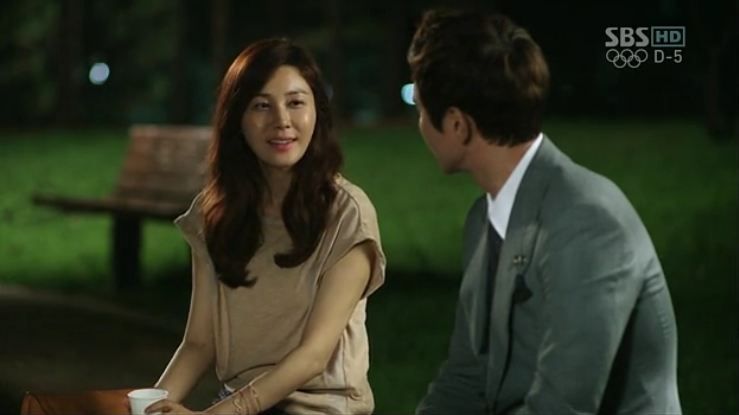 That said she would appreciate to know if he hears something new from the bullies. She would also be grateful if he could pay his share for the damages… Half jokingly she threatens to charge him more if he can't find a way to pacify NiceGuy.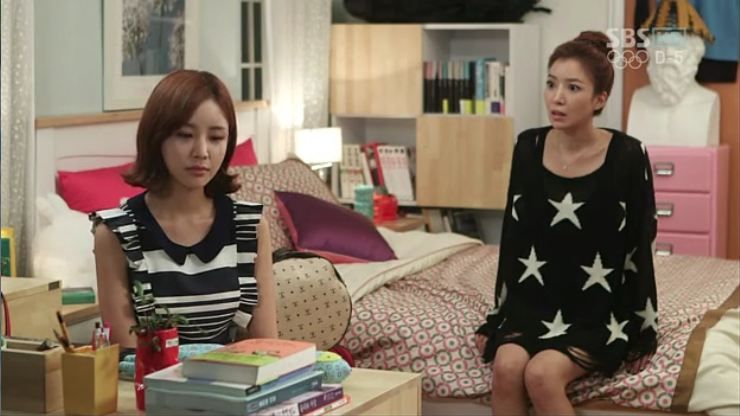 The Foe is surprised to find Baby Fox at home. She listens to the all story and agrees to house her but not without scolding her first for the troubles: "Take care of your man and I will do the same with mine!". Is that sympathy of some kind?
The Foe finds her man brooding in the dark in the living room. She pulls him in a hug so he can cry without having her staring at him.
She curses the "little brat" and takes his defense to comfort him. Nice gesture, except he is the one who's wrong here. He should have kicked Baby Fox from the house eons ago, for the good reasons: Something like "start giving a sense to your life!"
The Queen's house – Oska#2 is back home and in a good mood.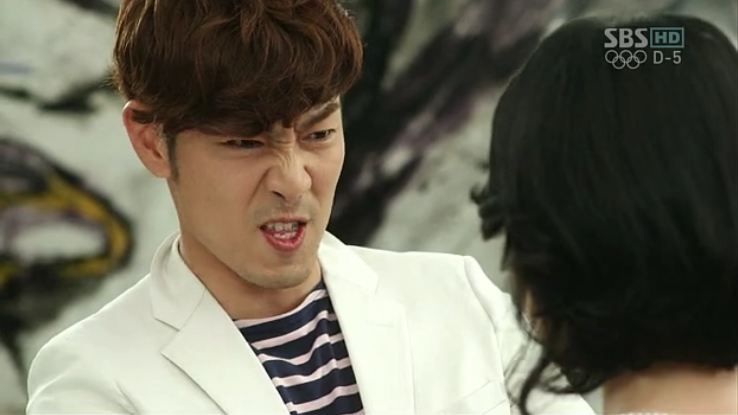 Sadly, his wife is not in tune. She wants to confirm her suspicions. He denies but can't give a satisfying explanation. As a last resort he tells her to call Baby Fox: He went to the motel because of her, she needed his help for something. The Queen takes the risk of passing for a jealous wench and calls the "alibi" right away. The doubts are erased and Oska#2 first believes it's one of those innocuous little fights.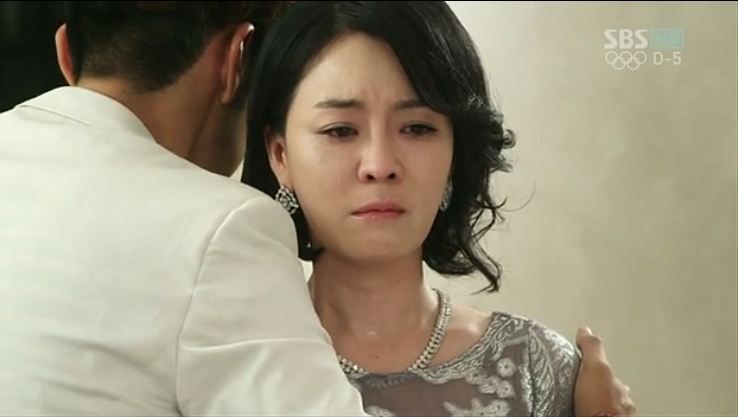 Wrong estimation! She wants to divorce. She's deadly serious and starts crying from mental exhaustion.
Cute scene #2 - The Jerk is now busy spying his son at home. Did I say I find them cute?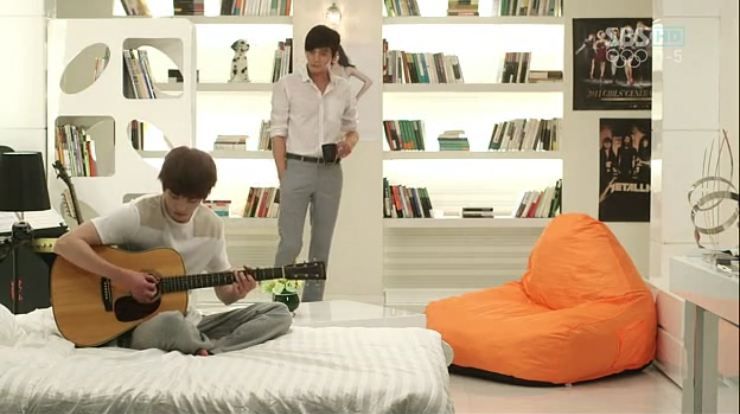 He enters Baby Stalker's room and listens to him playing guitar for a while…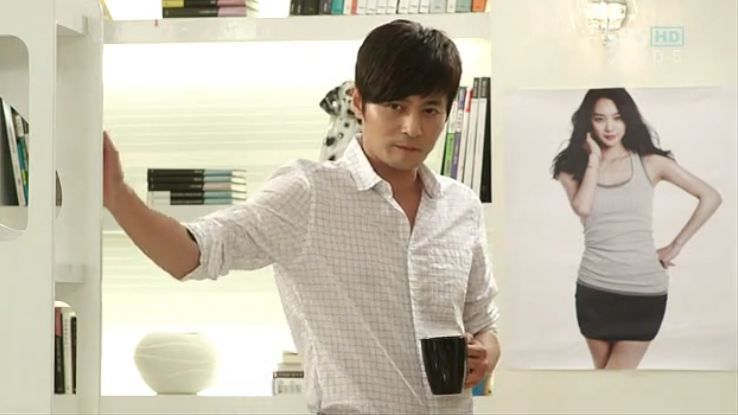 Before knocking. *Running off to buy a padlock*.
Proud daddy wants to know how things are going at school. Surprisingly, Baby Stalker is not fond of studying. He is not very social either but still managed to make a friend: A friend who doesn't like studying either. When The Jerk tells him to find valuable friends, kiddo has the perfect answer: It's not like Oska#2 is a brain or a specially recommendable human being.
 Hehehe… Frustrating much?
The Jerk asks innocently what are his favorite moments of the day: Could their father and son discussions be considered as good ones by now? Awww. When this guy plays the Gimme Love card, I can't resist. Baby Stalker is embarrassed and pretends he wants to go to sleep.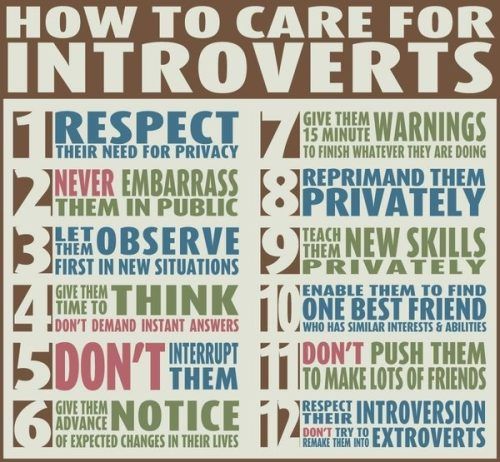 Timebomb is soon back home and is welcomed by a playful roommate: "You left your girl with my girl?". They sit on the sofa to have a men's chat.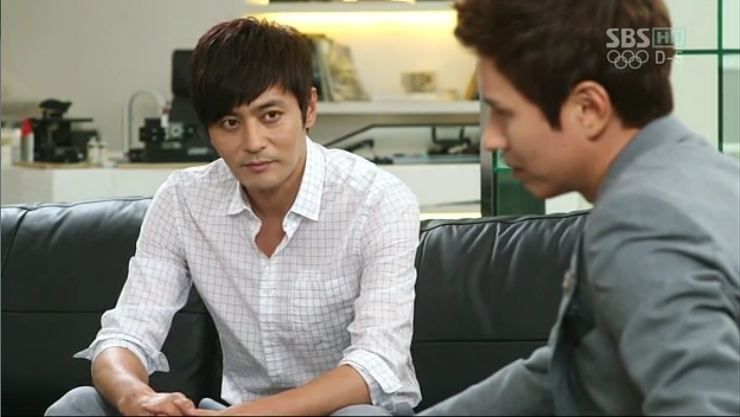 Timebomb feels lucky, not having been punched in the face yet. He remembers the time when Baby Fox was injured by another kid at school: Big Bro almost wanted to sue the parents. Since NiceGuy's tendency to overreact is legendary, he is afraid he will never be forgiven for "stealing" his little sis. The Jerk comforts his friend the best he can and tells him to rest.
Timebomb finally removes his wedding band to store it in its box. The mourning has come to an end. *Confetti and victory song*.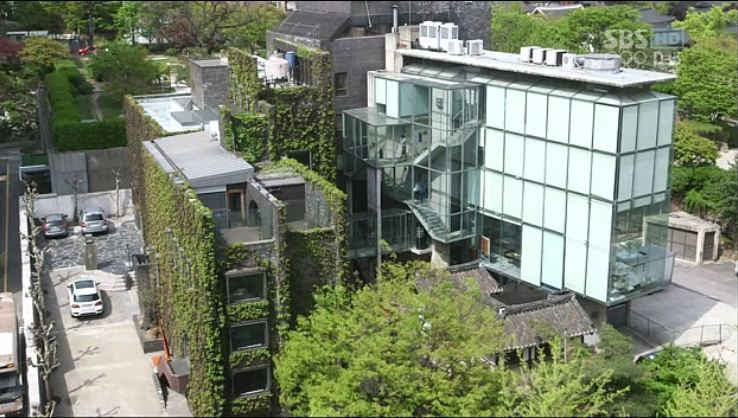 Next day at the architect's office – The Jerk is already here and contemplates pics of a house under construction on his camera.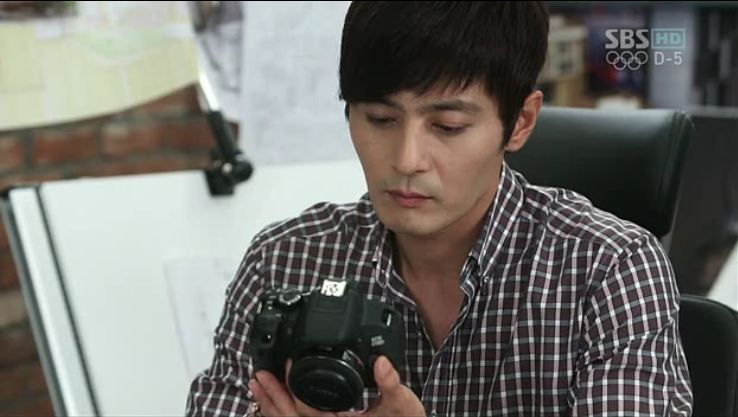 ↓ ↑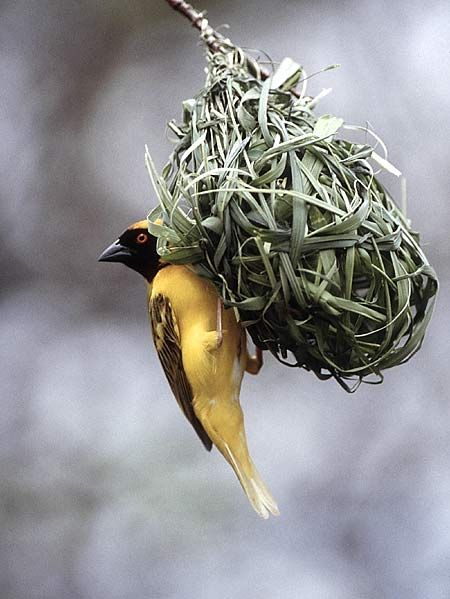 NiceGuy arrives and his friend uses the usual tactic: Making fun of him to distract him and to improve his mood. He tells him Timebomb told him to be on his side since he is the weakest on that duel: "That pisses you off, right?" You want to end with a black eye? He even sarcastically proposes to abandon the rebel couple on the streets to punish them. 
Pffft. NiceGuy stays with his stick in his butt and escapes the discussion: He will join the team now for the work meeting. The Jerk notices the cigarettes which reappeared on his friend's desk. Yeah. Let's be self-destructive. It always helps.
The meeting concerns the F44 houses. Still believe it's not a coincidence… The goofy junior is at the black board and finally asks if he should repeat for the daydreaming boss.
I just love that team.
The Jerk tells the employees to ignore him: He has family issues and absolutely no sense of humour today. He dismisses the team and wants to invite grumpy pants for lunch but NiceGuy has other plans…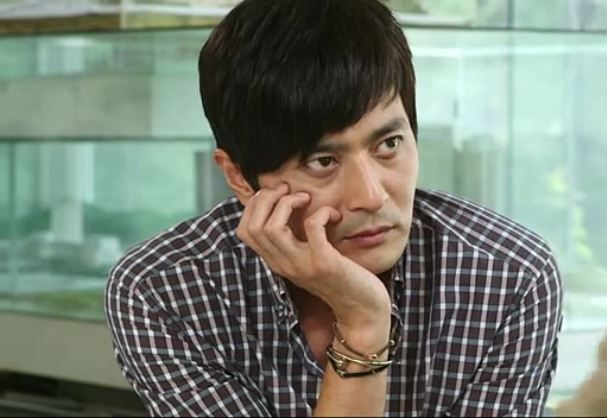 "Are you cheating on me, maybe?" Gah… So cute.
NiceGuy eats with his future brother in law. He notices the missing ring on Timebomb's finger and directly calls him a cradle robber.
The conversation is a nonsensical dialogue between deaf people and NiceGuy is the one who leaves the table.
DoomedGirl wants to take Baby Fox with her to visit apartments. The kid declines the invitation because she knows The Jerk will want to be alone with his girlfriend. DoomedGirl warns her: The Foe will be at home today and will be hard to handle since she's now the enemy of her boyfriend.
Cute scene #3 – Home hunting! The Jerk is not happy: The roommate of his girlfriend will be The Foe and not him.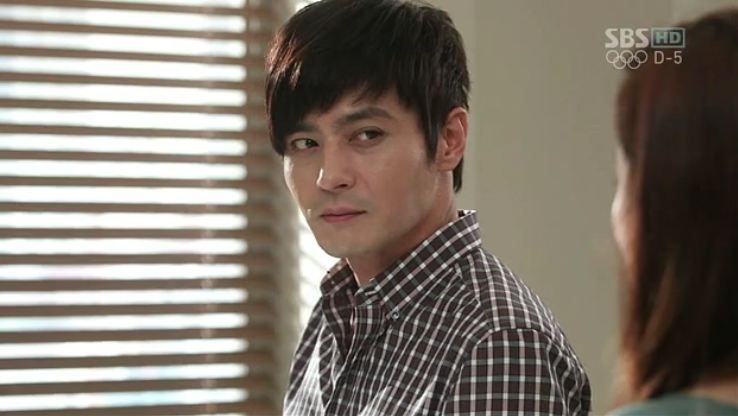 I don't understand either. But I can replace her if you want…
Now DoomedGirl will be the landlady and The Foe will be the tenant. The Jerk feels like they are newlyweds and she teases him: A second wedding maybe since they are not so young anymore… He tells her to sign the contract for that one apartment for a very good reason: It's the closer one from his home. He takes advantage of the estate agent being in the next room to pull her in a hug.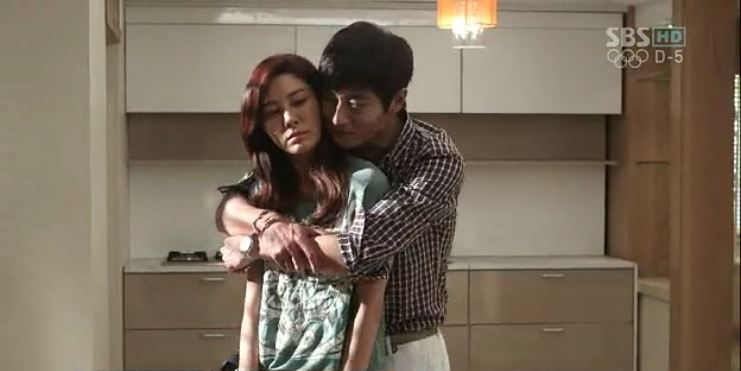 He just decided he would use every possible situation for a bit of skinship. Pfffttt & Bwahaha! Like you didn't do that before…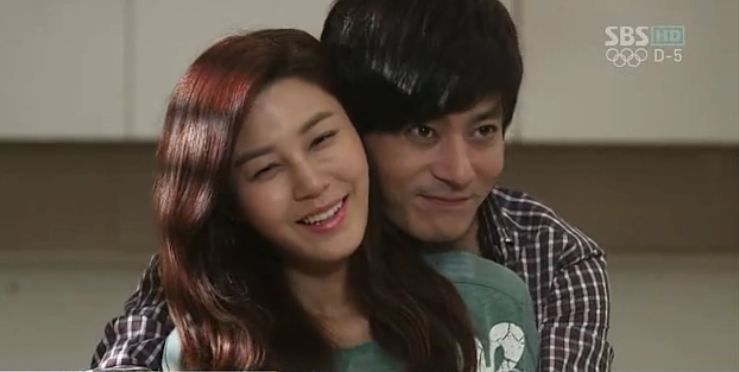 The guy comes back and Mr Paws has to move away hastily. He is spooked by a bug on the floor but DoomedGirl catches it instinctively, before releasing it.
Yep. Catching bugs is not very good for the "aegyo"…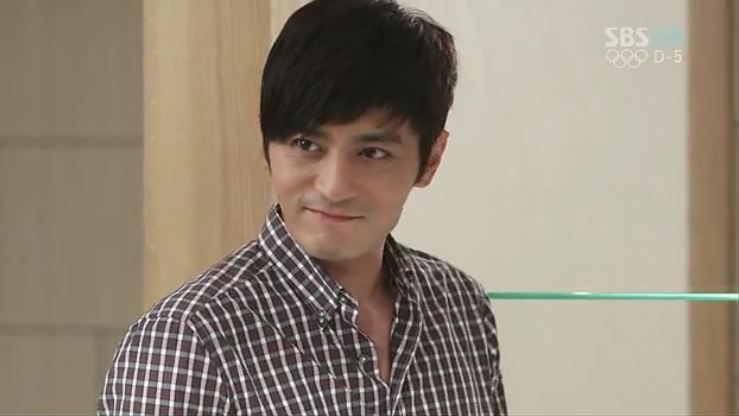 "New place? I'm sure the kitchen needs to be fixed. Or the lamps. The bed maybe?"
Mwahahaha…
Cute scene #4 – Painting!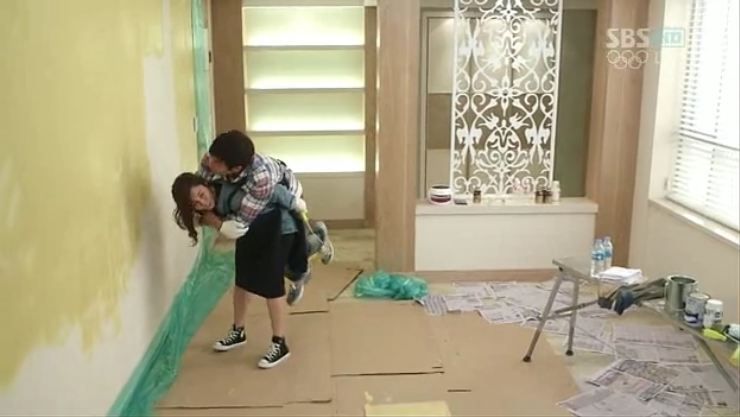 I don't proceed that way but OK…
Once the work done they lie down on the floor to rest and he offers his arm as a pillow. He is all proud of himself but she objects: She would have finished sooner if he didn't insist on piggybacking her to paint the higher parts. He reminds her his rule: Use every possible situation for some skinship. He makes his point by stealing a quick kiss.
"Do I look like a woman who restrains herself?"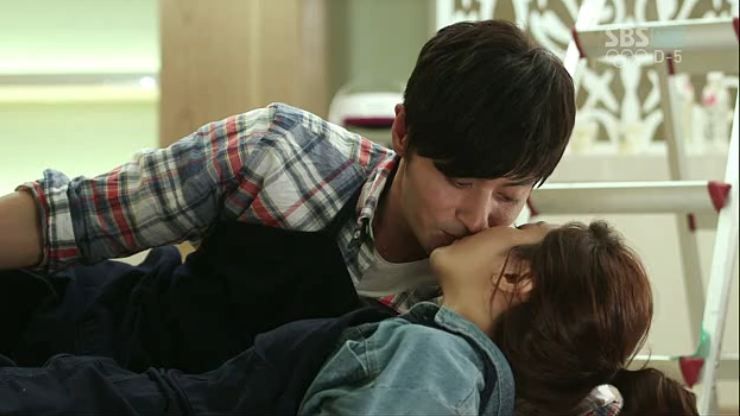 He accuses her of sexual harassment but it doesn't sound sincere.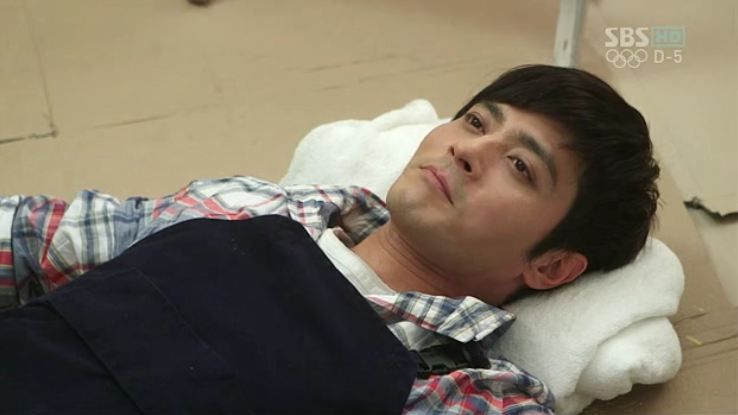 Her: "Is that the face of a man who's feeling harassed?"
Him: "It's the face of a man who wants more."  
It's time for a serious conversation and some exchange of informations. DoomedGirl asks her boyfriend if Timebomb is coping well with the situation. The Jerk tells her he honestly doesn't know: His roommate is a master at hiding his emotions. When she says than Baby Fox is brave he replies she is even more for accepting him: Just for that he will build a magnificent house for her. "One that you can't leave." Awww… We learn than the parents of our architect are expats and live in Toronto (Canada). They left South Korea once they were sure he could live on his own. They were a harmonious couple and he always was the troublemaker. No joke! All in all his young years were happy ones. DoomedGirl thinks than his straightforward and optimistic personality comes from that family environment. She feels jealous: She has to pretend to be cool and work hard on her confidence when it's natural to him. Yes, she had a sad and shameful childhood… The words shake The Jerk to his core. He decides happiness will start immediately.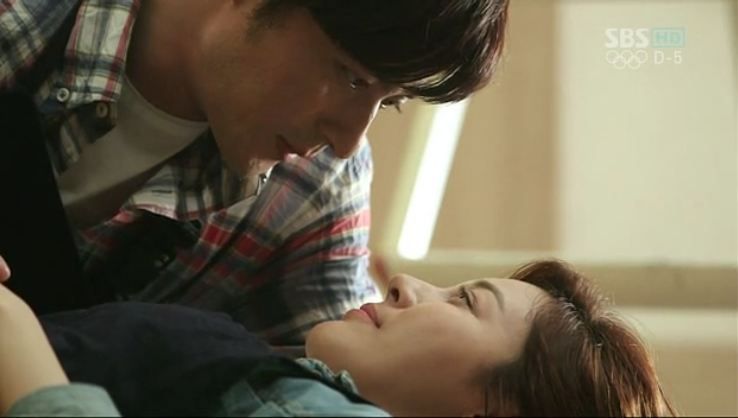 "Look at me."  Like she has the choice…
You see this? I imagine that ↓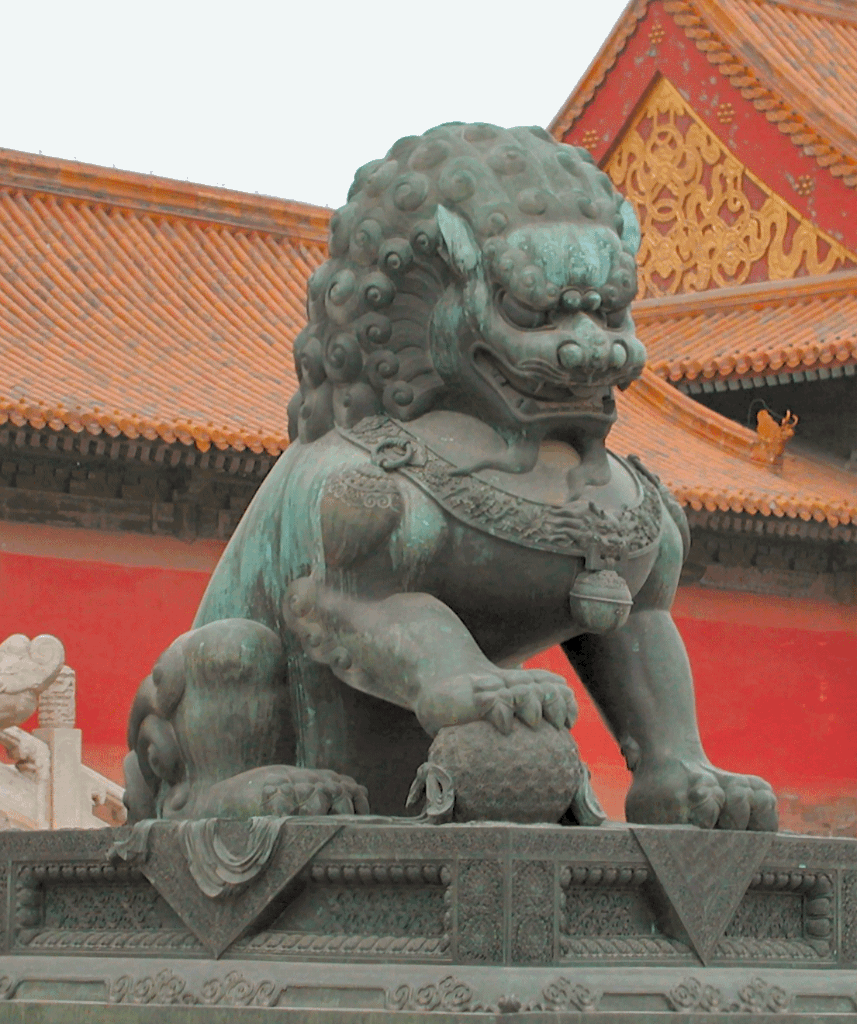 "MINE!!!!!" Nobody believes me when I say I'm crazy…
For our couple, the words may be the same as the previous time but the sincerity is not to be compared: He promises it will be until death do us apart. She decides to believe him again and grants him a second kiss.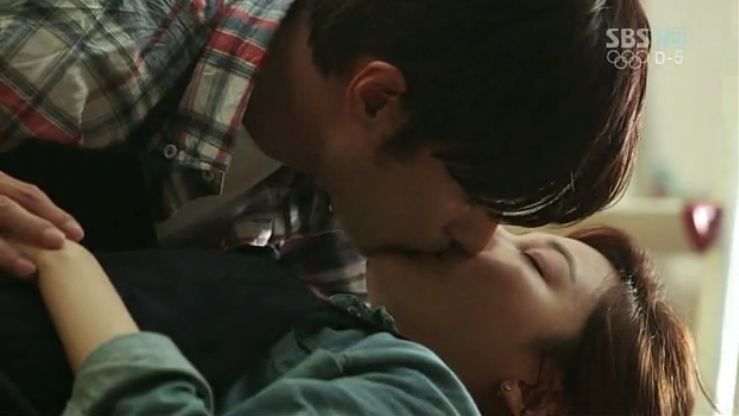 Don't worry girl. If he betrays you I'm going to deal with him personally. The Queen will help, of course.
NiceGuy picks up The Foe at the golf club with her car which is not hers anymore. Technically. Am I the only one who's having headaches with those 2? To save her pride he asks her to drive them home cause he is tired. Once at home, guilty Big Bro wants to know if Little Sis is dead or alive. Pfft. That guy is the epitome of "human full of contradictions". According to his girlfriend it's not that bad: She's become a haunting ghost. The Foe even becomes a SheJerk for a minute and proposes to beat Baby Fox for him. She adds than she is jealous of her: The kid met the man of her life at 24 when she did it at 36. Hehe. I love that she uses his weaknesses: I probably would do worst… NiceGuy tells her to mind her own business and stay neutral.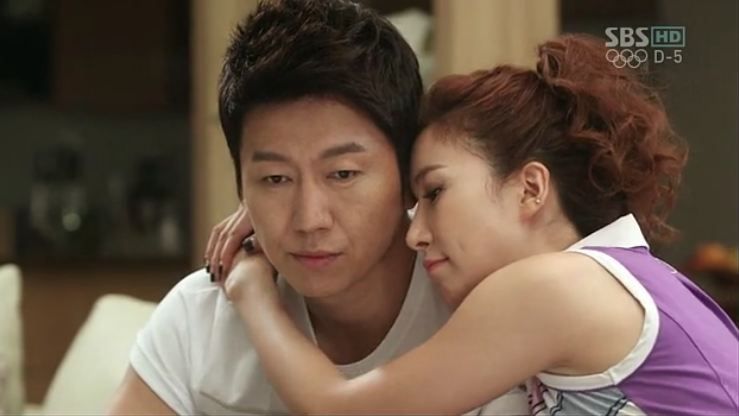 Why did I call you NiceGuy in the first place? I can't even remember.
It's moving day for the 3 girls. Oska#2 and The Jerk arrive at the apartment and can't help drooling on Ethic Teach. Seriously, who wears a -short- flower dress to swim in dust? Officially it's because she spilled a drink but everyone can see it's for teasing.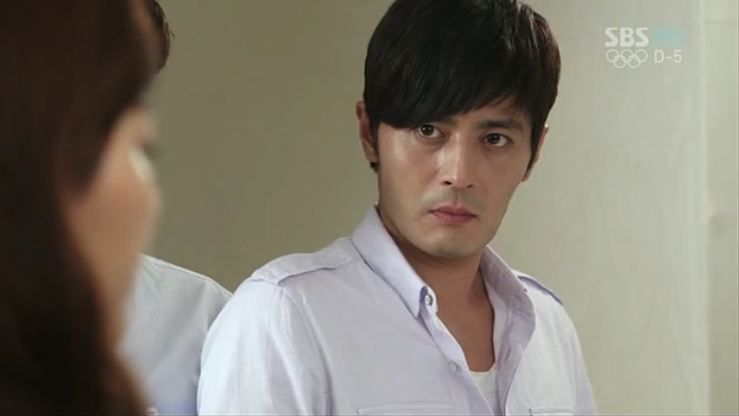 I protest! Mental torture is still not allowed! My poor jerk… 
Oska#2 compliments the cute movers and helps by poking bubble wrap. The Jerk is in maxi pervert mode and tries to look under the skirt of his girlfriend.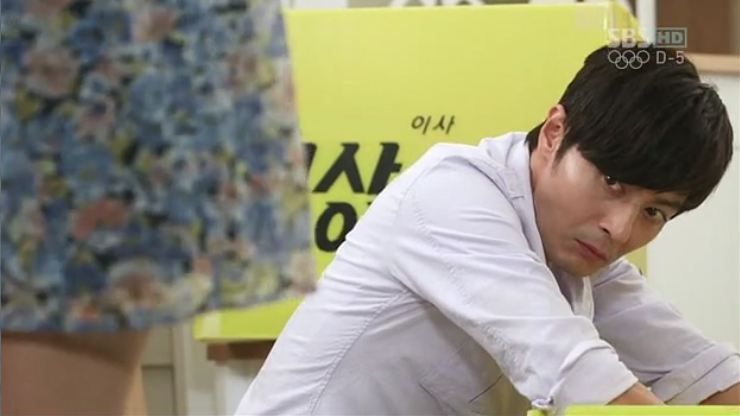 She's one step ahead though and turns herself around when he's about to slide his head between her thighs  to dishonor himself.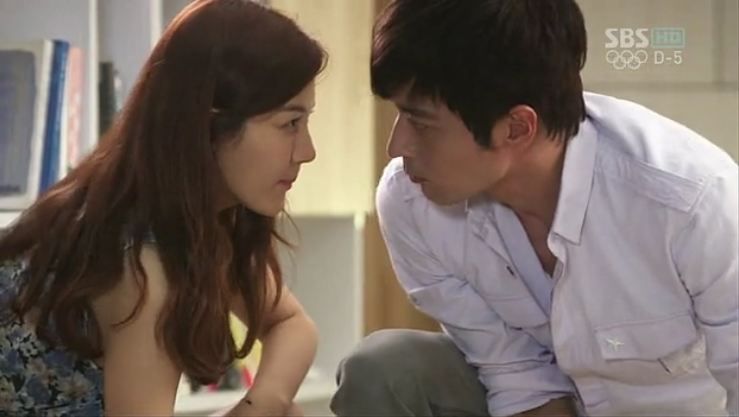 One epic fail later…
To satisfy his curiosity she agrees to tell him what underwear she wore the last days. Crisis time for every one…
The girls reward themselves with a group manicure. DoomedGirl smiles stupidly and The Foe wants to know why. She dodges the question and redirects the fire on Baby Fox. What we know is that for now she sees her oppa lover but not the oppa brother. The Foe chides her: She should be miserable and without appetite, exactly like her man. Can we send those 2 on a desert island somewhere? Not mine please. I try to keep it free from pollutants.
At night, both oppas relieve their stress by playing baseball but not at the same facility. NiceGuy hits some balls and Timebomb throws his. Oska#2 and The Jerk volunteer to cheer them up and be the peacemakers. Their speech is not well synchronized.
Fail…
And fail.
You 2 are cute but what a waste of time. What those 2 guys need is a good fight to define who's alpha male and voila.
Cute scene #5 - Baby fox is all excited for her first date. She's also extra nervous and can't look at Timebomb in the eyes.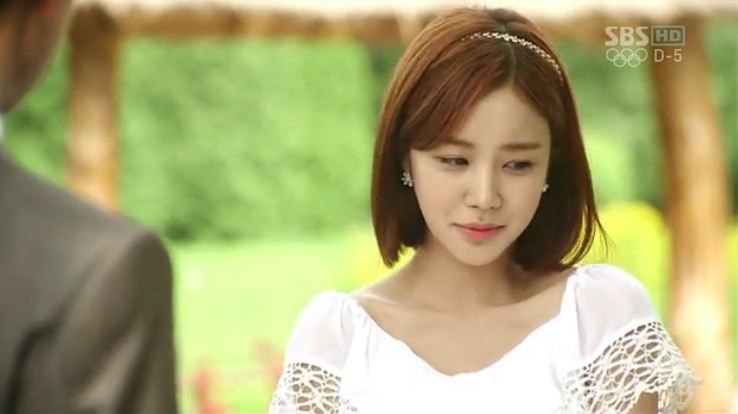 When the chaser becomes the prey, I guess it's another story…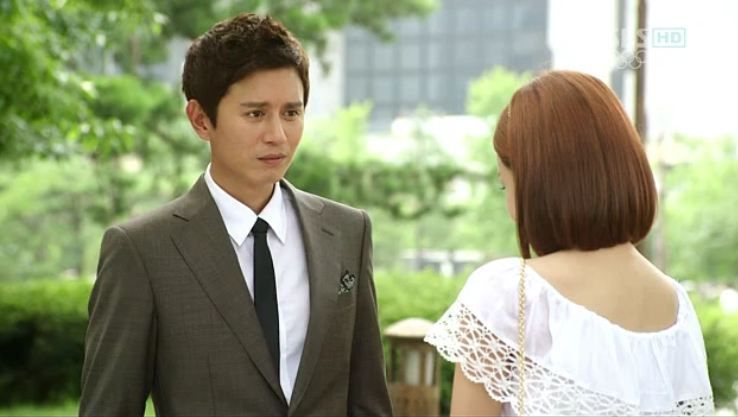 OK. I give up! You're cute too…
She regains her composure when she sees her bracelet on his wrist and her purse on his side. He grabs her hand and they go to share a meal.
The Queen's house – Oska#2 tries to convince his wife he really was with his friends to help but she refuses to believe him. In fact she doesn't want to and she can't do it either. She starts crying and tells him she's sick of doubting. She knows people see her as the luckiest person on Earth but she's not happy.
She can't trust the symbol of the wedding band and she's getting crazy actually. Oska#2 doesn't compute and tries to calm her: He won't treat her badly from now on, she can relax . She takes the ring off like if it was burning and asks him to divorce. She actually begs for a divorce.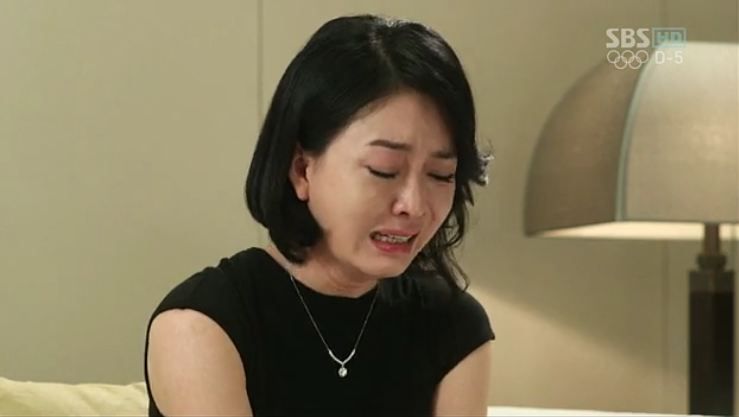 "Just let me go! Divorce me! While I'm still intact… Please let me go…"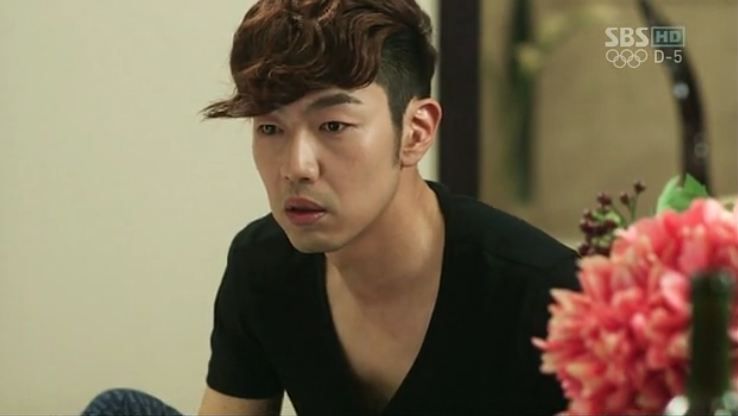 Her husband crumbles on the floor and feels the words piercing his heart. Hmmm… Something went horribly wrong.
Days later, The Jerk is busy working on his secret house plan drawn with red wool when he notices a post-it. He calls annoying teacher and invites her with other colleagues for a "social dinner".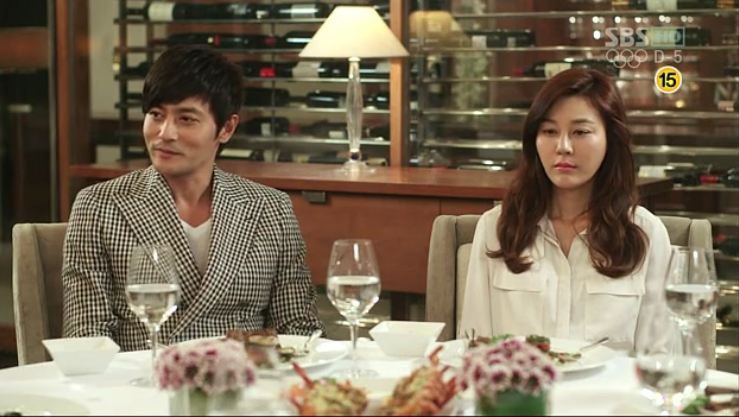 He plays the perfect boyfriend: Clever conversation, friendly smiles and praises. DoomedGirl enjoys her soirée and it's all that matters. At one point annoying teacher compliments The Jerk: "You really look like the actor Jang Dong-gun!". Hey! Writer-nim, you can't bring down the 4th wall like this: It's unprofessional! He attacks first and systematically clears all the mines: Yes he has a grown-up son and he is not perfect but please do not judge her because of that. All the while he pours wine in the glasses but doesn't drink himself. Wonder why?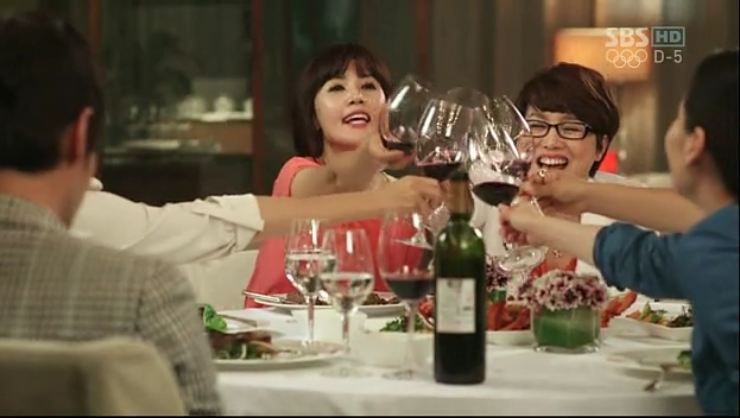 Cheer!!
"I spit in the wine… I hope you don't mind."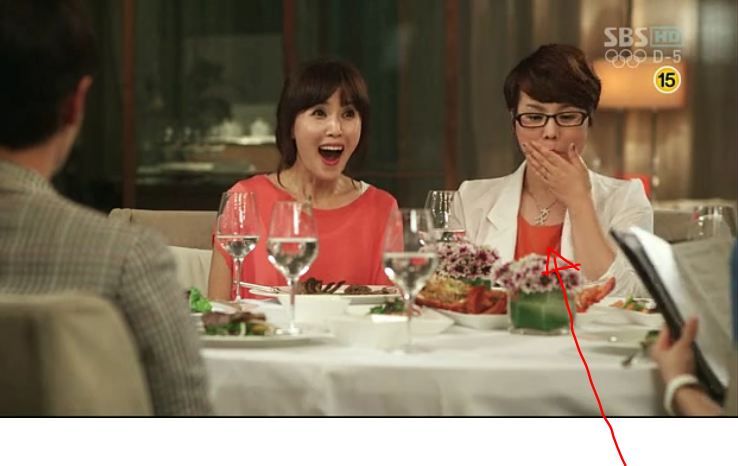 "Excuse me, I need to use the bathroom. My mouth ulcers…" 
The dinner comes to an end and finally we can see the cutest, funniest and sexiest scene ever - The Jerk and DoomedGirl comfortably seated in Betty and nicely chatting. She thanks him for the job well done tonight and he tells her it was nothing. He requests to stay in the car a little while before driving her home and the silence becomes… Explosive.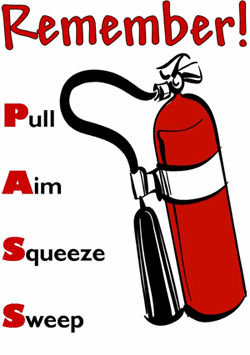 The Jerk fidgeting on his seat is so cute!
She suggests to turn on the radio and Betty must have been a jerk too in a previous life because the radio plays only highly suggestive songs, 5 in a row. Talk of second hand embarrassment…
Both try to suppress their laughter very hard…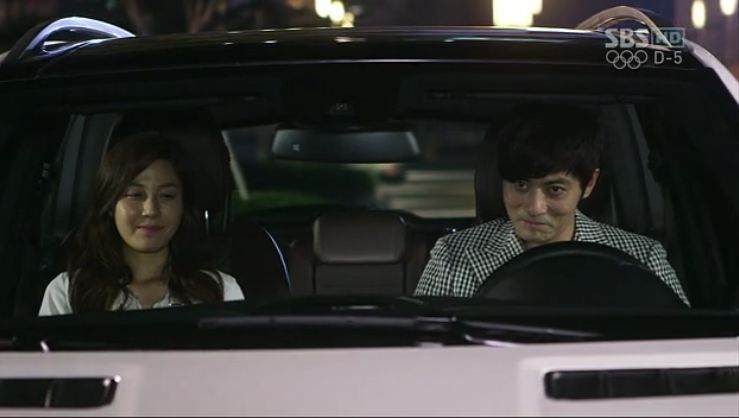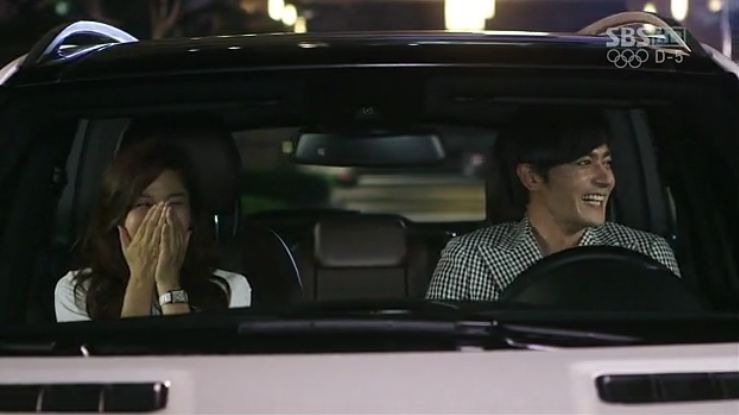 I love epic fails! When they don't happen to me…
Nothing as a good laugh to remove the (sexual) tension. When she tells him that this incident will make a good memory for the old days he finally asks the 1 000 000 $ question: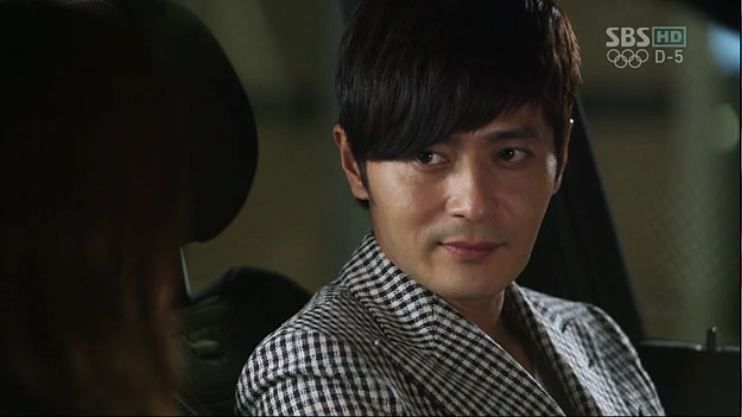 "I could make this night even more memorable. What will you do if I don't let you go home tonight?  I don't want to let you go at all…"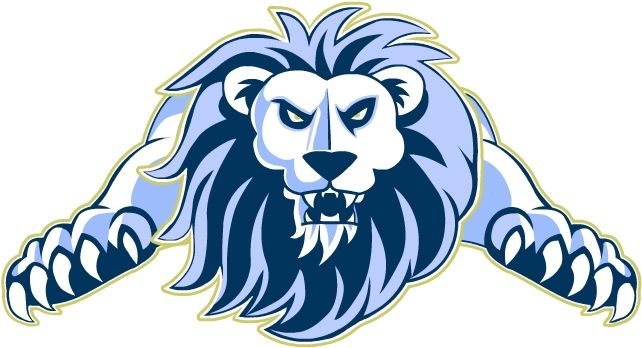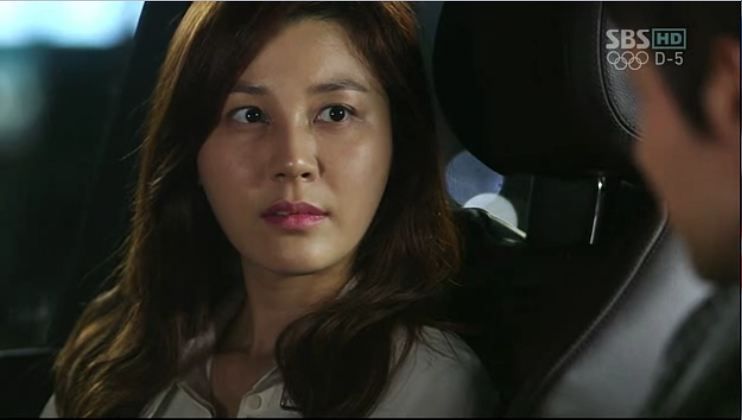 What will she do indeed?
1: Faint. 2: Scream and run away 3: Jump his bones in the car. 4: Pose conditions.
To be continued…
Comments:
- If I'm not mistaken, it will be the last episode where we will see Baby Fox crying. I don't care if France ends last at the Olympics: Just for that I can die from happiness. Give us smiles and awkwardness but no more tears. Tchaebal!
- On the other side, The Queen crying calmly and silently is heart wrenching. Gosh! She helped everyone since the beginning. I hope the gang will return the favor. The more I think of it the more I believe it's strange: She could deal with her husband's player nature for years and suddenly she can't anymore? It screams medical condition to me: Menopause, illness or… Could she be bankrupt??? Oh, my twisted mind.
- About social dinners:
*Little demon in me*: I can understand it if you want to impress a boss (understand, not like it). But for stupid insulting colleagues? I would talk to them for work and that's it. It's not like a workplace is for life, particularly for teachers: People get transferred or change jobs so quickly these days.
*Little angel in me*: You know, the best way to defeat an enemy is to befriend him…
*Me*: Do I look like someone nice? Just let him say "Don't mess with my girl or I will break your nose!" Fast, free, easy and effective.
-  I feel like I need a good trip suddenly. The waiting is killing me (not) softly. I'm getting mean and aggressive and… Just give me my TRIP to soothe my nerves already!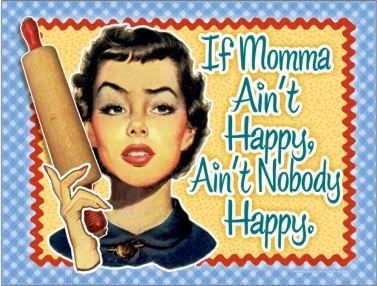 - Here is my little contribution to the Betty Sexy Megamix™:
- I decided The Jerk was a lion, don't ask me why. And The Queen is an eagle who broke a wing.
- If someone has too much free time, you can count how many times I wrote "cute" on that recap. Must be another kind of record for sure.