Tags
A Gentleman's Dignity, Jang Dong Gun, Kim Eun Sook, Kim Ha Neul, Kim Jung Nan, Kim Min Jong, Kim Soo Ro, Kim Woo Bin, Lee Jong Hyuk, Lee Jong Hyun, Seoul Broadcasting System, Unrequited love, visual metaphors
Jealousy, craziness and cuteness overload. By the way, this drama is…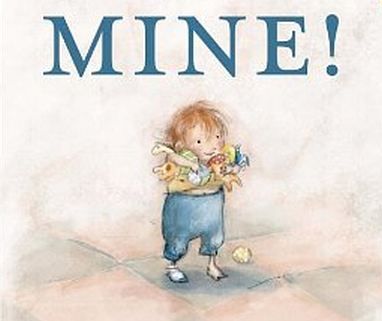 Opening sequence – Our gentlemen and their ladies for a couples date. Always a bad idea in my book but a good one if you want to create troubles. The boys have mixed feelings about the provocative outfits: Should they feel honored, shocked or jealous?
The Queen brings the Sexy Back. Bwahaha…
The look in the eyes of the other men in the restaurant are significant enough and they opt for jealousy. They give lame excuses and use the napkins to cover the exposed part of the ladies anatomy.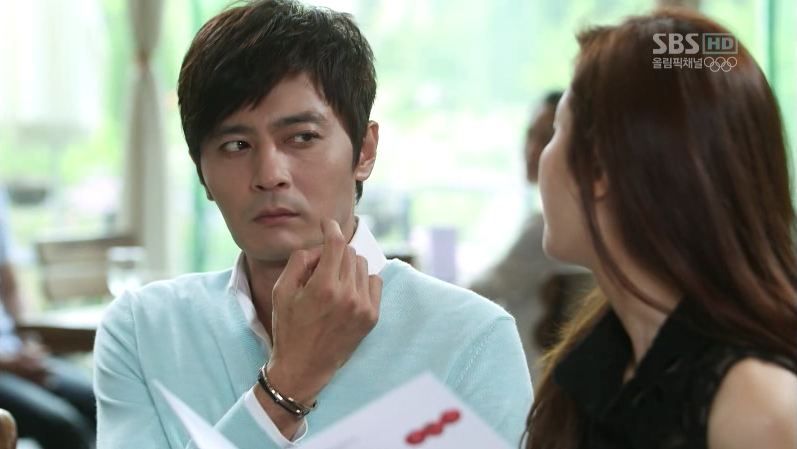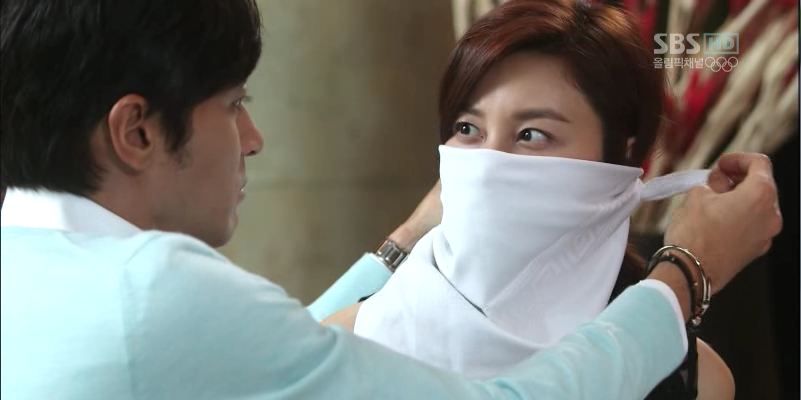 The women don't appreciate to be treated like this and go to the restrooms to clma down. Yeah, there is a way to say "MINE!" guys. Here it's a bit heavy.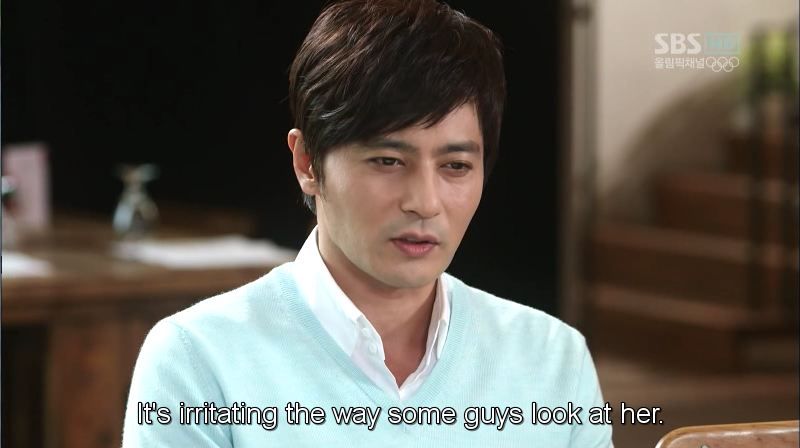 It takes one pervert to know one.
The guys whine and pout all they can until a gorgeous woman enters into the restaurant. The real nature of the hungry wolves gentlemen resurface: Ogling and drooling à volonté.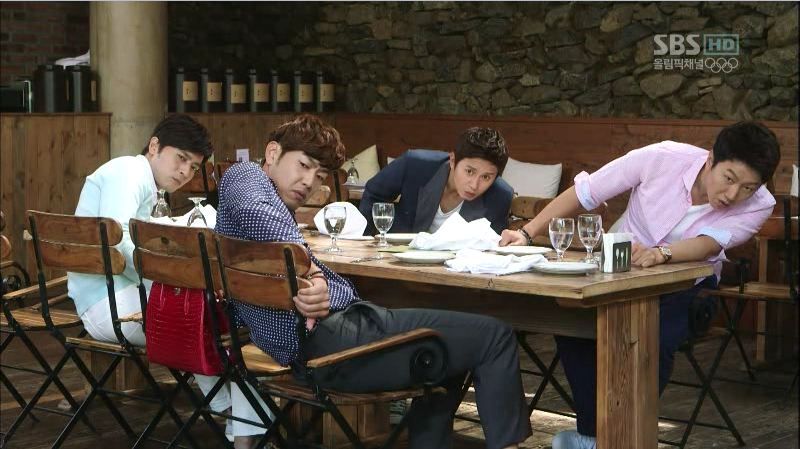 Nothing new under the sun I guess.
Present time – Oska#2 is ruminating depressing thoughts after his wife asked for a divorce. He gathers the RatPack to announce the bad news.
The guys want to beat the crap out of him: Just one more false case of emergency.They scold him for wasting their time and abandon him. A deserted, dark and smelly café at dawn…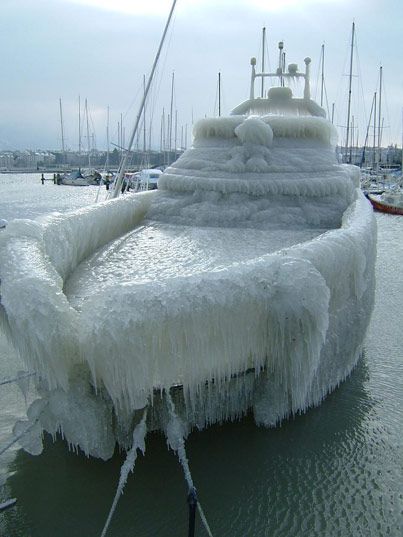 You know my love for visual metaphors, right?
Flash-back – Our main couple feels awkward when hearing the suggestive songs on the radio of Betty. The Jerk wants to end the day… err, the night on a good note and finally makes his move. The answer to "let's spend the night together" is a yes.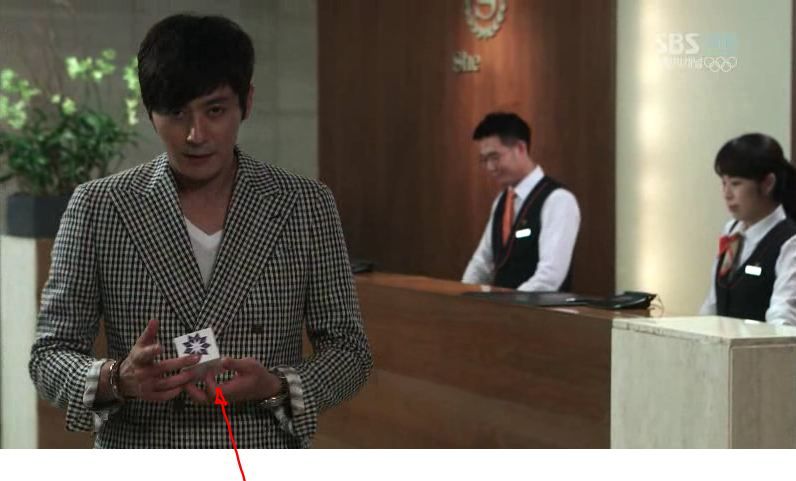 More precious than a winning lottery ticket 
We find our couple waiting in front of the elevator of the hotel. Sadly, the most awaited scene ever is torpedoed by the worst mood killers ever.
Can I replace them by this? [rhetoric question]
And dammit, who needs elevators, just use this: It's good to warm up.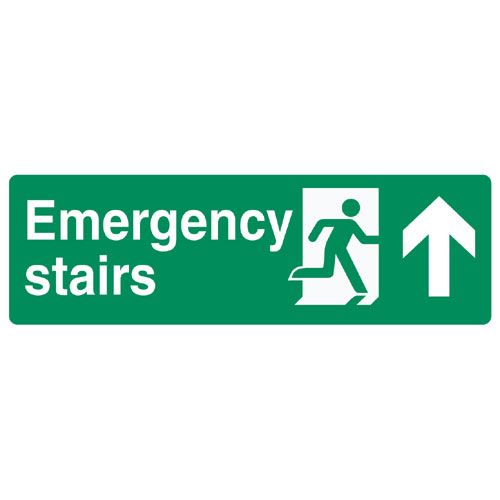 The Jerk and his sweetheart finally arrive to destination and the coolest oppa in the world puts his arm around DoomedGirl's shoulders to break the ice.
Now, it's TOO hot in there…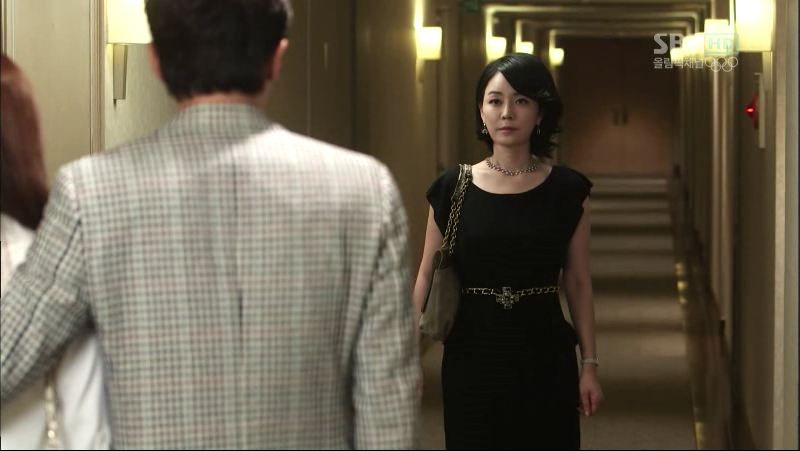 As much as I love you Unnie, I want to pull your hair right now.
DoomedGirl tries to explain they are here for a business meeting (what's wrong with that girl seriously? I would shout out the truth in the corridors!) but the Queen is an expert in lies. She plays fair by revealing a secret of her own: She came to that hotel because she wanted to avoid her husband and they came here to avoid acquaintances. As a result, it's an epic fail for all the players. She tells Ethic Teach not to worry about her and simply enjoy her "business meeting" because life is short and love is fragile. She leaves with a sad smile and The Jerk realizes in horror his friend told the truth about the divorce. He uses DoomedGirl for his battle plan: She should go with The Queen to comfort her (and obtain her room number) while he will call Oska#2 to warn him.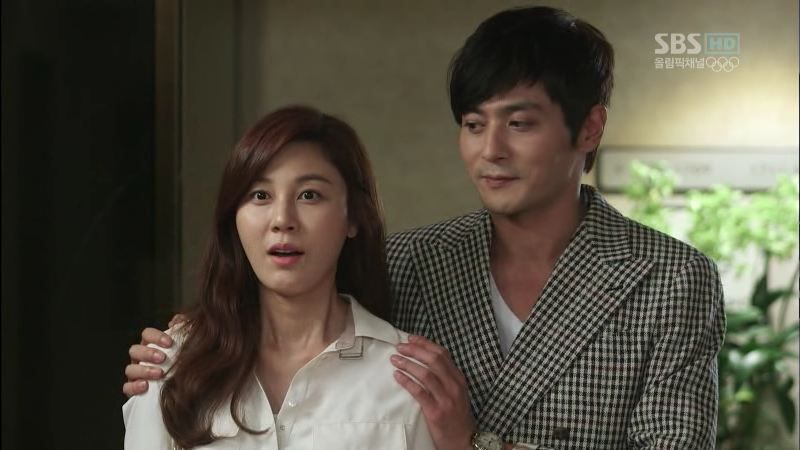 Ready? 3,2,1… Catch her!
The Jerk on the phone: "She is with a person she should never be with." Bwahaha! Bitter much?
In the next scene, Baby Fox pays a visit to NiceGuy and finds the house in a deplorable condition.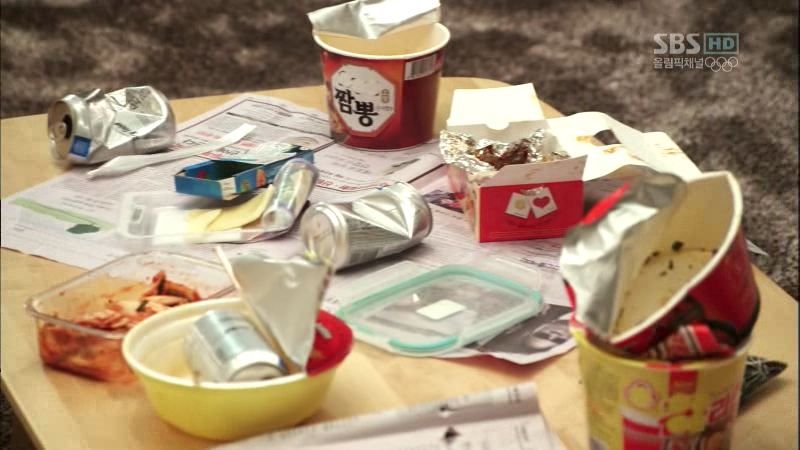 Dog vengeance poop oppa style? 
As a guilty for no reason sister gentle fairy she cleans and tidy it all. As a cynical girl I will pretend she did it to help her case, not HIM. And don't ask me screencaps of Baby Fox washing the dishes.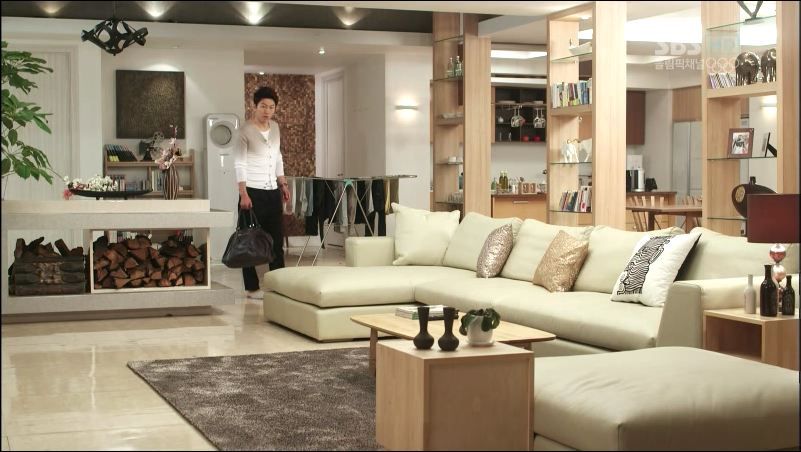 Big bro comes back home and is pleasantly surprised. Better be.
At the hotel, DoomedGirl and the Queen start their conversation with the help of a glass of wine. The Queen tells her she will effectively divorce because she can't say what's true or false anymore in his husband's statements. She's tired of her own feelings and persistence. Ethic Teach smiles for herself and tells her she understands perfectly: She's describing what a woman feels when her one-sided love becomes mutual affection. It's disturbing and you're scared to trust your own heart. "You've been happy recently and because you're not used to it you think it's suspicious, isn't it?". She reassures her by telling her that it's the normal reaction for people used to give and not receive. She praises Oska#2 indirectly, happy to see he learned to love her sincerely, even if too late. Can I say how much I love that reversal in the mentor/disciple game?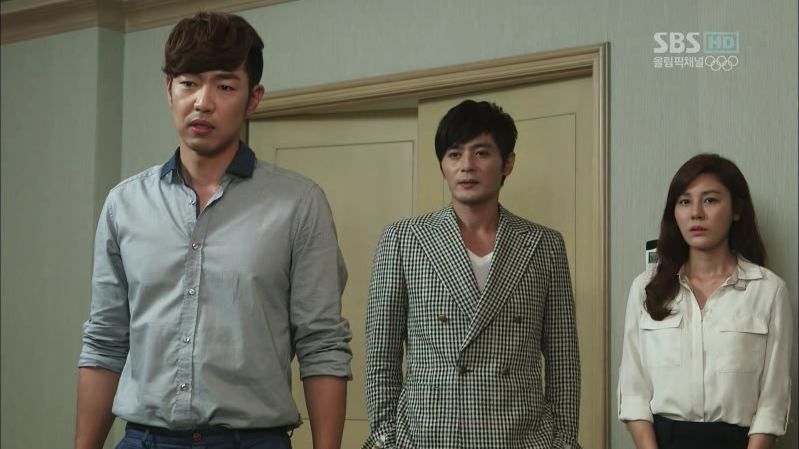 Someone knocks on the door of the suite and it's Oska#2 who enters, followed by The Jerk. The two men try to calm the situation but The Queen has taken her decision: You need to be 2 to marry but 1 is enough to divorce. She hands him the papers for the divorce and tells him she is ready to give him 1/3 of of their assets. Fair enough. 
Oska#2 is so mad and sad than he grabs a pen and sign without giving it a proper thinking: "You don't care what I feel or think anyway!". He tears away his copy and tells her to keep her money. The Jerk and DoomedGirl can only be helpless witnesses of the scene. When Oska#2 storms out with The Jerk on his heels, The Queen begins to realize he didn't love ONLY her money. Yep, I think you misjudged the man, Unnie.
Ethic Teach wants to stay with her friend to comfort her but the lady asks to be left alone to cry have some rest. Doomed Girl runs after her boyfriend and is scolded by him when she wants to know "what do we do next?"
Someone just screwed his much awaited night, I would be grumpy too. Well, in fact I AM having murderous intents. No "trip" = Don't come close to me for a while. GRRRR!
The boys gather at the HQ for a council and The Jerk says it's officially over now between the two. "He left without giving me a chance to grab him, like in a Hong Kong movie." Bwahaha. I only know one writer who could give us such lines. If you haven't seen On Air yet, give it a try: You will understand what I'm talking about.
The Jerk reports the fact than he ripped the papers and gave up on his share. "Must be love right?" They all agree on that but now the guys start to worry: What if he killed himself or went to sleep with a random woman somewhere? They get startled when Oska#2 sneaks between them with some appetizers to go with their drinks.
The man is not particularly depressed: He saw the divorce coming his way for a long time now. It was in fact quite inevitable. He gently tells his buddies not to worry: They only need to send him a comforting text message when they are at home tonight. NiceGuy concludes than the situation is critical and the man in a state of shock.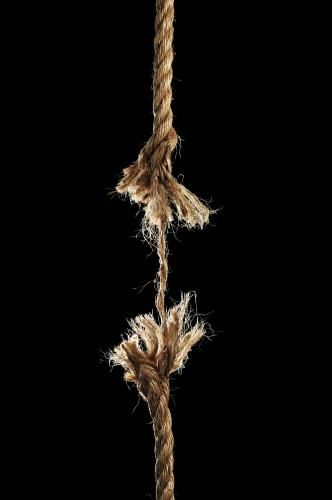 Which is confirmed later when food starts burning in the kitchen.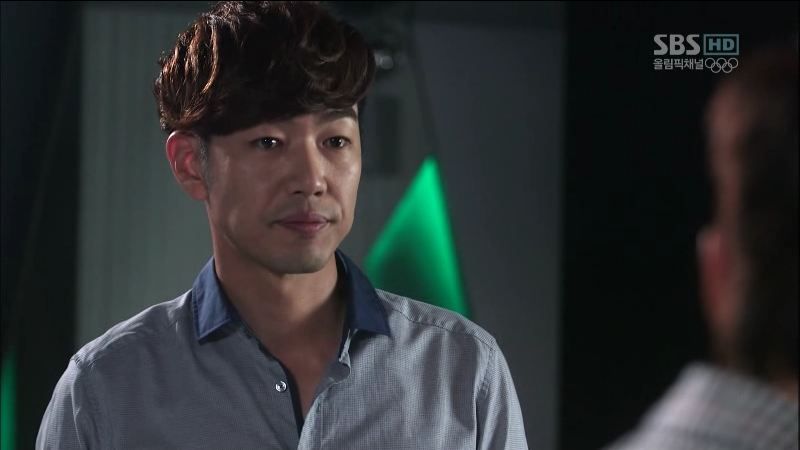 Teary eyes! HEARTBREAK!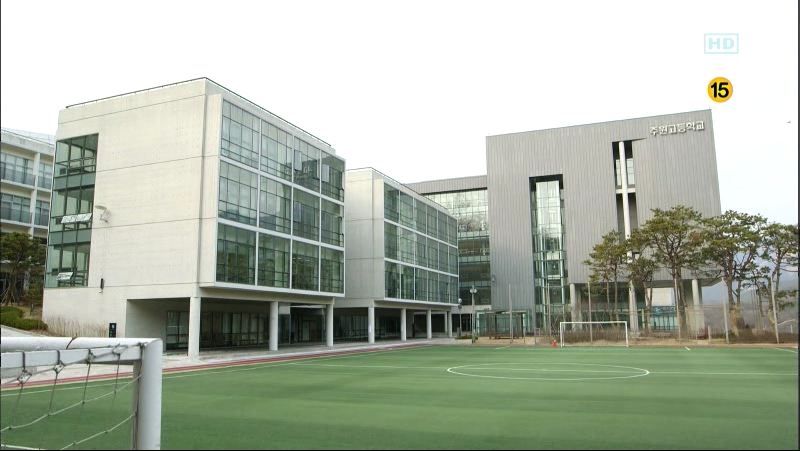 Just because I find that school cool.
It's now last day of class for the students and Ethic Teach gives the usual recommendations for the holidays: Enjoy freedom, FAMILY (Collin, I think she was talking about you…) and girls. Finally she takes a few photo souvenirs before letting the kids stuff their mouth with food.
How many items for product placement in that frame?
It really feels like the end of an adventure isn't it? So bittersweet.
Once the class dismissed, she spends a moment with Collin. Surprisingly he tells her he wants to work that summer: He needs money to travel to England, the mother land of Rock & Roll. He forgot to mention than Daddy Dearest turned off the money faucet because of the lame prank™.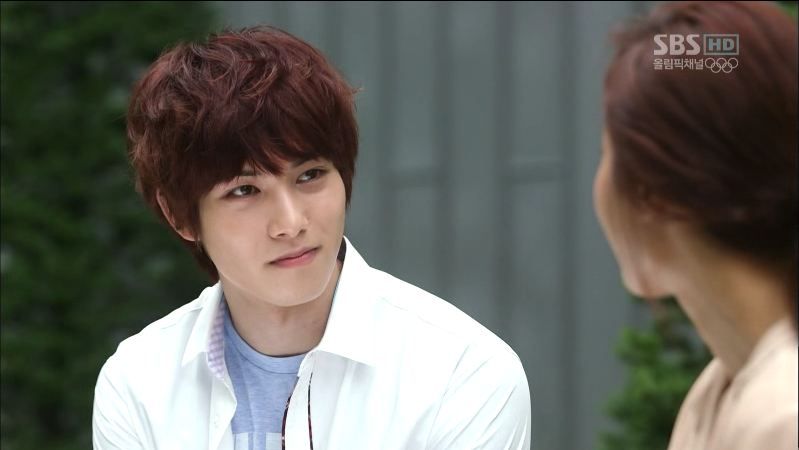 DoomedGirl is glad to have one more student "with a dream" on her resume. She asks if he feels less awkward around his father and he says yes: He doesn't call him ahjussi anymore but "Korean dad". One step at a time. Collin also wants to know if the scar of her break-up is healing and she says yes. She proposes for both of them to become friends instead of teacher/student and Baby Stalker shyly agrees (so cute!): No problem. He laughs when he remembers than the car she had stolen when they first met was Betty, the car of his dad. Got the idea than that car is not going to be sold soon. The Jerk can even use it as a bait for your exams.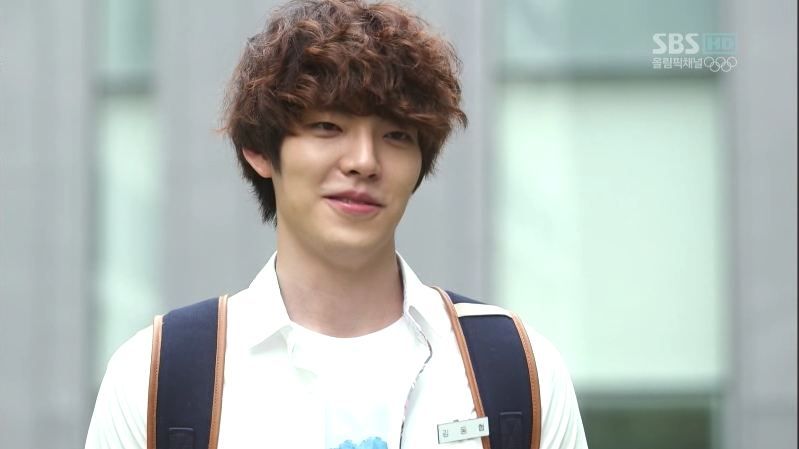 Baby Jerk comes to pick up his friend and informs Ethic Teach than he's not stalking her anymore: Bromance over romance. The worst elements of your class are hanging out together, deal with it girl. It's fried chicken for lunch and the rascals discuss ways to get rich in one day. Conclusion is: You need to be rich in order to get richer. I call that a dead end.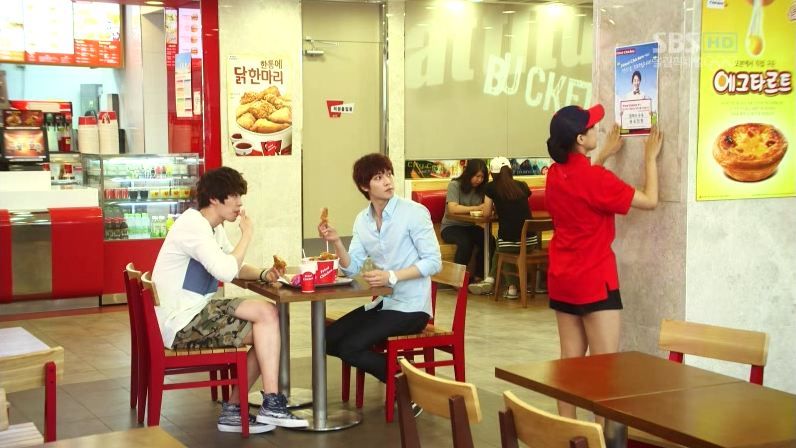 They see an employee sticking a recruitment poster and rush to see the manager with the same idea in mind. Baby Jerk feels wronged: He is the one in need of money desperately when Baby Stalker has a father he can suck up for the bucks. Hmm. Wait to see the dad, you will understand… The competition for the post is interesting.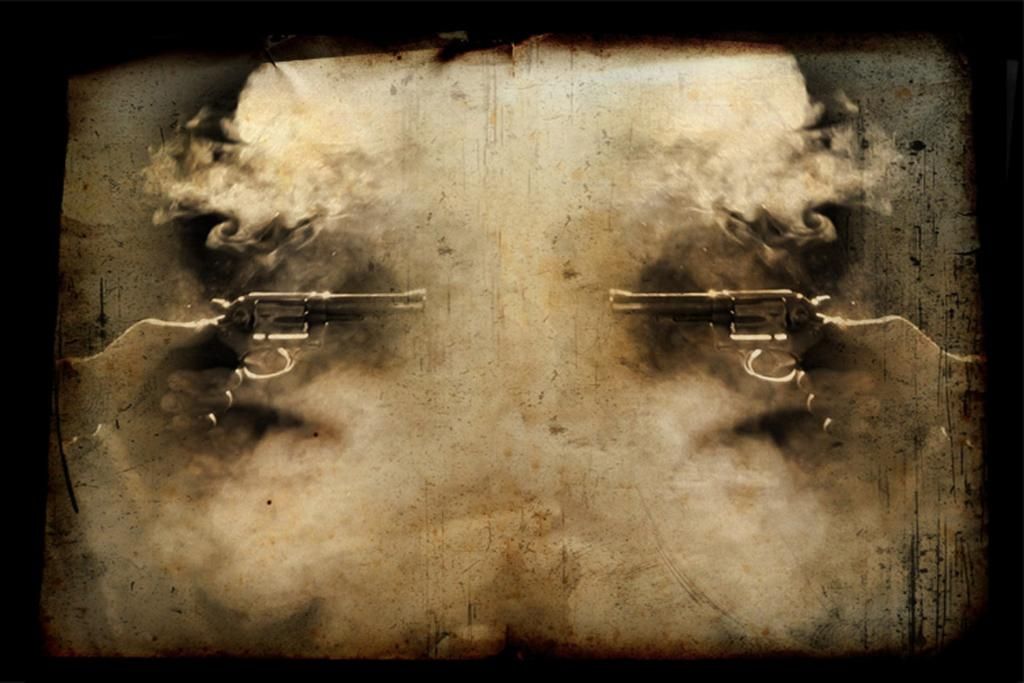 Baby Jerk tries to use his popularity with girls as a point but is tackled by Baby Stalker: "Then I guess I will have to seduce all the boys!" Victory by technical knockout. Here is your prize: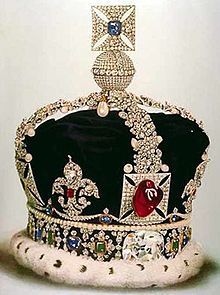 Baby Fox and Timebomb have a date and discuss their future. She finally decided to resume her fashion design studies but in SK, not in the States. She fears the reaction of Big Bro and her boyfriend tells her not to worry: He promised to help and that"s exactly what he's going to do. To celebrate her good resolutions he buys her a pair of shoes and put them on her feet. What's with the shoe fetish people? I want a boat or a horse, nothing less. 
She sees the couple bracelet on his wrist and the missing ring on his finger and wants to know how it feels. He honestly replies he can't answer that yet and she agrees to wait. He tells her to enjoy the rest of her day without him since he has an important appointment today with…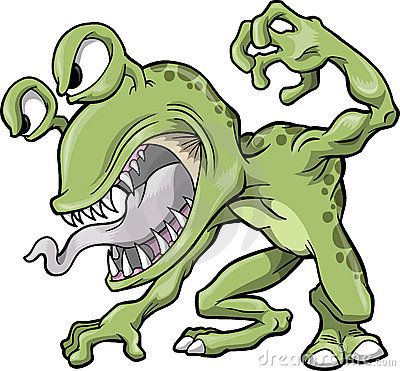 Timebomb offers eternal love and support for Baby Fox and even kneels down to plead his cause.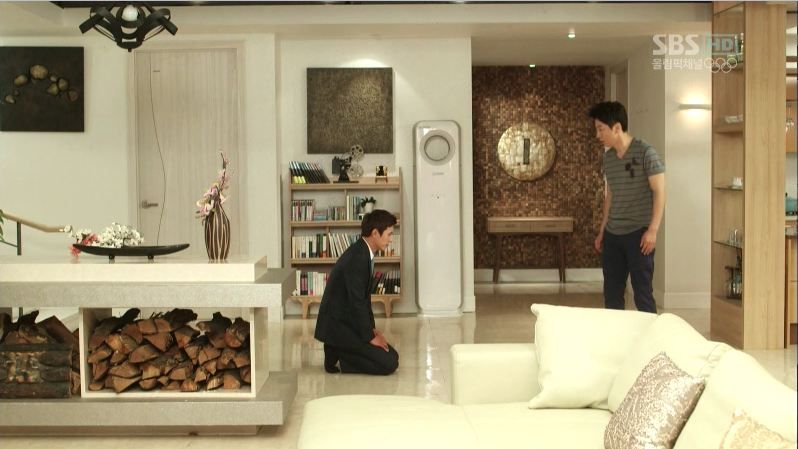 He is rewarded by a fist on his nose, as it was meant to be. The suitor plays his final card which is "thanks in advance for trusting her to me, I still love you buddy" and NiceGuy goes to drown his injured ego at a familiar bar. It's a miracle we didn't have a liver cancer among the 4 of them in that drama.The Jerk joins him at the counter and quickly understands he has lost some feathers in the confrontation.
NiceGuy:"I punched him in the face. Was I fated to lose that war since the beginning?"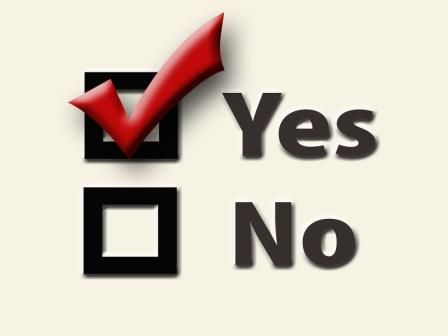 The Jerk: "You did your best to stop the train. You begged, threatened and warned them than love is fragile and complicated. The ball is in their court now. Let's just support them and watch from a distance."
The Jerk becoming The Wise is also quite irresistible I must say. I know… My problem, not yours.
At The Queen's home, a siege is going on. Oska#2 tells her he had a change of heart and is methodically claiming 1/3 of everything in the house with the help of tape.
For the TV: "Which eye do you rely on more?". Taped.
For the sofa: "Left or right buttock?". Taped.
For the water: "Cold or hot water? Let's say hot. Just ask me for the ice." Taped.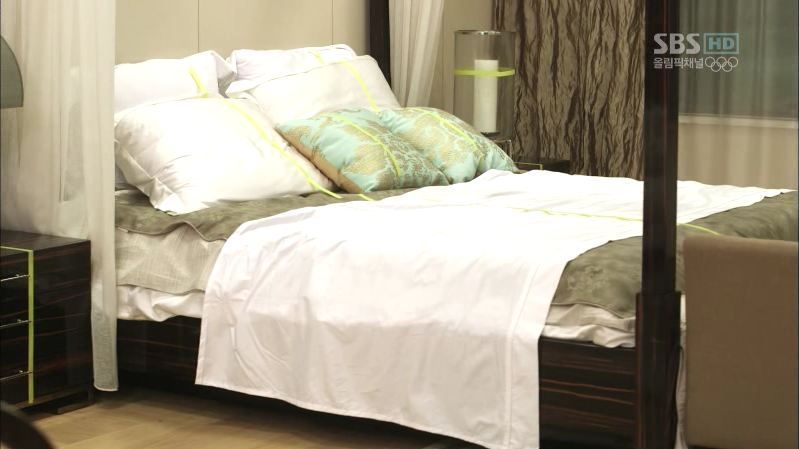 Bwahaha…
The Queen tells him to stop the childish tantrum but he is deadly serious. He draws an electric saw to cut things properly.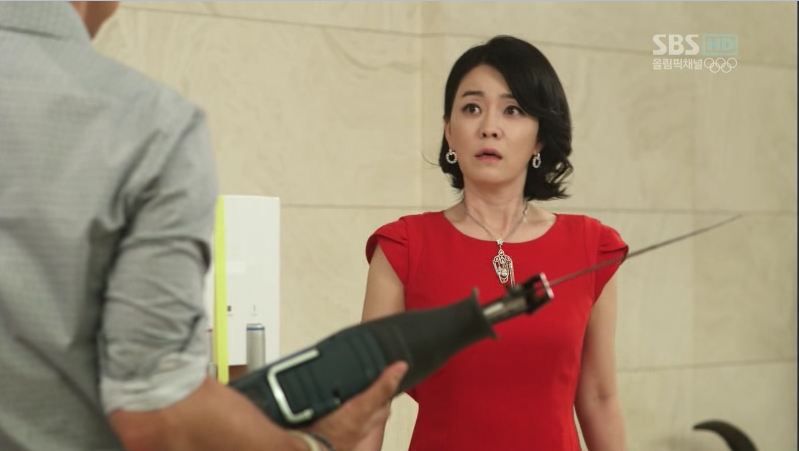 Checking calendar: Not Halloween yet.
Hopefully the massacre is prevented by the arrival of "lawyer oppa". Oska#2 notices immediately the bloodied lip of his friend but tells him it's not enough to meddle in his private life: Lawyer of his wife or not, he will divorce the way he wants. The Queen tells them to solve the problem as they wish and retreats in her bedroom… where everything has already been taped. Future ex-husband knocks on the door: He forgot to divide the toilet paper. Bwahaha… How about claiming 1/3 of the toilet bowl? Love those 2!
Doomed Girl is visited by his boyfriend at home and pretends to be annoyed by his unannounced visits. Pfft.
The Jerk takes advantage of the situation to flirt shamelessly: Since she's drying the polish on her nails she can't stop him if he wants to touch her, right? I'm proud of him shocked by that behavior. She dares him to do whatever he could think of and I need to open the windows. RAWR!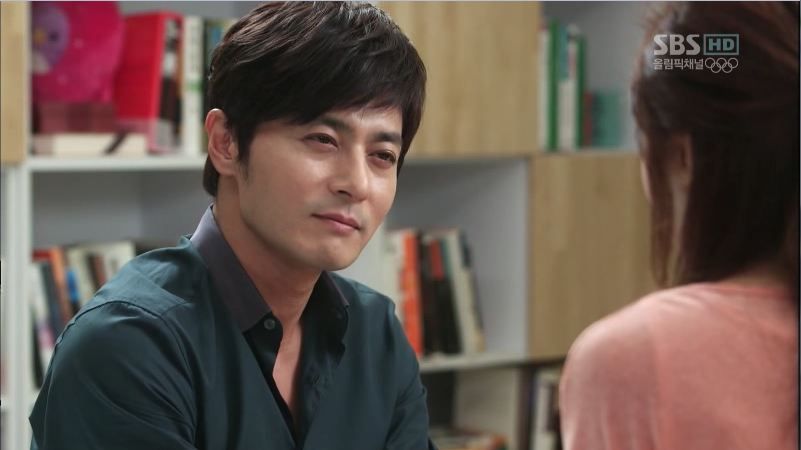 The Jerk finds the provocation suspicious and timidly asks if he did something wrong and will be dumped later. Awww. It's OK, she's not going anywhere.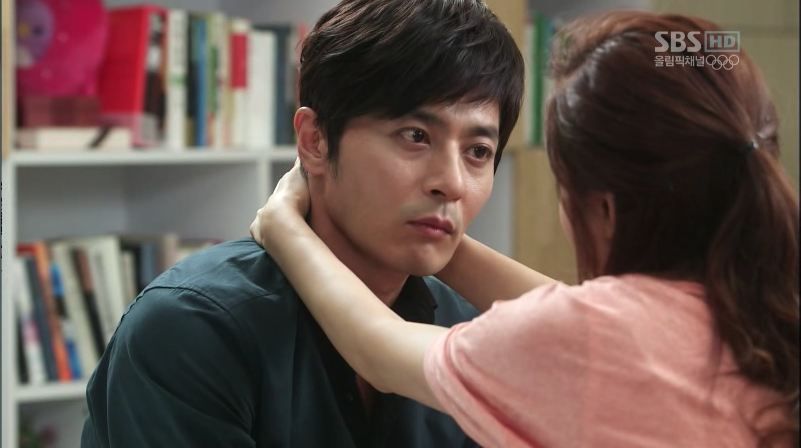 Ethic Teach: "No. I just wanted to seduce you. But I'm not going to eat you right now."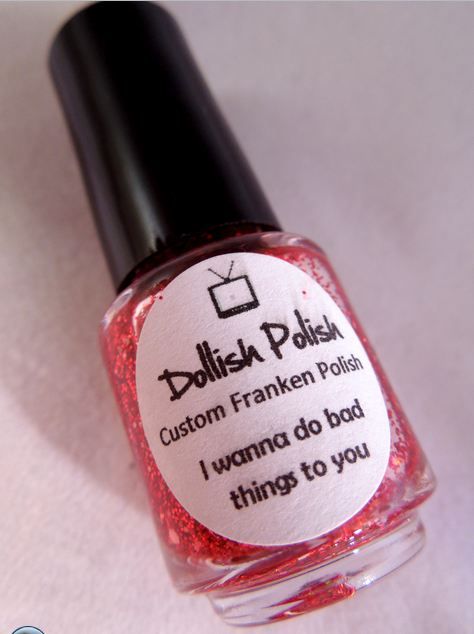 I can't blame the girl…
This is of course the moment chosen for an unpleasant phone call: The hateful mom wants to meet her future son-in-law. At the café she tells him she heard what the "oppas" did to help her daughter for the inheritance fight. The first reflex of The Jerk is to apologize for the brawl but she tells him it's OK: She indirectly benefited of their intervention and she has to thank him for that. The Jerk: "They behaved like gangsters, we can be too if the situation requires it." 
She decides to have proper introductions. He tells her about his job, his age and of course the 19 years old son born out of wedlock. He lowers his head to confess his sin  and waits for the axe to fall. She rightfully tells him she is not well placed to criticize the private life of others (SNERK!!!). She asks if her daughter knows about his family situation and when he says yes she says it's all that matters.
The happy communion is interrupted by Doomed Girl who apparently is a Stalking Master too. She is embarrassed and upset and refuses to join the conversation, even when mom tells her she doesn't have bad intentions: She wishes for everyone to be happy. Doomed Girl leaves in tears and the future mother-in-law dismisses The Jerk so he could run after her. Mom cries while drinking her tea and regrets all her mistakes. 
Redemption, redemption for everyone! Love this show even if it's totally unrealistic.
Doomed Girl also cries tears of shame because of her messed up family. Perfect boyfriend The Jerk wipes them 1 by 1 as they roll on her cheeks. He gently scolds her like a kid who throws a tantrum for nothing: They are even since she knows a secret even more embarrassing about him.
He doesn't like to see her crying and she hits where it hurts: The day she cried the most in her life was the day he dumped her. Ouch!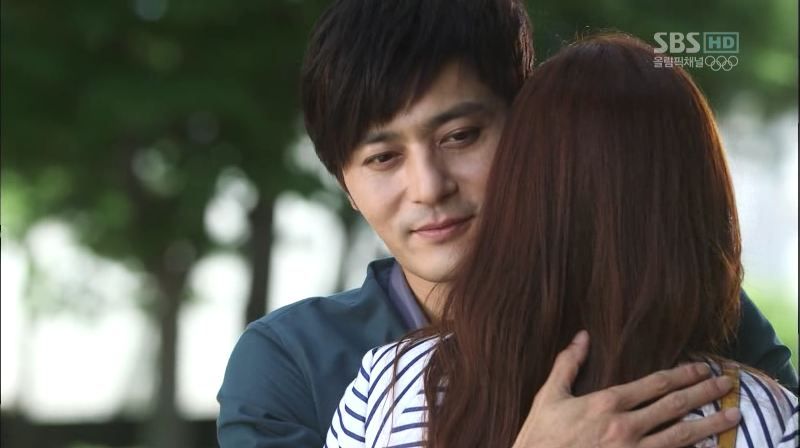 The Jerk: "I'm sure that day I cried even more than you. Didn't you understand than I did it because I loved you? Silly woman!"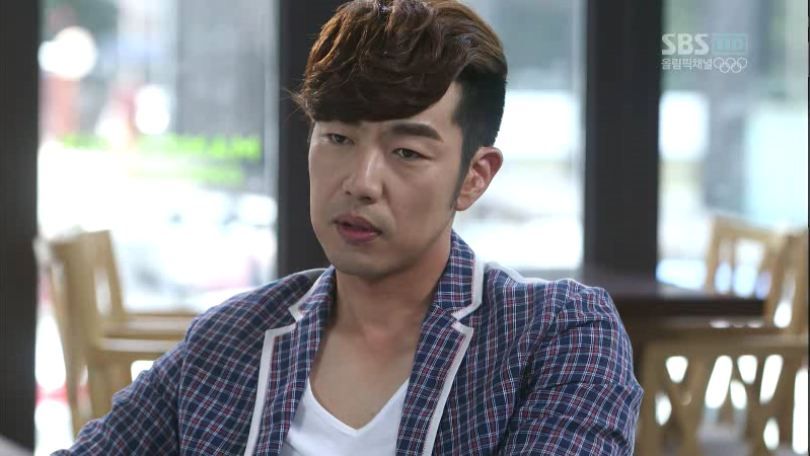 Oska#2 withers at the Mango 6 cafe: All his attempts to be forgiven by The Ice Queen are epic fails. The Jerk, pragmatic as always, tells him to take the highway.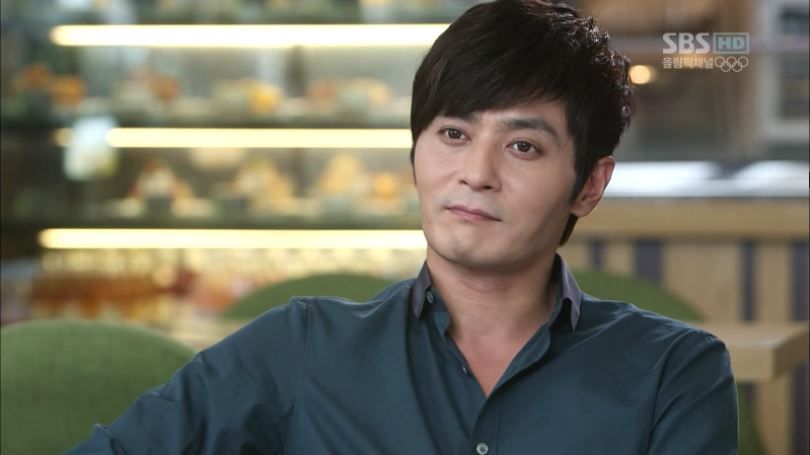 "Women fall in love faster than they forgive: Just seduce her anew." 
Ex-husband is not against the idea but for that he needs to approach her and she threatened to call the cops if he did that. The Jerk has an even better idea: If Baby Fox and Timebomb get married tomorrow she will be forced to attend the ceremony. Bwahaha… Oska#2 goes to sulk in his corner: "For your information, my life these days is a melodrama, not a romantic comedy. Also, the other 2 almost killed each other…" 
"…Since when are you there?"
NiceGuy goes straight to the point and announces than Baby Fox and Timebomb will arrive in a minute: He has something to say in front of everyone. The Jerk suggests to hide every precious AND dangerous objects and the owner nods in agreement. The couple "us against the world" arrives and they are in for a good surprise.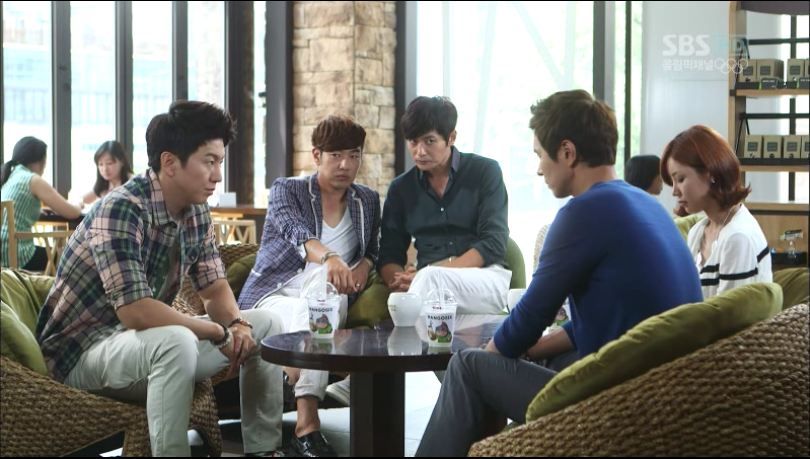 NiceGuy has decided to let them be, but with one condition: Marriage. The faster, the better.
Someone said shocked face?
The Jerk says he is on NiceGuy's side. Hehe. To be sure he won't change his mind? He playfully asks if Baby Fox agrees to it: Such a burden for a young girl to marry an old man. Pffft. Timebomb is so happy than he is ready to sign a blank check and Baby Fox jumps in joy before realizing the enormity of the situation.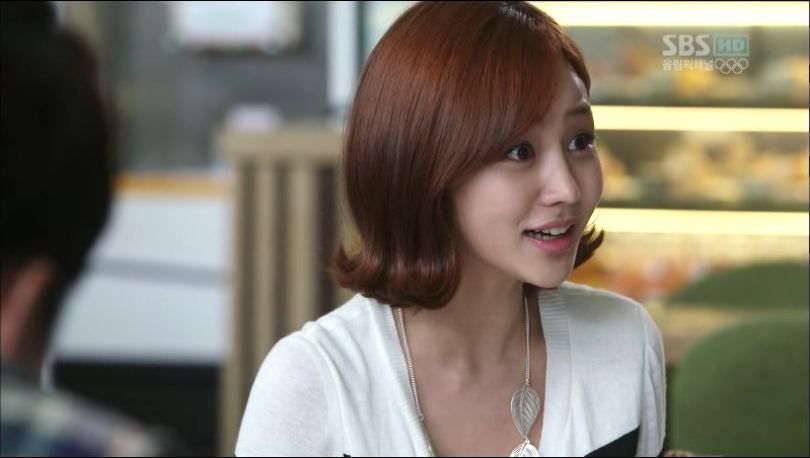 She also finds the change of heart of his brother suspicious. It's effectively a YES and the lovebirds fly away at light speed to schedule a shot-gun wedding.
The Jerk shares my paranoia since he asks Big Bro about his motivation: Was it sincere (success!) or a last desperate attempt to scare them (epic fail!)? Who cares? It's a win-win situation! He sees the defeated face of NiceGuy and tries to make him smile with his fake lisp speech. The friends drop him on the spot to avoid the shame and the customers look at him with strange eyes. He promptly shows it was just an act by reciting Stock Market stats.
Even with a lisp, I take him if no one is interested… 
Baby Fox and Timebomb have a private meeting to settle things straight. He teases her by saying than her face looks like the one of a woman forced to marry. Head spinning? He tentatively asks her if she has a particular fantasy for the wedding and she says no: The two of them together, that's enough.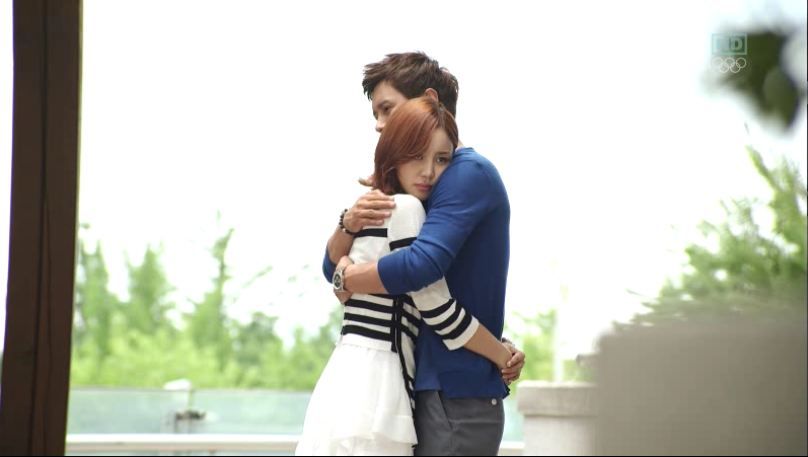 At least she's mature in one field. And YEAH for a hug!
The Queen keeps herself busy by multi-tasking: Signing rental contracts, eating and dealing with a clingy ex-husband all at once.
He located her by blackmailing one of her secretaries and informs her of the imminent wedding of Baby Fox. He wants to know if she wants to participate for the wedding gift. "Or do you care about your ex spies like you care for your ex husband?" He also comes to the news: He still didn't receive the official notification for the divorce. He tells her he misses her and apologizes for the suffering he gave her all those years. When she says she is kind of happy now he tells her to be really happy. Because somehow that's what a man wants for the woman he loves. Here, a cookie.
Baby Jerk and Baby Stalker enjoy their free time and gossip like girls. Newbie starts bad mouthing the new boyfriend of Ethic Teach and Collin tries to defend the "handsome guy". Without precising a little detail, like "he is my father, you know…"
They soon stumble upon a bullying scene: Math addict student is about to get robbed of his precious bag. 4 against 1 looks unfair to the Ethic Teach worshipers and the dispute ends at the police station.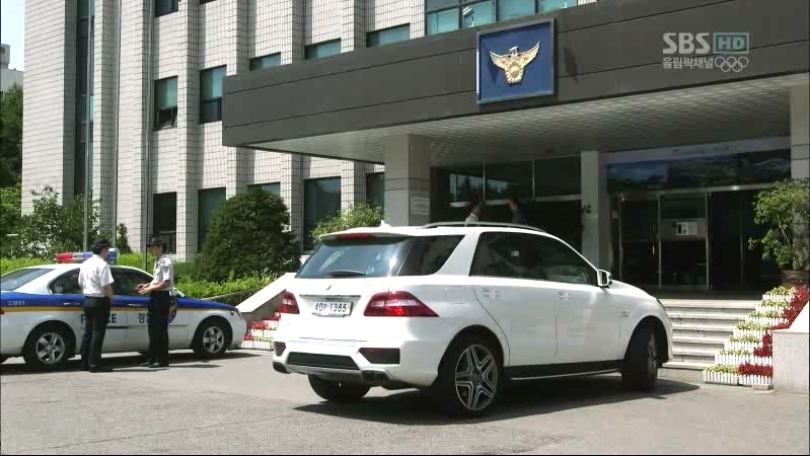 I just love the fact than the first question of The Jerk for his son is "Did you lose or win?" not "are you alright?" or "do you want to die?" He quickly catches on who's who in the group and warns Collin: He is taking a difficult path in friendship, exactly like him with the F44. The father of the "other" kid comes into the picture and has the best idea of the century: Hitting Baby Jerk behind the head to avenge his son. In a police station full of CCTVs, with The Jerk who can't stand abusive assholes?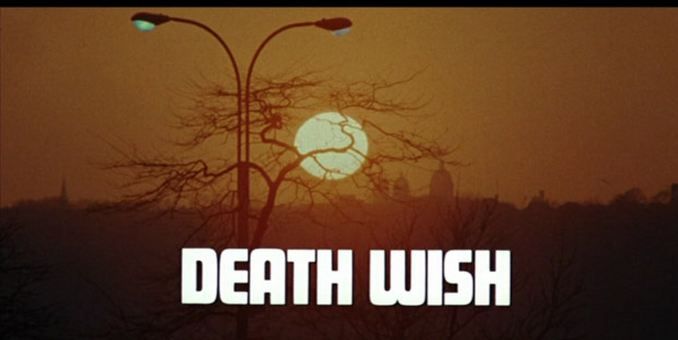 The Jerk decides for a punitive expedition. He slaps back the guy (hard!) to teach him than an adult can't touch a minor who is also the precious son of somebody else.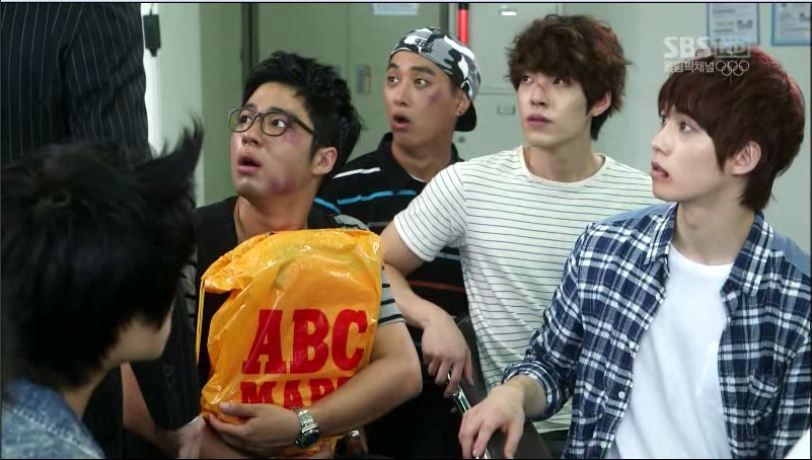 To be perfectly clear he declares he is the guardian of both kids: His son AND Baby Jerk.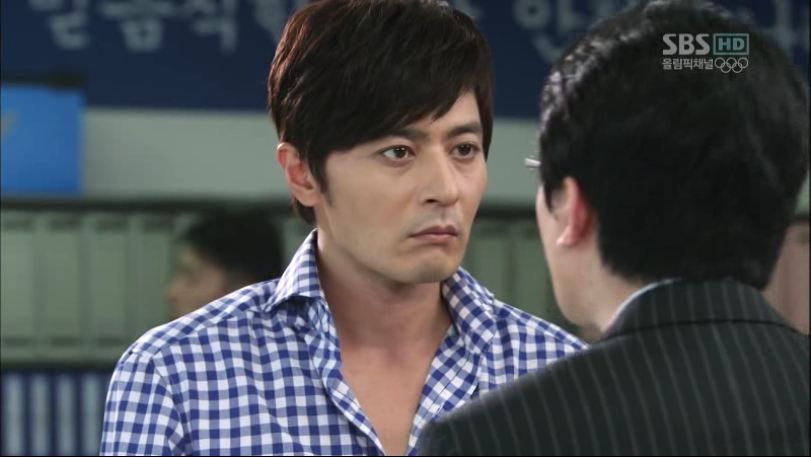 Forget the plastic super heros: I want this one, with the blue-check shirt. 
The kids are released but before letting them go he doesn't forget to scold them: They need to quit smoking. *Tears of gratitude*.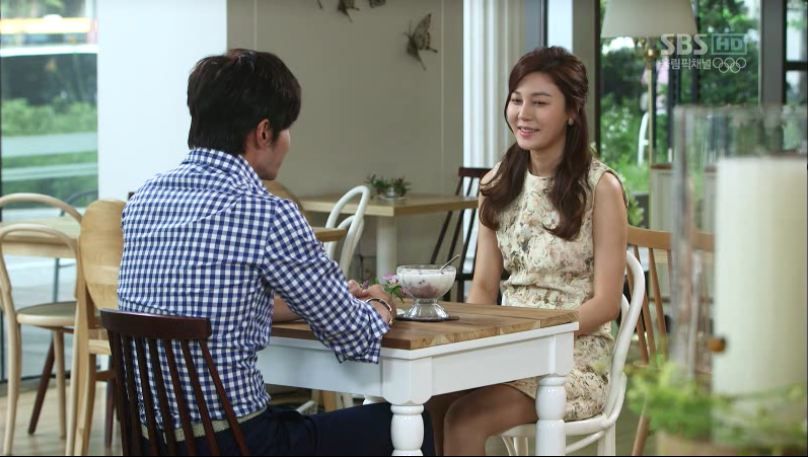 And now I want yogurt with blueberries. Clever!
The Jerk shares his day with Doomed Girl and proudly declares than he feels like a true father now. Then he tests the waters: "Aren't you jealous to see the other two getting married?" She tells him than marriage and happiness are 2 different things. Furthermore, one couple is marrying but another is splitting. He tells her she must not be fooled: They are just playing hide and seek but love each other. A guy enters in the cafe and she flinches: She thought it was an ex boyfriend of hers. The Jerk turns on the jealous mode: She sould simply behave casually if it was the case. The fact than she is sensitive proves than maybe she still cares for that
She asks if he would act "casually" around the student he slept with when they started to know each other: The one who received HER shoes as a gift. [inyourface] He answers "of course" and the discussion escalates. "Then, should I be jealous of bugs since you jump in surprise every time you see one?" Bwahaha…
She gets mad at his childish behavior and leaves the table, the jealous boyfriend not far behind. They return to her home and it's time for a cute patch-up sequence. Since she's too attractive and popular, The Jerk wants her to live like a nun. Mission n°1, removing the offending nail polish of her hands: Too flashy.
Mr Paws in action.
He also wants to upgrade his insults: Men who will look at his woman will be labelled son of b*****s instead of jerks. The jealousy burns strongly and when her phone rings he requests to see the number. Hopefully, it's just a call from The Queen.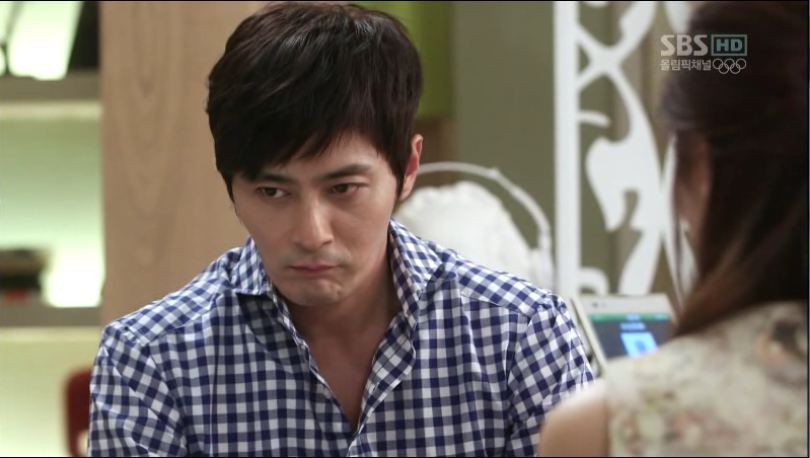 Pouting = Super cute.
The 4 ladies end at a club to enjoy a bit of quality time without their men and speak freely about all the turmoils of their life.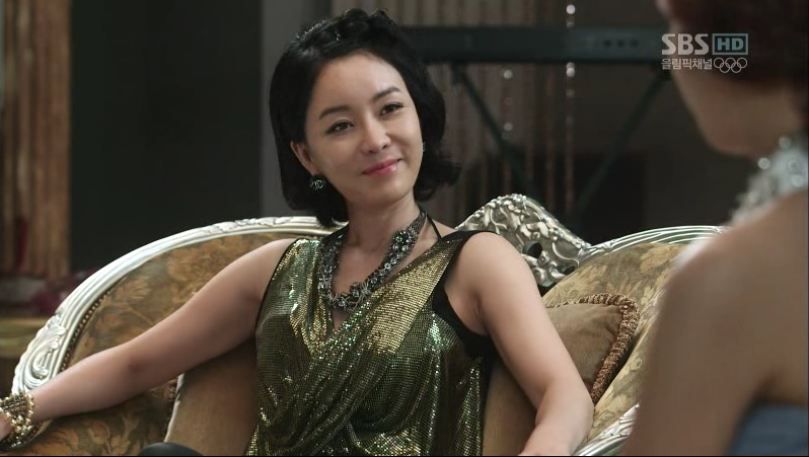 It's also a surprise bachelorette party for the younger woman among them and The Queen wants to play big: Alcohol and handsome oppas & ahjussis to entertain the group. Am I the only one who finds that quite… unethical? If my husband to be or my boyfriend went to a hostess club he better have running shoes on his feet and some ice on the fridge! 
Hopefully the gigolos are intercepted by the RatPack. The gentlemen give an hilarious fake introduction of their "host" qualities and use their best death stare to paralyze their preys.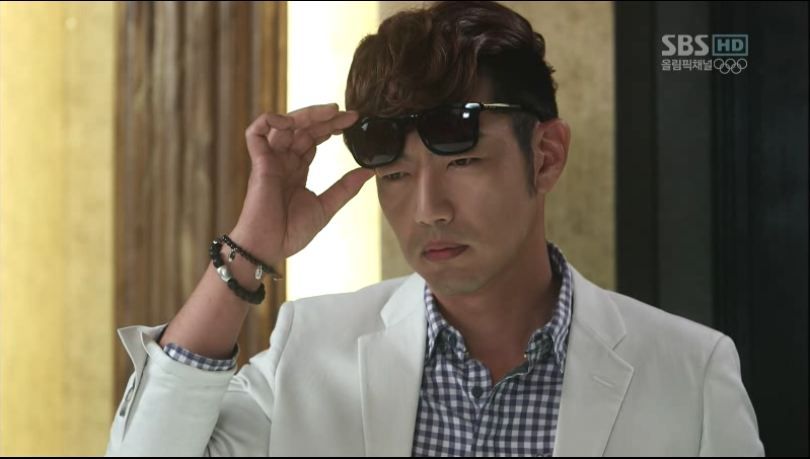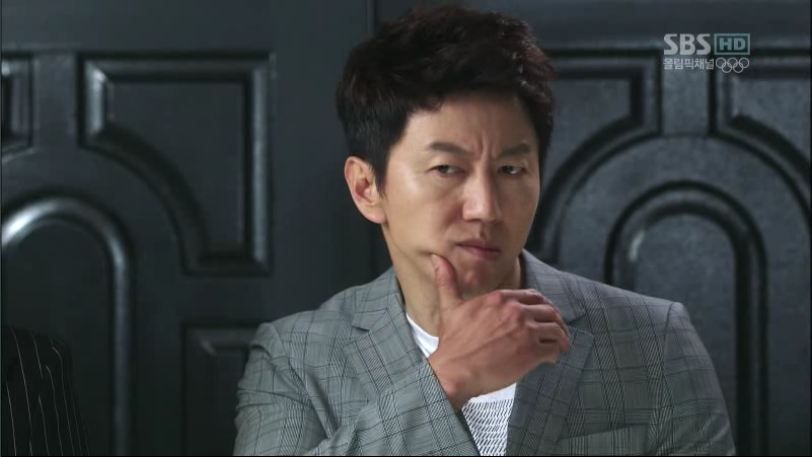 To be continued…
Comments:
- Dear readers: I know! I cried all over the web for the delay in the airing and it took me weeks to do the recap. What for my defense? Nothing. I knew posting the last recaps would be the end of the adventure and I didn't want to let go. I wanted to freeze the time. I found all the possible excuses to avoid writing in my blog. This is how much I love that drama. Good thing for the addicted in a way: They have something to chew on while reminiscing…